Tennis
Australian Open: Serena, Djokovic, Federer reach semifinals
Serena Williams, Novak Djokovic and Roger Federer — the three most decorated players in Melbourne in the Open era — all won their quarter-finals matches in straight sets Tuesday.
Top women's seed continues dominance over Sharapova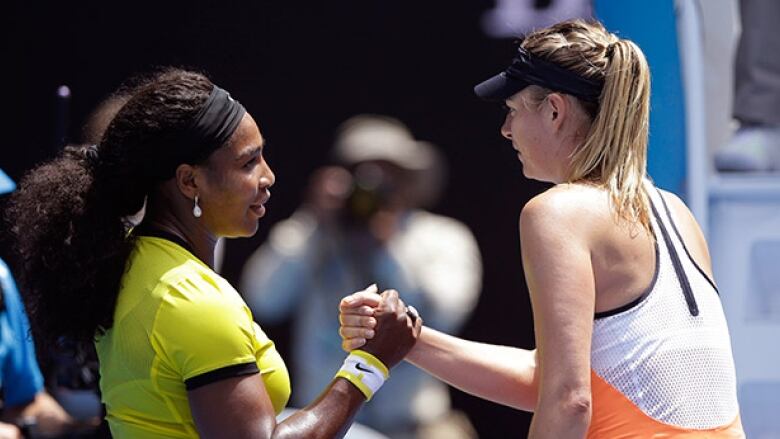 Novak Djokovic and Roger Federer are 22-all in career head-to-heads, have nine Australian Open titles between them, and warmed up for a semifinal meeting with clinical quarter-final wins.
Six-time champion Serena Williams advanced to the semifinals yet again, extending her dominance in a 12-year rivalry with an 18th straight win over Maria Sharapova.
The three most decorated players in Melbourne in the Open era all won in straight sets Tuesday, with Williams starting the roll with a 6-4, 6-1 win in a rematch of last year's final. Up next for her is fourth-seeded Agnieszka Radwanska, who beat No. 10 Carla Suarez Navarro 6-1, 6-3 to reach her fifth Grand Slam semifinal.
Williams has won every semifinal she's contested at the Australian Open, and gone on to win the title each time.
Djokovic's mark is almost as good — he's 5-0 in semifinals, and in finals, in the season's first major. He advanced 6-3, 6-2, 6-4 over No. 7 Kei Nishikori in the night match on Rod Laver.
Four-time champion Federer capped the afternoon session with a 7-6 (4), 6-2, 6-4 win over No. 6 Tomas Berdych, reaching his 12th Australian Open semifinal and his 39th in a Grand Slam. He hasn't gone past the semifinals here since winning the title in 2010.
The men's quarter-finals will be completed Wednesday. Canada's Milos Raonic, the 13th seed, takes on 23rd-seeded Frenchman Gael Monfils at 7:30 p.m. Melbourne time (3:30 a.m. ET), and No. 2 Andy Murray faces No. 8 David Ferrer.
Serena takes 'super intense' match
Williams's win over Sharapova was the marquee match of the day, improving her record to 19-2 in a rivalry that goes back to 2004.
"It was super intense," Williams said. "She's an incredibly intense, focused player who was No. 1 and has won so many Grand Slams for a reason. You have to come out with a lot of fire and intensity."
She did just that, attacking the serve of Sharapova, the 2008 champion and four-time finalist in Australia.
Sharapova had a career-high 21 aces In her previous win against No. 12 Belinda Bencic. Against Williams, she had three, and seven double-faults. Williams had 13 aces, hit 31 winners to 11, and broke Sharapova's serve four times.
"She played quite explosive," Sharapova said. "She was really explosive off the return. Yeah."
Sharapova broke to open the match but Williams held in the third game and broke back to level at 2-2.
From there, Williams protected her own serve — even as a baby wailed in the stands in the ninth game as she faced breakpoints — and took high-risk options with her service returns to unsettle Sharapova.
After winning an intense first set, Williams had medical treatment — later saying it was just for an upset stomach.
She went on a five-game roll in the second to put the result beyond.
Sharapova hasn't given up hope of breaking a drought against Williams that goes back to 2004.
"It's motivating because she's at a different level," Sharapova said. "She makes you go back to the drawing board, not just for me, but for many other players. She makes you work. That's inspiring."
Vintage Federer
Federer also has some inspiration in his next match against Djokovic. He lost to the Serbian star five of the six times they met in finals in 2015, including Wimbledon and the U.S. Open.
The 34-year-old Federer used a full array of shots, including some vintage backhands, in his 48 winners, to avenge losses to Berdych at Wimbledon in 2010 and the 2012 U.S. Open.
"Tomas has caused me a lot of problems over the years," said Federer, who improved to 16-6 against the Czech player. "He's one of those guys who make you a better player, he's beaten me on the biggest courts around the world."
Djokovic has caused his share of pain for Federer since overtaking him in the rankings.
After his long five-setter against Gilles Simon, when he made a startling 100 unforced errors, Djokovic cut that down 27 in a faster-paced, shorter-rally encounter against 2014 U.S. Open finalist Nishikori.
He came up with the big plays while facing break points in the first two sets, and only dropped serve in two exchanges of breaks in the third.
"That was a goal, to decrease the unforced errors ratio," Djokovic said, smiling. "In important moments I stayed composed — overall it was a very solid performance.
"I have to be satisfied — I reached [the] semifinals. I won against a top-10 player in straight sets. Comparing to the fourth-round match, this was much better. That makes me confident and encourages me for the next one."
Men's doubles: Nestor advances, Pospisil out
Daniel Nestor of Canada and Radek Stepanek beat Treat Huey and Max Mirnyi 6-4, 6-4 to advance to the semifinals of the men's doubles competition. 
Meanwhile, Canadian Vasek Pospisil and American partner Jack Sock dropped their men's doubles quarter-finals match 7-5, 1-6, 2-6 to Pablo Cuevas and Marcel Granollers.​
With files from CBC Sports