NFL
·
NFL Roundup
Browns win 1st road playoff game since 1969 in rout of Steelers
So much for the weight of history. Or practicing. Or having your head coach on the sideline. Or your emotional leader on the field.
Saints dispatch Bears to set playoff date with Brady's Buccaneers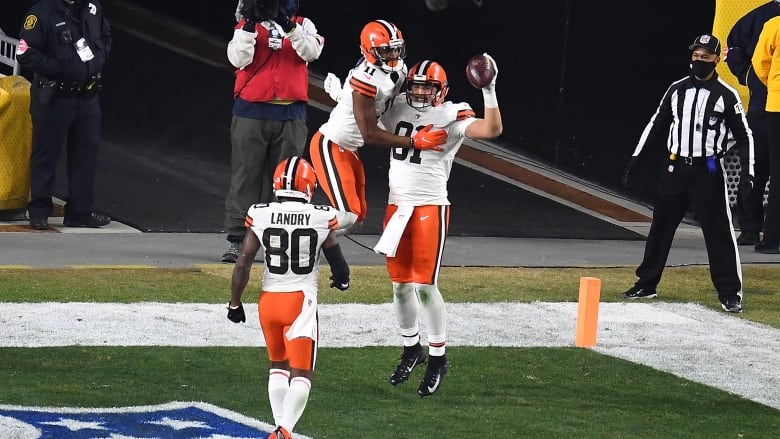 So much for the weight of history. Or practicing. Or having your head coach on the sideline. Or your emotional leader on the field.
The Cleveland Browns overcame all of it, dismantling the Pittsburgh Steelers 48-29 in the wild-card round Sunday night.
It's the franchise's first post-season victory in more than a quarter century and earned a trip to Kansas City next Sunday to face the defending Super Bowl champion Kansas City.
Playing with first-year head coach Kevin Stefanski, Pro Bowl guard Joel Bitonio and top cornerback Denzel Ward back in Cleveland after all tested positive for COVID-19, Cleveland (12-5) raced to the biggest first half by a road team in NFL playoff history then held on.
Baker Mayfield threw for 263 yards and three touchdowns, including a screen pass that Nick Chubb turned into a 40-yard score that halted Pittsburgh's momentum after the Steelers had pulled within 12. Kareem Hunt added 48 yards and two touchdowns on the ground while Cleveland's defence forced five turnovers to hand the Steelers (12-5) a staggering loss.
The victory was the Browns' first post-season triumph of any kind since beating New England on New Year's Day 1995 — three months before Mayfield was born — and their first playoff win on the road since Dec. 28, 1969.
They did it despite practicing just once over the last two weeks and having lost 17 straight at Heinz Field. They did it with efficiency and a little bit of swagger. And they did it with special teams co-ordinator Mike Priefer — a Cleveland native — filling in for Stefanski and with offensive co-ordinator Alex Van Pelt — who played collegiately at Pitt — taking over the play-calling duties.
The Steelers (12-5) certainly helped, ending a season in which they started 11-0 with a thud that could reverberate for years. Ben Roethlisberger ended his comeback season by throwing for 501 yards on an NFL-record 47 completions with four touchdowns and four interceptions.
The 48 points were the most the Steelers have given up in the playoffs, surpassing the 45 they gave up to Jacksonville in the 2017 playoffs.
Pittsburgh's problems started on the first play from scrimmage when centre Maurkice Pouncey's snap sailed by Roethlisberger all the way to the end zone. Cleveland's Karl Joseph fell on it for a touchdown. The miscues were just starting. Roethlisberger threw three first-half interceptions, two of which led directly to Browns scores.
By the time the Steelers found their footing, they were down 28-0. Even when they did get it going on a 1-yard touchdown run by James Conner with 1:44 to go in the half, the Browns stormed right back. Mayfield capped a cathartic opening half with a masterful 64-yard drive that ended with a 7-yard toss to Austin Hooper that put Cleveland up 35-7 at the break.
Pittsburgh — much as it did in its last playoff appearance three years ago, an upset defeat at home to Jacksonville — tried to claw back in it. The Steelers pulled within 35-23 at the end of the third quarter. Facing fourth-and-1 at the Pittsburgh 46, Steelers coach Mike Tomlin opted to punt.
It didn't work out. The kick bounced into the end zone for a touchback and Mayfield calmly took Cleveland 80 yards in six plays. The sideline erupted as Chubb streaked into the end zone.
So much for the Browns being the Browns, a winking assessment Steelers wide receiver JuJu Smith-Schuster made about Cleveland in the middle of the week. Regardless of the intent — Smith-Schuster's teammates insisted he was kidding — Mayfield and All-Pro defensive end Myles Garrett took it to heart.
Then, in front of a mostly empty stadium and a national audience so accustomed to seeing them stumble, the Browns took out their frustration.
Saints earn dominant win over the Bears
Drew Brees will get to celebrate his 42nd birthday by preparing for a playoff game that will also feature the one active NFL quarterback older than him.
Brees completed 28 of 39 passes for 265 yards, connecting with Michael Thomas and Latavius Murray for touchdowns, and the New Orleans Saints defeated the Chicago Bears 21-9 in an NFC wild-card game Sunday.
Alvin Kamara rushed for 99 yards and added a 3-yard touchdown run in the fourth quarter after sitting out the regular-season finale and not practicing this past week because of COVID-19 protocols.
The victory for the Saints (13-4) and Brees, who turns 42 on Friday, sets up a divisional-round meeting next weekend in the Superdome with Tampa Bay and 43-year-old QB Tom Brady.
The Bears (8-9) put forth a scrappy performance defensively that prevented the Saints from building more than a one-touchdown lead until Murray's 6-yard catch-and-run score made it 14-3 late in the third quarter.
That score resulted from a big Bears mistake: Safety Eddie Jackson, lined up for an apparent blitz, jumped offside on fourth-and-3 from the Bears 13-yard line.
Two plays later, Brees was scrambling to his right when he spotted Murray waving for the ball. Brees got it there with a short touch pass over onrushing linebacker Khalil Mack, and Murray sprinted straight to the goal line, diving through converging tacklers to reach the end zone.
Brees' first touchdown pass came in the opening quarter on an 11-yard throw over the middle to Thomas, back from a three-game absence to help heal a nagging ankle injury. Thomas, the 2019 Offensive Player of the Year, missed nine games this season and had not caught a touchdown pass since Dec. 22, 2019, at Tennessee.
The Bears' Tashaun Gipson set up Chicago's first points and might have prevented a Saints score on the same play. He got his hand on the ball as Taysom Hill attempted to throw deep with a receiver breaking into the clear. The ball fluttered forward just a few yards and defensive lineman John Jenkins caught it, setting up Cairo Santos' 36-yard field goal to make it 7-3.
But the Chicago offence struggled most of the game against a defence that ranked fourth in the NFL. Quarterback Mitch Trubisky completed 19 of 29 passes for 199 yards and one inconsequential TD pass to tight end Jimmy Graham as time expired. The Bears were held to 48 yards rushing.
Ravens exact revenge against the Titans
Lamar Jackson, Ravens vanquish Titans
Lamar Jackson finally has his first post-season victory, and coming away from Baltimore makes it even more impressive.
Jackson ran for 136 yards and a 48-yard touchdown while throwing for 179 more as the Ravens rallied from 10 points down and beat the Tennessee Titans 20-13 Sunday in their AFC wild-card game.
Baltimore also shut down 2,000-yard rusher Derrick Henry and held Tennessee to its fewest points all season.
The Titans (11-6) had the ball and a chance to tie when Marcus Peters intercepted Ryan Tannehill's pass intended for Kalif Raymond with 1:50 left. After the turnover, the Ravens came onto the field and started waving good-bye to the Titans — drawing a taunting penalty they didn't mind at all.
"We finished finally," Jackson said. "We finally finished."
The Ravens (12-5) snapped a string of 21 straight games lost by the franchise in either the regular season or playoffs when trailing by 10 or more. They will play Buffalo in a divisional game set up by how Baltimore stopped Henry for the first time in three games.
The All-Pro ran all over the Ravens with 328 yards rushing combined in the past two meetings. With both Calais Campbell and Brandon Williams back on the Baltimore D-line, Henry had his worst performance this season with 18 carries for 40 yards.
"Our defence was tired of hearing the noise," Jackson said. "And they did what they were supposed to do."
Baltimore smothered a Tennessee offence that tied for fourth averaging 30.7 points a game and had more offensive yards per game during the season than any team but Kansas City. The Ravens finished with a 401-209 yards edge in total offence.
Lamar breaks loose
The Titans lost their first home playoff game in 12 years and now have had three of their past eight postseasons ended on their own field by Baltimore.
Tennessee sacked Jackson five times and got an interception. But the Titans settled for a pair of field goals and couldn't slow Jackson enough after halftime. Jackson turned in the sixth 100-yard rushing game by a quarterback in the post-season, and joined Colin Kaepernick with two.
The Titans took a 10-0 lead by outgaining Baltimore 126-36 in the first quarter, with Tannehill tossing a 10-yard TD pass to Pro Bowl wide receiver A.J. Brown. Stephen Gostkowski kicked a field goal set up by Malcolm Butler's interception, his first in the post-season since picking off Russell Wilson in Super Bowl 49 to preserve New England's win over the Seahawks.
Baltimore's defence, the second-stingiest scoring unit in the NFL, took over. The Ravens held Tennessee to minus-7 yards in the second quarter, the third fewest in any quarter of a playoff game since the 2000 season.
The 2019 NFL MVP helped Baltimore pile up 134 yards as he set up a 33-yard field goal by Justin Tucker with a 28-yard pass to Marquise Brown. Jackson then tied it by breaking loose for a 48-yard TD run, diving for the pylon —the second-longest TD run by a quarterback in the Super Bowl era behind Kaepernick's 56-yarder for the 49ers against the Packers on Jan. 12, 2013.
Rookie J.K. Dobbins made it 17-10 with a 4-yard TD run to open the third quarter. That gave him a rushing TD in seven straight games, second only to Maurice Jones-Drew 's eight in 2006 since the 1970 merger.
The Titans finally stopped the Ravens' scoring spree at 17 when Gostkowski kicked a 25-yard field goal to start the fourth quarter, pulling within 17-13.