MLB
·
Recap
World Series needs Game 7 as Dodgers get to Astros ace Verlander
Chris Taylor, Corey Seager and the Los Angeles Dodgers sent this twist-and-turn World Series to Game 7, rallying against Justin Verlander to beat the Houston Astros 3-1 Tuesday night.
Los Angeles rallies as championship needs deciding game for 2nd year in a row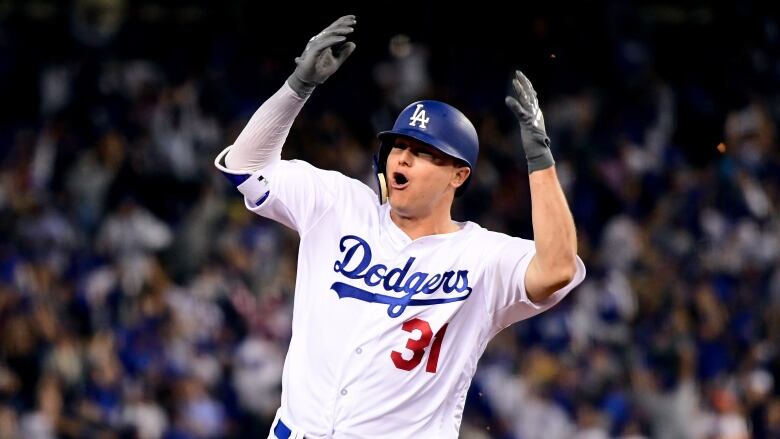 Joc Pederson sliced a drive over the left-field wall, pounded his chest and danced around the bases, taking as many twists and turns as this World Series itself. Of course, the Los Angeles Dodgers forced the Houston Astros to Game 7.
Chris Taylor hit a tying double off Justin Verlander during a two-run rally in the sixth inning, Corey Seager followed with a go-ahead sacrifice fly and the Dodgers beat the Astros 3-1 on Tuesday night to push this dramatic World Series to the ultimate game.
Pederson homered in the seventh against Joe Musgrove, connecting off the right-hander for the second time in three games for the record 24th long ball of this Series. Pederson pranced all the way to the plate, pointing at the Dodgers' dugout and rubbing his thumbs and index fingers together to indicate what a money shot it was.
Mired in a major slump earlier this season, Pederson was demoted to the minors — and teammates began offering to pay him for opposite-field home runs in an effort to get him to hit the ball the other way.
"I kind of black out in a situation like that," said Pederson, who has three homers in the Series. "I'm going to have to re-watch it to see what I did."
'It's only fitting'
Yu Darvish starts Wednesday for the Dodgers, trying to win their first title since 1988, and Lance McCullers Jr. for the Astros in the first World Series Game 7 ever at Dodger Stadium.
"It's only fitting," Dodgers manager Dave Roberts said.
Darvish was chased in the second inning of Game 2, when McCullers pitched Houston to a 5-3 victory.
"Two incredible teams, trying to get to the finish line," Astros manager A.J. Hinch said.
Two nights after a 13-12, 10-inning slugfest under the roof at Minute Maid Park, pitching dominated.
George Springer's third-inning home run against starter Rich Hill had given a 1-0 lead to Verlander and the Astros, trying for the first title in their 56-season history. 
But it served only to set up the 10th blown lead of the Series, the fifth by Houston, as Verlander fell to 9-1 with Houston.
Dodgers' bullpen shuts it down
Dodgers relievers combined for 4 1/3 scoreless innings. Brandon Morrow retired Alex Bregman on a grounder to strand the bases loaded in the fifth, winner Tony Watson got Marwin Gonzalez to fly out with two on and two outs in the sixth, and Kenta Maeda escaped two-on trouble in the seventh when third baseman Justin Turner gloved Jose Altuve's grounder and threw a one-hop throw that first baseman Cody Bellinger scooped just in time.
After wasting a ninth-inning lead in Game 2 and losing Game 5, Kenley Jansen retired six straight batters for the save and ended by striking out 40-year-old pinch-hitter Carlos Beltran.
This will be the third World Series Game 7 in four years. Ten of the last 12 teams that won Game 6 to force a seventh game also won the title, but the Dodgers lost the previous six World Series in which they trailed 3-2. They have won just one of their six championships at home, in 1963.
Two-run rally
Verlander has 11 post-season wins but dropped to 0-4 in the Series with Detroit and Houston, which acquired him from the Tigers on Aug. 31 to win on nights like this.
The 2011 AL MVP and Cy Young Award winner, Verlander allowed just one baserunner before Austin Barnes singled leading off the sixth. Verlander bounced a pitch that hit Chase Utley on the front of his right foot, and Taylor sent a 97 mph fastball down the right-field line as Barnes came home. Seager followed with a sacrifice fly to the right-field warning track, a ball that likely would have landed in the pavilion in last week's hot air.
Verlander prevented more damage when Turner fouled out and the right-hander fanned Bellinger, who struck out four times for the second time in the Series.
Springer homered for the third straight game and fourth time in the Series, one shy of the record set by Reggie Jackson in 1977 and matched by Chase Utley in 2009. While it silenced the Dodger Stadium crowd, Astros fans erupted at a watch party in Minute Maid Park. Los Angeles has allowed home runs in all 14 of its post-season games.
George Springer joins Lou Gehrig as only players to hit game-tying or go-ahead HRs in 3 straight games of same <a href="https://twitter.com/hashtag/WorldSeries?src=hash&amp;ref_src=twsrc%5Etfw">#WorldSeries</a>.<br>h/t <a href="https://twitter.com/Shesta_HOF?ref_src=twsrc%5Etfw">@Shesta_HOF</a> <a href="https://t.co/SpGNxWUAji">pic.twitter.com/SpGNxWUAji</a>

&mdash;@MLBStatoftheDay
Hill gets early yank
Brian McCann singled leading off the fifth and Gonzalez doubled past Turner and down the left-field line. Hill struck out Josh Reddick and Verlander, and Springer was intentionally walked to load the bases.
Morrow relieved as the crowd booed manager Dave Roberts' decision, and Hill slapped at four cups of liquid in the dugout, sending them spraying against the wall.
"With Verlander on the mound, I felt that was going to be the game," Roberts said
Appearing in his sixth straight Series game, Morrow got Bregman to ground to shortstop on his second pitch.