The House
MPs weigh in: where should the NDP go next?
Should Tom Mulcair stay or go? What should the party stand for in the future? MPs Sheri Benson and Matthew Dubé join us with their thoughts.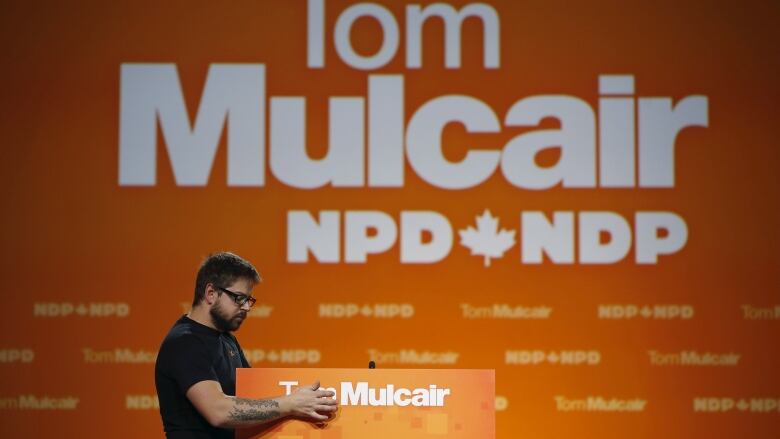 Leadership questions and debates over the future of the party are on the agenda this weekend at the NDP convention. After a disappointing finish in the 2015 election, New Democrats have gathered in Edmonton to discuss where the party goes from here.
But how will the NDP get back in sync with Canadian voters?
Sheri Benson, MP for Saskatoon West, and Beloeil-Chambly MP Matthew Dubé join The House to talk about what's next. 
What needs to happen at the convention?
Matthew Dubé: We're at a bit of a crossroads. The NDP has often been called the conscience of Parliament, and that's an important role we can still play. But we still believe we can form a government. 
Sheri Benson: I think some of the issues we're talking about [at the convention] around policy, inequity, healthcare, are all really important things. That's what a convention is about — to renew, to re-look, to say 'what is still relevant?'
Many of the policy resolutions up for discussion this weekend suggest the grassroots want the party to embrace a more leftist, socialist agenda, modeled on the Leap Manifesto. Do you support that?
MD: We're not necessarily going to adopt every line of the Manifesto, but we see an opportunity here to use this document as something to motivate us. The NDP is a big tent. The [Leap] Manifesto represents one line of thought. We've got young members who see a path going forward. We've got older members who might have a different view. You have to reconcile those views.
SB: It's an aspirational document. I'm really excited about having the conversation here [especially around the role of natural resources in the Canadian economy]. In Saskatchewan, we're not quite Alberta, we do have a much more diverse economy around resources, so that is going to be a big issue when people start saying, 'no more this, no more that.' We're going to have to have a conversation. I don't want to live in a province that goes boom and bust.
Should Tom Mulcair stay on as leader of the party, or is it time to go?
SB: He is the person that was my leader. He's still my leader. Right now he's the right guy to lead the party, for me, but I'm here to hear what the people have to say.
Does Mulcair need to change, and get more in touch with the grassroots of the party?
MD: I think so. He has been doing that. There's been widespread consultation with riding associations, with members. Despite the fact that many people can bear the criticisms of what went wrong with the campaign, the only person I see up front and centre is him, taking that criticism in stride.
SB: It's easy to be an armchair quarterback, to say 'this went wrong, that went wrong.' Everybody's doing a little bit of that. Everybody's going to have an opinion of what went wrong, what went right.
MD: I think there's frustration around the result of the last election. We were so close to the finish line...there is a lot of anger and frustration around that. [But] I think Tom will succeed in the leadership review.