The Current
Are energy weapons behind mystery injuries in Cuba? Unlikely, but they do exist: author
A Canadian diplomat's reported brain injury is fuelling the mystery around the so-called "Havana Syndrome," allegedly caused by a high-pitched, cricket-like sound heard by embassy workers and family members in Cuba. Could an unusual weapon be responsible?
U.S. spent millions on energy weapon but never deployed it, says author
Listen19:43
Diplomats who have been experiencing brain injuries in Cuba are probably not the victims of some kind of "directed-energy weapon," even though those weapons do exist, according to a journalist who let one be test-fired on her.
This week, Global Affairs Canada revealed that a Canadian diplomat was receiving medical treatment after reporting a traumatic brain injury. Over the past two years, 13 people — U.S. and Canadian diplomats and their families — have reported "unusual health symptoms" while stationed in Cuba.
No cause has been identified, but some speculate they are victims of a directed-energy weapon that uses microwaves or ultrasound.
Sharon Weinberger, D.C. bureau chief for Yahoo News, said the U.S. military has looked at developing energy weapons for everything from mind control to killing people.
The most well-known example is "the Active Denial System, which was a microwave weapon that would cause intense burning sensation, intense pain, without actually — in theory — causing physical damage," she told The Current's guest host, Michelle Shephard.
Weinberger, author of the The Imagineers of War: The Untold Story of DARPA, the Pentagon Agency That Changed the World, said the weapon was conceived as a crowd-control device to be used at checkpoints, in prisons, or for police to disperse protesters.
In 2012, journalist Spencer Ackerman allowed the Active Denial System to be fired at him for a story he was writing for Wired magazine.
"There is no light, there is no warning, there is no sound — suddenly you feel from your chest to the bottom of your chin, an immense amount of heat, very quickly," said Ackerman, who is now the senior national security correspondent for The Daily Beast.
Listen to Spencer Ackerman describe being blasted by the "pain ray."
Weinberger underwent a similar test-fire the year before, but told Shephard that after the U.S. spent "tens of millions of dollars" developing the Active Denial System, the weapon has never been deployed.
"You need a massive truck for this thing," she said. 
"It is this entire Humvee. It takes hours to power up, and you have to have a clear line of sight to see who you're targeting."
That's why she's skeptical of some of the theories about the Havana Syndrome, she said.
"Try to imagine ... where are you going to put the truck?"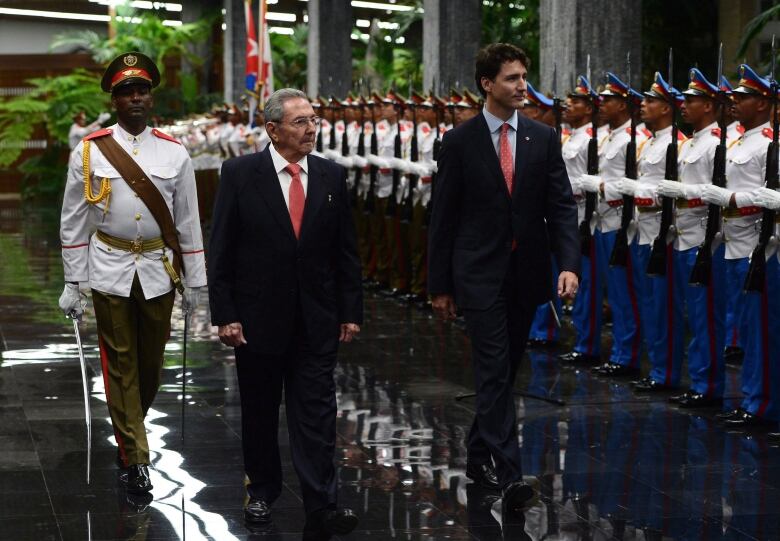 It's interesting and important to explore all theories, she said, but perhaps "we've all seen too many movies."
Global Affairs Canada said this week that a delegation of senior Canadian government officials will travel to Cuba next week to review the current operations and assess how to further reduce risks.
Cuba's government vehemently denies involvement or knowledge of the alleged attacks. In October 2017, Miguel Diaz-Canel — who was then vice-president and has since been elected president — called the allegations "bizarre nonsense without the slightest evidence, with the perverse intention of discrediting Cuba's impeccable behaviour."
Havana Syndrome similar to Moscow Signal
Weinberger drew parallels between the Havana Syndrome and the Moscow Signal incident of the '50s and '60s. Back then, the U.S. became aware of a microwave transmission being directed at its embassy in Moscow, and theorized it was being beamed in by the Soviets. The health of embassy staff was also affected.
The microwave transmission was eventually determined to be caused by Soviets activating listening devices in the walls, Weinberger said.
She thinks a similar situation could be happening in Cuba.
"What do you usually do to diplomats and particularly intelligence officers ... you surveil them. You want to know who they are, and what they are doing," she said.
"If I had to take a guess — with the caveat [that] really I could be wrong — [I'd guess] that there was some sort of surveillance, or surveillance devices directed at the intelligence officers and diplomats affected in Havana."
Click 'listen' near the top of this page to hear the full conversation.
---
Written by Padraig Moran. Produced by The Current's Julie Crysler and Danielle Carr.