The Current
Suspend standardized testing until 2022 to let students 'focus on rebuilding,' says Ont. teachers' union head
The head of the Ontario English Catholic Teachers' Association is calling for the suspension of standardized testing in the upcoming academic year to help relieve the pressure of returning to school after a prolonged absence due to the pandemic.
Teachers will be catching up amid anxiety of different environment: Liz Stuart
Ontario should suspend standardized testing for schools until 2022 to allow teachers to focus on making up for lost time, says the head of a teachers' union.
"Students have not been receiving the same education that they would get were they in classrooms," said Liz Stuart, president of the Ontario English Catholic Teachers' Association, which represents teachers working with children from kindergarten to Grade 12.
"My hope would be that the government recognizes that and that we suspend [tests] for another year," she told The Current's Matt Galloway.
"I think taking away that additional stress on everybody and making it so that we can truly focus on rebuilding is more important."
Standardized tests for the remainder of the 2019-2020 school year were cancelled in March, with Ontario Education Minister Stephen Lecce saying at the time that the cancellation would not affect graduation.
According to the Education Quality and Accountability Office's website, testing is still scheduled for January through to June 2021.
In an email statement, Alexandra Adamo, a spokesperson for Lecce, told The Current that "we believe in the importance of standardized assessment, such as EQAO testing, for tracking student achievement."
"These assessments allow parents, students, and educators to monitor individualized academic progress in their learning journey," the statement continued. However, it did not respond specifically to Stuart's call to suspend standardized tests in the upcoming academic year.
Schools across Canada have been closed for months as part of efforts to curb COVID-19, with children learning from home with the help of parents and some online resources. While schools in Quebec have reopened and others in B.C. will reopen in June, Ontario announced Tuesday that students there will not return until September.
Stuart says whenever schools reopen, teachers will be occupied with preparing students to learn in an environment with physical distancing, and "dealing with those anxieties."
Teachers will also be "filling gaps" with pupils, and figuring out what parts of the curriculum might need to be reviewed again.
"What are the things we need to do to make sure those kids have all the information they need, and all those building blocks in place, so that they have a strong foundation in their education as they move forward," she said.
A chance to 'improve education'
Informal testing could be the way to identifying any gaps as children move into new grades, with new teachers in September, said Charles Pascal, a former deputy minister of education in Ontario.
"It's not to test them, it's to find out what kind of remedial loop [teachers] can do to kind of make the transition much easier," said Pascal, a professor of human development and applied psychology at the Ontario Institute for Studies in Education.
What's important is to focus on learning outcomes, rather than rushing students to catch up on parts of the curriculum they've missed, he added.
"The mindset about how to do things like online learning and return to school has to go from 'How can I cram content,' and move to a more sophisticated approach to learning."
The pandemic could actually become "an opportunity to improve education around the world, if people pay attention to that," he said.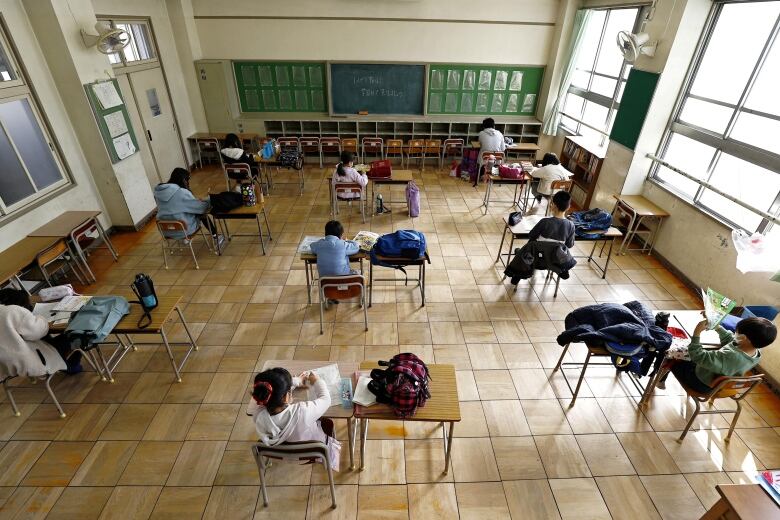 Pascal says addressing mental health and anxiety will also be key to a successful return for students and parents stressed about having fallen behind as well as teachers.
"Individual support for kids and also for teachers is going to be absolutely critical," he told Galloway, suggesting teachers should have "intentional conversations" with students to talk about COVID-19 concerns.
"Worries about catching up — those kinds of things will take care of themselves if everybody's feeling healthy and those issues are dealt with," he said.
"Basically do whatever you can to breathe," he said. "It's going to be OK."
---
Written by Padraig Moran. Produced by Sarah-Joyce Battersby, Joana Draghici and Samira Mohyeddin.