The Current
Infused with burlesque, drag and queer culture, these wrestlers are turning the genre 'on its head'
Wrestling shows like Vancouver's Glam Slam are subverting old stereotypes that abound in the genre by mixing in burlesque, drag and queer culture, along with women wrestling just as well as the men. But pro wrestling writ large still has more growing up to do, says one podcaster and critic.
Pro wrestling grows, but critic says still more to be done
Pro wrestling fans never know which version of Reagan Belan they're going to get when she first steps into the ring on any given night.
"My last show, I was a unicorn. I've been Mrs. Potato Head. I've been a senior citizen. I have a tag team called The Monarchy, where I am Queen Elizabeth and my tag-team partner is Queen Victoria," said Belan, a.k.a. Glory S. Gamms, when performing for Vancouver's Glam Slam Wrestling league.
The over-the-top theatrics come second-nature to Belan, who says developing a wrestling persona isn't that different from her other stage work: burlesque.
"When you're developing a burlesque persona, you're channelling the parts about yourself that you really, really like, but you maybe keep hidden from the world," she told The Current's Matt Galloway. "So you're amplifying yourself [by] 1,000 per cent. And that's the exact same thing with wrestling."
Josh Custodio, co-host of the wrestling podcast Top Marks, points to a growing number of wrestling shows like Glam Slam that subvert older expectations of the genre — tough guys, (sometimes literal) macho men and a heavy dose of sexism and cultural stereotypes.
Belan pointed to shows like Effy's Big Gay Brunch in Florida as specifically introducing drag and queer culture into a space that has historically played LGBT characters for laughs or derision.
"Wrestling has so many sort of, in my opinion, negative southern roots in terms of very deep-rooted conservatism and some homophobia and a lot of things in that space," said Custodio.
"And I think now … it feels like, 'OK, we're taking this world, and we're going to turn it on its head a little bit and want to see how that plays out.' And that's just a side of things that I'm more interested in general. Let's get weird."
Women's wrestling rising
For Belan, that means a card, or list of matches, with more active women wrestlers, intergender matches and performers with more varied body types than those seen at a typical World Wrestling Entertainment (WWE) show.
"I think about how lots of people still really enjoy the WWE, but it still is very homogenous in a lot of ways, particularly in how they present the women wrestlers," she said. "Whereas you go to the indie circuits, and you see a lot more people who have free expression of how they present themselves."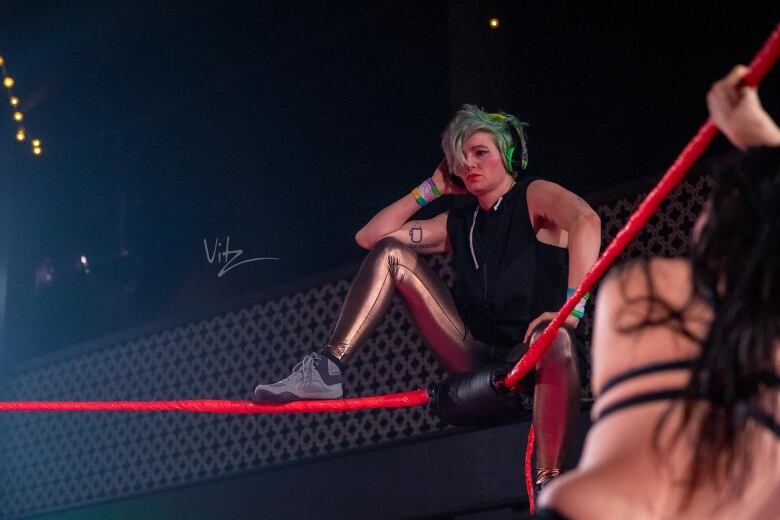 Belan does credit the WWE for building a more robust women's wrestling division in recent years. In 2019, WrestleMania featured Becky Lynch, Charlotte Flair and former UFC champion Ronda Rousey in the main event — a first for the promotion's biggest show of the year.
Custodio says the shift is a welcome one, but suggested that it may have been primarily "financially driven" after seeing the success of the UFC's women's division pioneered by Rousey, who joined the WWE after retiring from the octagon, the eight-sided cage.
"They see, 'Oh, a female star can really draw money. We should do that,'" he said.
"They call it the woman's revolution — and you just wonder if everything's going to be financially motivated. Is that an actual change?"
Grappling with stereotypes
While women's wrestling is enjoying a moment at the top of the wrestling world, ethnic diversity and representation have also been progressing over the last few years.
But Custodio says that there's still some ways to go.
Burnaby, B.C., natives Gurvinder and Harvinder Sihra started wrestling in Vancouver's Elite Canadian Championship Wrestling league in 2006. Now, they compete in WWE under the names Sunil and Samir Singh.
They play flamboyant, wannabe-Bollywood stars and often perform a traditional Indian Bhangra dance on the way to the ring.
Custodio says the Singh brothers aren't usually portrayed as "deeply evil foreign heels" like the Soviet villain Nikolai Volkoff and his Iranian partner The Iron Sheik in the 1980s.
But they and many other non-white competitors still dress and act with broad cultural archetypes or stereotypes.
The Singhs, along with their occasional partner Jinder Mahal, are billed from Punjab, India, even though all three are Canadian. (Mahal was born in Calgary).
Custodio is heartened that not every non-white wrestler in the WWE is saddled with a problematic gimmick. He pointed to Mustafa Ali, a Chicago-born performer of Pakistani descent, who generally just plays himself as a plucky hero in the ring.
Just last year, Kofi Kingston won the WWE's top championship, becoming the first African-born champion and second black WWE champion, after Dwayne (The Rock) Johnson captured the belt in 1998.
"Do you give them credit for having a black champion, or do you say: 'Now is the first one?'... Is that something to celebrate?" Custodio said.
"It does feel like an ultimate good that these doors are opening. People like the Singh brothers doing that. But you do wonder if there's just a portion of it's like, well, 'We got this part covered, so we're good there.'"
---
Written by Jonathan Ore. Produced by Matt Meuse.