The Current
ENCORE | Lyme disease patient argues government funding misguided
Some researchers and patients say Ottawa's recent $4 million commitment to fight Lyme disease is targeting the wrong areas.
In June 2014, Arlene Rill discovered she was bitten by a tick. 
After months of debilitating symptoms including migrating pains and inflammation, Rill's health deteriorated and numerous specialists did not give her a definitive diagnosis.
"I would say 90 per cent of the doctors I saw — and I think I saw one for every single part of my body for every system — they did not know about Lyme disease," Rill tells The Current's Anna Maria Tremonti in May.
For her stomach pains, she was told she had irritable bowel syndrome (IBS). A rheumatologist said her inflammation was a natural symptom of getting older, even though Rill could barely use her hands.
I was actually called certifiably crazy.- Arlene Rill, Lyme disease patient
At one point, a doctor questioned her mental health.
"I was actually called certifiably crazy because I was having all these migrating pains and ... the doctor could not understand … how all these pains were just migrating everywhere. It must be in my head," Rill says.
It wasn't until Rill sent her blood over the border to the U.S. that she finally got the answer she was looking for. They found the spiral-shaped bacteria that causes Lyme disease in her blood.
Related: So you've been bitten by a tick. Now what?
Rill is one of over 900 Canadians diagnosed with Lyme disease as of 2015 — a 600 per cent increase from 2009. There are now predictions that by the early 2020s, the country may see as many as 10,000 new cases. 
The government recently announced their $4 million commitment towards combating Lyme disease, but Rill feels the mandate is misguided.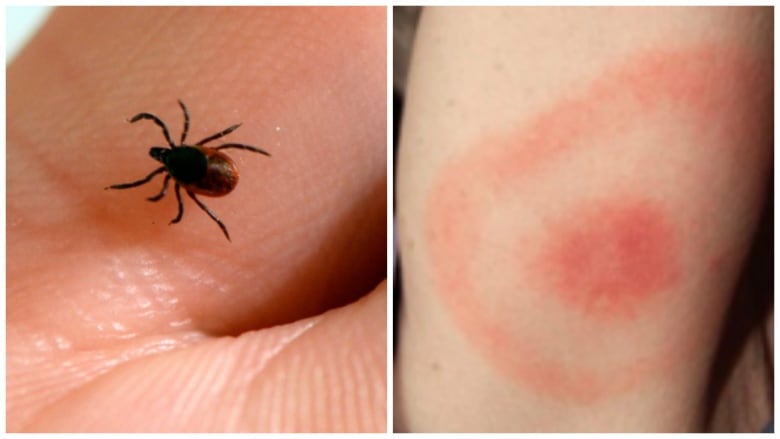 "I think it will not help us Lyme patients because I think it's going to go more into making people aware," she explains.
"It's not addressing the sick people, those who are affected."
Janet Sperling, a board member of the Canadian Lyme Disease Foundation, believes the latest announcement is a step in the right direction, but it's too early to say.
"I see some positive, sort of forward motion. However, what I'm most concerned about is if we have exactly the same people following exactly the same guidelines that we have for the last several decades, then I don't see that's actually going to change things for the patient," she says.
Instead of using American guidelines to diagnose the disease, Sperling suggests looking at places in Canada such as Lunenburg, N.S., and Long Point, Ont., as "the gold standard."
"I'm just sort of feeling that we're giving too much responsibility to an American guideline for a disease that's happening here in Canada," Sperling explains.
For the government to succeed with its new initiative, she says it must pay attention to different viewpoints and ensure that patients and patient advocates are involved in the process.
"If we turn the entire file over to the people who have allowed a 600 per cent increase, then I think, you know, we need to think again."
Listen to the full story at the top of this web post.
This segment was produced by The Current's Sujata Berry, Kristin Nelson and Ines Colabrese.