The Current
Staying afloat: Join The Current for a special town hall about the money in your pocket
The Current is hosting a live election-themed show in Surrey, exploring the issues of affordability that many Canadians are struggling with. Get your tickets here
Join us on Oct. 9 at 7 p.m. at the Westminster Savings Theatre. Tickets are free.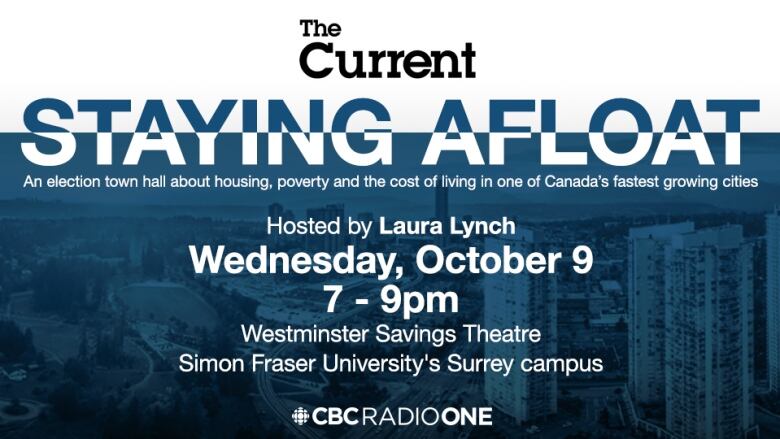 The Current is hosting a live town hall event, to talk about the money in your pocket.
Whether struggling to pay rent, keep their kids fed, or put enough away to retire, come Election Day, many Canadians will be thinking about which party has the best plan to keep them afloat.
That's why we want to look at the issues of affordability that affect every Canadian, and we're doing it in one of Canada's fastest growing cities, Surrey, B.C.
Join host Laura Lynch for a special forum on Wednesday Oct. 9, at the Westminster Savings Theatre.
Get your free tickets here.
Additional Information
Doors open: 6:30 p.m.
Taping: 7:00 - 9:00 p.m.
Location: Westminster Savings Theatre at Simon Fraser University's Surrey campus, 13450 102 Ave, Surrey, BC V3T 0A3
All seats are first-come, first served. No flash photography allowed during the show.
Please contact the organizer at cbcradioevents@cbc.ca with any questions.