Quirks & Quarks
Meet 7 groundbreaking Black scientists from the past
From the first treatment for leprosy to the foundation of the global positioning system, Black scientists have long been involved in major scientific developments, despite being pushed to the margins, refused jobs, and denied credit for their discoveries. 
Innovators across disciplines who have made significant, enduring contributions to the world
From the first treatment for leprosy to the foundation of the global positioning system, Black scientists have long been involved in major scientific developments, despite being pushed to the margins, refused jobs, and denied credit for their discoveries. 
As part of the Black in Science special airing Feb. 27, Quirks & Quarks is highlighting Black scientists across disciplines who have made significant, enduring contributions to the world.
Here are a few of their stories.
Charles Henry Turner | Discovered animals can have complex thoughts
Charles Henry Turner (1867 – 1923) was a biologist, neurologist, and psychologist who was a pioneer in animal cognition studies. 
He was one of the first African Americans to earn a PhD from the University of Chicago, and in 1892, was the first Black scientist to be published in Science, the prestigious journal of the American Association for the Advancement of Science.
He was a dedicated and productive researcher, publishing over 30 scientific papers by the time he got his doctorate. Despite his achievements, he couldn't find work as a researcher or academic due to racial barriers, and ended up teaching at an all-Black high school in St. Louis, Mo., instead.

Even without access to lab facilities or research materials, he pursued his science at an impressive pace. He made groundbreaking discoveries in the field of animal behaviour, which went against the prevailing ideas of the time that suggested animals were not capable of complex cognition.
Among his many discoveries, he was the first to prove that insects have the capacity to hear, that they can learn by trial and error, and showed how bees use olfactory and visual cues to find nectar. 
He published 71 papers throughout his lifetime, including three in Science.
However, this pioneering research was all but forgotten, resulting in many white scientists "re-discovering" his findings up to a century later.
Quirks & Quarks: Black in Science special 
---
Gladys West | Mathematician who gave us GPS 
Gladys West (1930 – present) is a mathematician whose extremely detailed model of the Earth became the foundation of GPS that is used today in countless applications, including navigation and communication.
Born in 1930 in a small community in Virginia, West fantasized about escaping rural life, and felt that education was her only way out. She earned top grades to win a full scholarship to Virginia State College, and took on babysitting and teaching jobs to support herself.
In 1956, shortly after graduating with a master's in mathematics, she was hired by the U.S. Naval Surface Warfare Center, at the time becoming only the second Black woman ever to be hired at the facility.
The very first computers arrived during that time, so she quickly learned how to program to analyze satellite data. 
After showcasing her skills working on award-winning studies looking at Pluto's motion relative to Neptune, she was named project manager for the Seasat Radar Altimetry Project, the first satellite that could monitor the oceans.
It was here that she created the detailed mathematical model of the shape of the Earth, which accounted for things like gravitational and tidal forces that change the Earth's shape. 
After retiring in 1998, and recovering from a stroke, she went back to school to earn her PhD at the age of 70. It was only in 2017, after the release of the movie Hidden Figures, that she started to receive recognition for her role in revolutionizing navigation. 
Video | Gladys West feature from the U.S. Navy 
---
Percy Lavon Julian | Made pain relief affordable 
Percy L. Julian (1899 – 1975) was a chemist who discovered innovative and cost-effective ways to synthesize steroids. 
Despite Black people being denied education past eighth grade in his home state of Alabama, Julian was accepted to DePauw University in Indiana and took high school courses concurrently with his university courses to catch up.
As the university was in a segregated town, he wasn't allowed to live in a dorm, but did odd jobs at a white fraternity in exchange for a space to sleep in their attic. After graduating as valedictorian of his class in 1920, he struggled to find work. He was denied opportunities to get his PhD in the U.S., so he went to Europe, and attended the University of Vienna.
After getting his doctorate, he returned to the U.S. and became a research associate at DePauw University, where he was the first to synthesize the anti-glaucoma drug physostigmine. 
After proving his skills as a chemist, he was hired as director of research at Chicago's Glidden Company, where he focused mainly on the chemical properties of the soybean plant. 
During his 17 years there, he was awarded over 100 chemical patents, including for a fire-retardant foam used widely during the Second World War. His biggest contributions were to biomedical research. By figuring out how to synthesize important medicinal compounds from plants, he helped make steroids like cortisone and birth control pills significantly more affordable to mass-produce.
Sophia B. Jones | Pioneer in public health
Sophia B. Jones (1857 – 1932) became the first Black woman to graduate from the University of Michigan's Medical School in 1885, and dedicated her career to fighting for health equity for Black people.
Born in Chatham, Ont., Jones was fascinated by science, and wanted to study medicine from a young age. But she could not access full medical training at the University of Toronto because it did not accept women at the time. Instead, she was accepted to the University of Michigan, which had started admitting women in 1870.
She became the first Black woman to graduate from the school, and then became the first Black faculty member at Atlanta's Spelman College in 1885, where she organized the first training program for nurses in the American South. 
During her long career, she practised medicine in St. Louis, Philadelphia, and Kansas City, spearheading many public health programs and pushing for health equity for Black Americans. She published the retrospective article "Fifty Years of Negro Public Health" in 1913, looking at systemic barriers to health care for Black people.
Elijah McCoy | Inventor who revolutionized the railroad 
The son of slaves who had fled to Canada via the Underground Railroad, Elijah McCoy (1844 – 1929) was a passionate inventor, who ended up with 57 patents — 50 of which were related to the lubrication of steam engines — as well as a folding ironing board and a lawn sprinkler.
Facing educational barriers in Canada, McCoy was sent to Edinburgh, Scotland at the age of 15 to pursue an education in engineering. When he returned to North America, he got a job as a fireman and oiler at the Michigan Central Railroad, where he used his engineering training to help solve some of the common engine overheating problems. His first patent was for an automatic lubrication system for locomotive steam engines in 1872. 
He continued to invent and refine his devices, and by the turn of the century, he had produced more patents than any other Black inventor at the time. Lacking funding to manufacture his inventions, he sold off many of his patents. However, by 1920, he was able to establish the Elijah McCoy Manufacturing Company and finally produce his inventions under his own name. Legend suggests that his work was so sought after that it would be requested by name, which may be the origin of the phrase "The Real McCoy."
Video | Elijah McCoy feature from Canadian Heritage
Alice Ball | Developed the first treatment for leprosy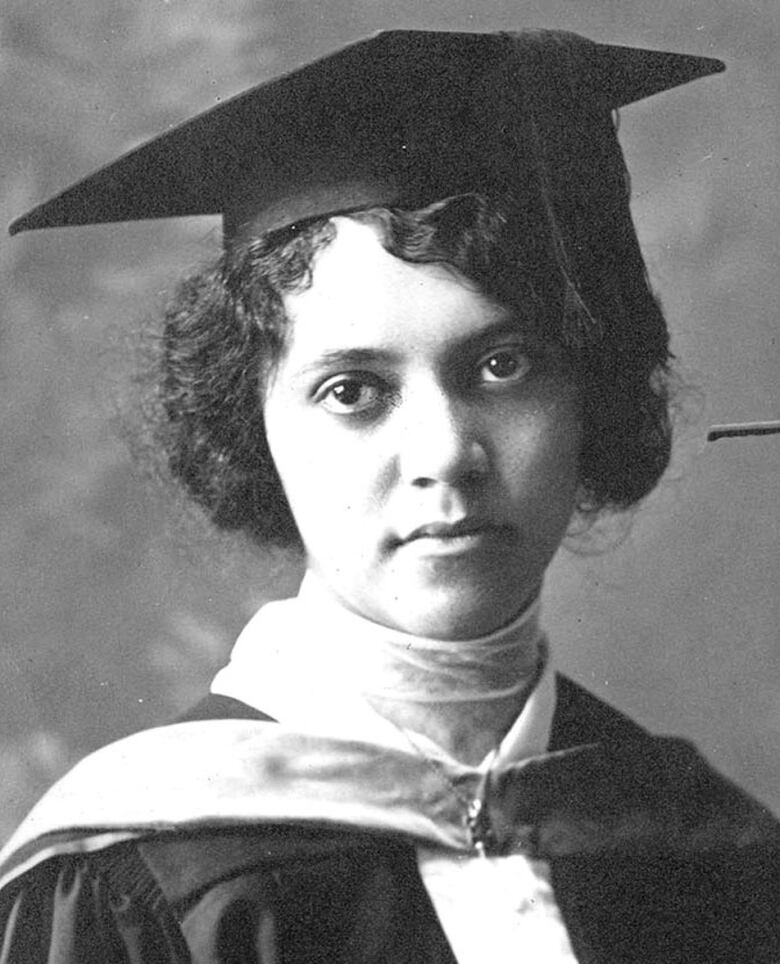 Alice Ball (1892 – 1916) became the first Black person and the first woman to earn a master's degree in chemistry at the College of Hawaii. In her short life, she developed the first effective treatment for leprosy, a bacterial infection that has affected humans for thousands of years.
While working towards her degree in pharmaceutical chemistry at the University of Washington, she had her work published in prestigious science journals, which was rare for women, and especially Black women. After graduating, she moved to Hawaii to get her master's degree. While there, she studied the oil from a chaulmoogra tree, which was used as a topical treatment for leprosy with mixed results. In 1915, Ball figured out how to isolate the fatty acid components of the oil and make it injectable so it would dissolve in the bloodstream. This became the first effective method to alleviate leprosy symptoms, changing the lives of thousands of leprosy patients around the world, who until then had to live in isolation to avoid spreading the disease. 
However, she was unable to publish her results herself, as she died in 1916 at the age of 24. Some accounts suggest she died after inhaling chlorine gas following a lab accident. A year later, the president of the University of Hawaii claimed her discovery for himself and published the findings without giving her credit. It wasn't until 1922 when her colleagues published her findings that she was given the recognition she deserved, although the University of Hawaii  didn't formally recognize her work for nearly 90 years. Even though her research career was tragically cut short, the "Ball method" was used for decades until new treatments were discovered. 
Video | Alice Ball feature from the London School of Hygiene & Tropical Medicine (LSHTM)
Charles Lightfoot Roman | Helped make workplaces safe
Charles Lightfoot Roman (1889 – 1961) was not only one of the first Black Canadians to graduate from McGill University's Faculty of Medicine, he also was a pioneer in what eventually became the field of industrial medicine, specializing in the study and prevention of workplace accidents.
The grandson of a slave who came to Canada through the Underground Railway, Lightfoot Roman was born in Port Elgin, Ont., and grew up both there and in Bay City, Mich.
His decision to research the prevention of workplace accidents was likely influenced by Lightfoot Roman's uncle and namesake, Charles Victor Roman. The elder lost a leg at age 17 in an accident at a cotton mill, but nonetheless went on to pursue medicine and become a respected surgeon and professor in the United States.
While studying at McGill, Lightfoot Roman put medical school on hold at the start of the First World War, becoming one of the first Black Canadians to enlist and the only Black person to work at No. 3 Canadian General Hospital, a field hospital run by McGill near the front lines in France.
After the war, he completed medical school, working for a time at Montreal General Hospital before joining Montreal's Dominion Textiles as an on-site doctor and researcher, later rising to medical director. It was during his time he honed his expertise in the nascent field of industrial medicine, publishing multiple papers — including one called "Severe Industrial Injuries to the Fingers and their Treatment" published in the Canadian Medical Association Journal (CMAJ) in 1923 — that influenced health and safety protocols at mills and factories. 
Over the course of his career he documented the evolution of health and safety for cotton mill workers, helping to make workplaces safer for everyone.
---
Written by Amanda Buckiewicz and Brandie Weikle
---
For more stories about the experiences of Black Canadians — from anti-Black racism to success stories within the Black community — check out Being Black in Canada, a CBC project Black Canadians can be proud of. You can read more stories here.