As It Happens
Doctor fears more children will starve to death if roads don't open to besieged Damascus suburbs
Sahar Dofdaa died from malnutrition when she was just 34 days old. The Syrian child's mother could not breastfeed the child because she was also suffering from severe malnutrition.
Baby who died from malnutrition draws attention to Syria's starving children
WARNING: This story contains graphic images of a severely emaciated infant. 
---
Sahar Dofdaa, who is pictured below, was just 34 days old when she died from malnutrition.
The Syrian child's mother could not breastfeed the child because she was also suffering from severe malnutrition, so she took her to see doctors last week at a clinic in Hamouria in Syria's Eastern Ghouta region.
But it was too late. The treatment failed and Sahar died on Sunday, just one day after these shocking photos of her bony frame and sunken face were taken by Agence France Press photographer Amer Almohibany.
She weighed 4.4 pounds.
Sahar is one of two children to die in as many months of malnutrition in the rebel-held eastern suburbs of the Syrian capital of Damascus, according to opposition activists.
And more children will follow, if the region remains cut off from humanitarian aid, warns one doctor on the ground.
"I see the increase in the number of children who are suffering from malnutrition," Dr. Hamza Hassan told As It Happens host Carol Off from his home in Erbin, Eastern Ghouta.
I feel afraid about my family, about my children.- Dr. Hamza Hassan , Syrian physician 
The region, which comprises several rebel-held Damascus suburbs, has been under siege for four years.
Conditions have worsened since May, after government forces seized the Qaboun and Barzeh neighbourhoods in northeast Damascus. The two neighbourhoods were hubs for smuggling supplies into the Ghouta region through tunnels.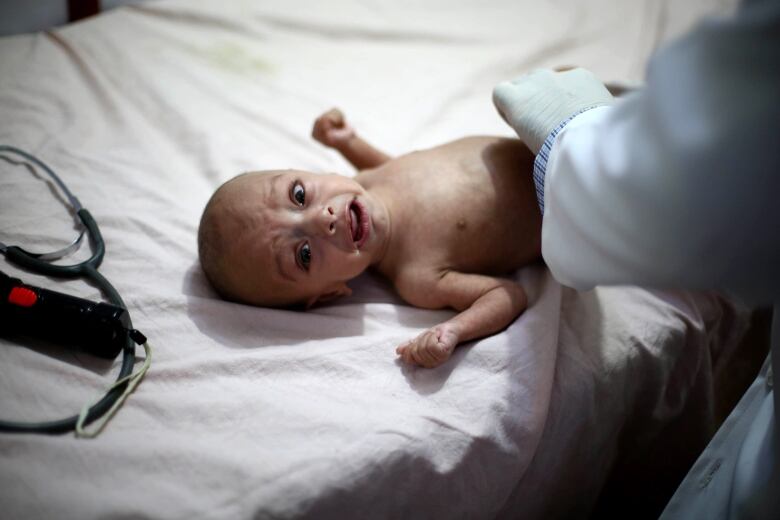 Hassan, who works for the Syrian American Medical Society, estimates there are 1,000 children with moderate to severe malnutrition in Eastern Ghouta, which has a population of 356,000.
According to the Guardian, some 3.5 million people in Syria still live in besieged or hard-to-reach areas.
International aid organizations have been sending food to Ghouta, but the last convoy entered more than a month ago.
Rami Abdurrahman of the Britain-based Syrian Observatory for Human Rights said the main reason behind the suffering is the government siege, adding that there are businesspeople who are taking advantage of the food shortage.
Ahmad Khansour, a Ghouta-based opposition activist, told The Associated Press that high prices are far beyond people's reach, saying that a kilogram of sugar is selling for up to $12, while a kilogram of rice sells for nearly $5. He said an average family's monthly income is about $100.
Hassan said that some families are subsiding on small vegetable patches they've cultivated themselves, but, as winter approaches, that lifeline will soon be severed. 
"I feel afraid about my family, about my children," he said of his four-year-old daughter and one-year-old son. "I want the safety for them. I want to give them their complete food."
He's calling on the United Nations and international aid organizations to fight to reopen the humanitarian corridors that were previously used to deliver aid to civilians.
At the very least, he said, they should come and bear witness to horrors unfolding so close to the capital.
"Ghouta's people didn't see the UN officials inside Ghouta," he said. "I ask them to enter inside Ghouta and see the children dying."
— With files from Associated Press