World
St. Patrick's Day tradition made in U.S., not Ireland
St. Patrick's Day began in Ireland as a serious religious event, but Irish immigrants in the U.S. helped transform it into a celebration of Irish culture that is now marked everywhere from Tokyo to Toronto.
U.S. helped transform St. Patrick's Day from a religious event to a global party
Millions of people around the world are wearing green today, drinking Guinness and soliciting kisses because they're Irish, even if they're not — but hey, everyone's a little Irish on St. Patrick's Day right?
From the Colosseum in Rome to hotel towers in Abu Dhabi to the Christ the Redeemer statue in Rio de Janeiro, landmarks and buildings around the globe will be lit green in honour of the Irish. Waterways were dyed green and parades were held everywhere from Tokyo to Toronto over the weekend.
How is it that a day originally meant to honour the patron saint of one small country has become a global phenomenon that celebrates all things Irish, marked by millions of people who don't have a trace of Irish blood?
France's Bastille Day isn't an international party. On July 1, non-Canadians around the world do not dress up in maple leaf attire and drown their food in maple syrup. The Fourth of July is not marked with parades outside of the U.S. nor are the stars and stripes projected on the Eiffel Tower, which will light up green tonight.
Yet Ireland's culture and history are cause for worldwide merriment today. To understand why, one must look not to the Emerald Isle, but to the United States. That's where the version of St. Patrick's Day that is known and celebrated today really has its roots.
St. Patrick's Day reimagined
Mike Cronin, an academic at Boston College in Dublin, is co-author of The Wearing of the Green: A History of St. Patrick's Day. In an interview with CBC News, he explained that St. Patrick's Day was originally a religious event before Irish immigrants in the U.S. "refined, repackaged, reimagined it as an American day." The result was then exported back to Ireland.
The new St. Patrick's Day tradition has spread around the world.
March 17 started as a religious feast day in the 17th century, marking the death of St. Patrick, who is credited with spreading Christianity in Ireland. It was a sombre day when people would go to mass, not to the pubs, which were closed.
Meanwhile, across the pond, Irish immigrants in the U.S. began their own St. Patrick traditions in the 18th century. According to Cronin's research, a group of elite Irishmen first gathered for a celebratory dinner in Boston on March 17, 1737.
The parade tradition was born about 30 years later in New York City in 1766 when Irish Catholic members of the British army took to the streets.
"What the Irish start doing is parading on St. Patrick's Day as a way of declaring their ethnicity," said Cronin.
Not all Irish immigrants to the U.S. were welcomed. They were characterized by some as drunken, violent and disease-carrying. The parades offered Irish-Americans an opportunity to showcase their pride and cultural identity.
As more immigrants arrived they felt strength in numbers, and the Irish started climbing the social ladder, moving into positions of power in local police forces, for example, and in commerce.
They kept marching, in more cities, in more public spaces, and not just in typically Irish neighbourhoods.
"We are here, we're not going away, and we are powerful," Cronin said of the attitude behind the parades.
Irish-American pride
A key reason St. Patrick's Day grew out of the U.S. was the notion of hyphenated identity, Cronin said. The Irish were proud of their old country and patriotic about their new one and were able to comfortably express those feelings.
The U.S. was a nation full of immigrants and more accustomed to the idea of shared cultural identities, whereas the Irish diaspora in other countries couldn't as easily put their pride on display.
A network of clubs and societies, the influence of Irish businessmen, and pride passed from one generation to the next all helped spread Irish culture across the U.S.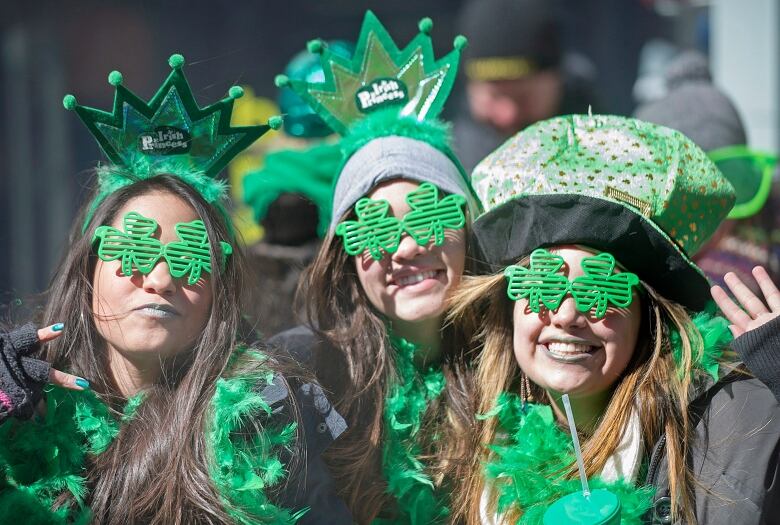 By the 1920s, St. Patrick's Day in the U.S. was beginning to show the Hallmark card effect, evolving into something more commercial. In Ireland, it was still a serious day that did include parades but they were military ones, not entertaining float-filled fun.
It wasn't until the 1960s that the celebratory style of St. Patrick's Day took hold in Dublin — and the pubs were opened for business. In 1996, Ireland began celebrating its multiday festival. By then, McDonald's had been serving green Shamrock Shakes for more than 20 years in the U.S.
Ireland's government now takes full advantage of the world's attention on March 17. Its ministers fan out across the world on trade missions and high-level political meetings. Prime Minister Enda Kenny is in Washington, D.C., to meet with President Barack Obama and others.
Ireland's tourism agency convinces Niagara Falls and other iconic landmarks to go green. Media outlets cover the parades and festivities.
"In terms of free publicity it's fantastic," said Cronin. But the world's celebration of Ireland's day can be a double-edged sword. "You can get back into drunken leprechaun territory," he added.
Irish people think it's great to celebrate their country, Cronin said, but not if it's only wrapped up in shamrock stereotypes and partiers falling down drunk after too many green pints.
Wherever green pints are being served, those downing them likely don't know they have the U.S. to thank for helping make Ireland's day an international event.