Photos
Santa Claus is coming to town! Kris Kringle spotted in some strange places
From the iconic Macy's Thanksgiving Day Parade in New York to a reindeer sleigh in the sky to a scuba diving Santa, jolly old St. Nick has been popping up all over the world as the holidays approach.
Scroll down for a look at some of this year's eclectic Santa sightings from around the world
Won't you guide my sleigh tonight?
High-wire artist Falko Traber, dressed as Santa Claus, waves from a motor-driven reindeer sleigh that is pulled over the Christmas market in Karlsruhe, southern Germany, on Dec. 5.
Waiting for Santa — a.k.a. St. Nick — at the Christmas market 
Peter Arndt poses as Santa Claus at the Christmas Market in Bremen, Germany, on Nov. 27. The so-called 'Bremer Weihnachtsmarkt' runs until Dec. 23 and attracts more than 1.5 million visitors per year, according to official figures.
St. Nicholas arrives at a Christmas market in Mayrhofen, Austria, on Dec. 3, to bring gifts to the well-behaved little girls and boys.
Making a list
Prince William presents Prince George's handwritten Christmas wish list to Santa Claus, during his visit to the Esplanade Park and Manta's Market in Helsinki, Finland, on Nov. 30. 
Checking it twice
A St. Nicholas impersonator distributes gifts to children at the Christmas Post Office in the district of St. Nicholas near Saarbruecken, Germany, on Dec. 5. From Dec. 5-24, a voluntary Christmas post office is set up, where around 35 helpers work to answer thousands of letters from children to Santa Claus.
Russia's Father Frost
A man dressed as Father Frost, the Russian equivalent of Santa Claus, stands next to a great grey owl as he stages a performance for visitors at the Royev Ruchey Park in the suburbs of Krasnoyarsk, Russia, on Dec. 6. 
London Santa dash
Runners in Santa outfits take part in the annual Santa Dash run on Clapham Common in London on Dec. 3. Two thousand runners dashed to the finish line in this year's festive fun run to raise money for the the Great Ormond Street Hospital for children.
SantaCon around the world 
Revellers in London take part in SantaCon, a global annual event in which people dress up in Santa costumes and parade around to celebrate Christmas. According to the official website, SantaCon events are taking place in 397 cities in 52 countries this year. 
People dressed as Santa Claus participate in the annual bar crawl SantaCon in New York City, on Dec. 9. The annual bar crawl of festive drinkers, now in its 19th year, has seen some backlash from city residents, due to the large, unruly crowds. 
Presents for pets
Santa Claus teams up with a volunteer crew in California to load a truck with bags of free pet food for Rover's Retreat, a partner of San Diego Humane Society's PAWS program, on Dec. 5.
Santa Speedo run
People take part in a half-naked Santa run in downtown Budapest, Hungary, Dec. 10. This is the 14th year that dozens of nearly naked Santas hit the streets of Budapest to support a local children's foundation.
Estonia's Santa Claus summit
A man dressed as Santa shows his beard to a smiling child during the Santa Claus summit in Rakvere, Estonia, on Dec. 3. 
Scuba Santa
A diver wearing a Santa costume swims in the tank at COEX Aquarium in Seoul, South Korea, on Dec. 10, during a promotional event for a Christmas sardines feeding show with Santa Claus.
Getting ready for the busiest day of the year
Instructor James Lovell teaches student Santas during a training session at the Ministry of Fun Santa School in London on Nov. 16. Pens at the ready, a dozen trainee Father Christmases received their final instructions before heading out to Britain's department stores, tourist landmarks and private parties for the festive season.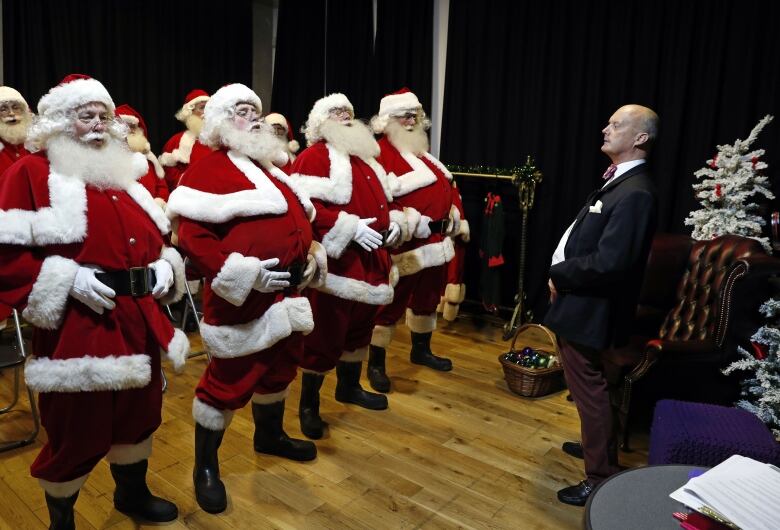 With files from Reuters, the Associated Press, Getty Images and EPA