World
Russia claims Ukraine tried to kill Putin with drone attack on Kremlin
Russia accused Ukraine on Wednesday of attacking the Kremlin with drones overnight in an attempt to kill Russian President Vladimir Putin — the most serious allegation that Moscow has levelled at Kyiv in more than 14 months of war.
Ukraine denies accusations: 'We don't attack Putin, or Moscow, we fight on our territory'
Russia accused Ukraine on Wednesday of attacking the Kremlin with drones overnight in an attempt to kill Russian President Vladimir Putin — the most serious allegation that Moscow has levelled at Kyiv in more than 14 months of war.
Ukrainian President Volodymyr Zelenskyy promptly denied any Ukrainian involvement, telling a news conference in Helsinki: "We don't attack Putin, or Moscow, we fight on our territory."
A senior aide to Zelenskyy said the incident instead suggested Moscow was preparing a major "terrorist provocation."
U.S. Secretary of State Antony Blinken said Washington had not been able to validate the reported attack and that Russian assertions should be taken with a "very large shaker of salt."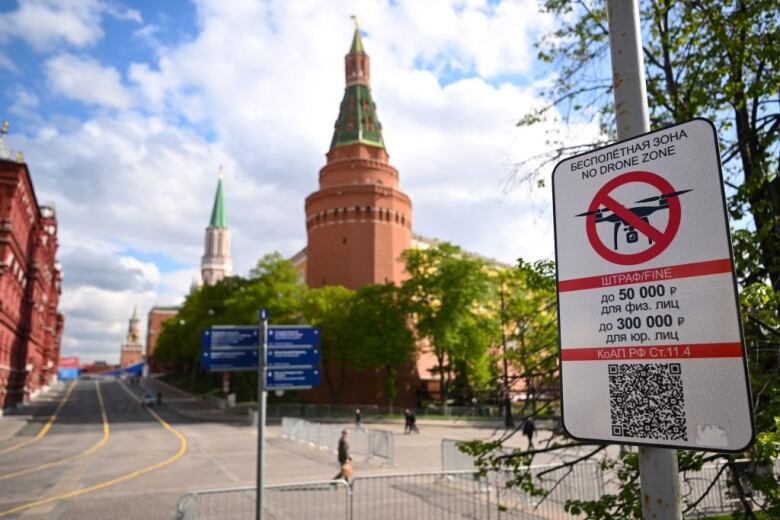 Russia reserved the right to retaliate, Putin's office said, and Russian hardliners demanded swift retribution against Zelenskyy himself.
"Two uncrewed aerial vehicles were aimed at the Kremlin. As a result of timely actions taken by the military and special services with the use of radar warfare systems, the devices were put out of action," the Kremlin said in a statement.
"We regard these actions as a planned terrorist act and an attempt on the president's life, carried out on the eve of Victory Day, the May 9 Parade, at which the presence of foreign guests is also planned.
"The Russian side reserves the right to take retaliatory measures where and when it sees fit," the statement said.
Ukraine issues denial
Video posted by Baza, a Telegram channel with links to Russia's law enforcement agencies, posted a video showing a flying object approaching the dome of the Kremlin Senate building overlooking the Red Square — the site of next Tuesday's Victory Day parade — exploding in a burst of light just before reaching it.
Two similar videos posted on social media showed two objects flying on the same trajectory toward the dome, with the clock on the Kremlin's Spassky Tower reading 2:27 and 2:43. The first seemed to be destroyed with little more than a puff of smoke, while the second appeared to leave blazing wreckage on the dome.
WATCH | Kremlin claims Ukraine targeted Putin:
Reuters checks on the time and location indicated that the videos could be authentic, although it was not clear how Ukraine, if it were involved, could seriously have expected to kill Putin with a drone strike on the Kremlin — a huge, historic walled citadel in the heart of Moscow.
In comments sent to Reuters, Ukrainian presidential adviser Mykhailo Podolyak said Kyiv was not involved in the incident.
"We do not attack the Kremlin because, first of all, it does not resolve any military tasks," he said.
Podolyak said the accusation, along with an announcement that Russia had caught suspected saboteurs in Ukraine's Russian-occupied Crimea region, "clearly indicates the preparation of a large-scale terrorist provocation by Russia in the coming days."
Vyacheslav Volodin, the influential speaker of Russia's parliament, demanded the use of "weapons capable of stopping and destroying the Kyiv terrorist regime."
And former Russian president Dmitry Medvedev, now deputy head of Russia's Security Council, said the incident "leaves us no option but to physically eliminate Zelenskyy and his clique."
But a British expert on Russia, Mark Galeotti, said it was unlikely that the alleged attack had targeted Putin, who "notoriously rarely goes to the Kremlin, let alone stays there overnight."
"If we presume it was a Ukrainian attack," Galeotti posted on Twitter, "consider it a performative strike, a demonstration of capability and a declaration of intent: 'don't think Moscow is safe.' "
Phillips O'Brien, professor of strategic studies at the University of St. Andrews in Scotland, was similarly skeptical of the Russian reporting.
"It certainly wasn't an attempt to assassinate Putin, because he doesn't sleep in the roof and he probably never sleeps in the Kremlin," O'Brien said.
He noted that it was too soon to prove or disprove whether it was a Russian attempt "either to make Ukraine look reckless or to buck up Russian public opinion," or if it was a Ukrainian operation to embarrass Russia.
Putin outside of Moscow: report
The Russian presidential administration said fragments of the drones had been scattered on the territory of the Kremlin complex, but there were no casualties or material damage.
RIA news agency said Putin had not been in the Kremlin at the time and was working on Wednesday at his Novo Ogaryovo residence outside Moscow.
Victory Day, a major public holiday commemorating the defeat of Nazi Germany in the Second World War, is a chance for Putin to rally Russians behind what he calls his "special military operation" in Ukraine.
Russia marks the occasion with a huge military parade on Red Square, for which seating has already been erected.
The state news agency TASS said the parade, which will have tighter security, according to a Kremlin announcement last week, would still go ahead.
Moscow Mayor Sergei Sobyanin said earlier on Wednesday that the city had introduced an immediate ban on unauthorized drone flights.
Russia has accused Ukraine of numerous cross-border attacks since the start of the war, including strikes in December on an air base deep inside Russian territory that houses strategic bombers equipped to carry nuclear weapons. In February, a drone crashed in Kolomna, about 110 kilometres from the centre of Moscow.
Ukraine typically declines to claim responsibility for attacks on Russia or Russian-annexed Crimea, though Kyiv officials have frequently celebrated such attacks with cryptic or mocking remarks.
With files from The Associated Press