World
·
THE LATEST
Coronavirus: What's happening in Canada and around the world on Tuesday
Is the Atlantic travel bubble coming back? Provinces take a first step in that direction.
Ontario reports 296 new cases of COVID-19, 13 deaths; Quebec reports 105 new cases, 6 deaths
The latest:
The Atlantic provinces are outlining plans to partly resume their travel bubble — with some specific regional requirements — as of June 23. 
Newfoundland and Labrador Premier Andrew Furey announced on Tuesday that travellers from Nova Scotia, New Brunswick and Prince Edward Island will be allowed in without having to self-isolate or get tested for COVID-19.
He says the move is possible because COVID-19 case numbers have remained low in the province while vaccination rates are climbing steadily.
Likewise, Nova Scotia is crediting low hospitalizations and high vaccination rates for the province's move to allow visitors from other Atlantic provinces with no 14-day isolation period required. 
"Our case numbers and hospitalizations are low and every day we are putting more and more vaccines into the arms of Nova Scotians," Premier Iain Rankin said in a news release.
WATCH | P.E.I.'s premier describes what will change as of June 23:
Prince Edward Island will allow people from the other Atlantic provinces who have obtained a so-called P.E.I. Pass — which will provide proof of residency and of at least a single dose of vaccine — to enter the province without self-isolating as of June 23, while unvaccinated travellers will need to complete a shortened self-isolation period.
Islanders who want to travel around Atlantic Canada and return without self-isolation may also apply for the pass. 
New Brunswick will reopen to residents of Nova Scotia's Cumberland County without self-isolation for now. Residents from the rest of Nova Scotia are not expected to be allowed to enter New Brunswick without self-isolating until at least July 1.
The province is also ready to move to Phase 1 of reopening, the premier announced Tuesday, having reached its target of 75 per cent of people over age 12 being at least partially vaccinated.
"We got 'er done ... So one thumb up," said Dr. Jennifer Russell, chief medical officer of health, calling it an "incredible milestone."
Across the region, Nova Scotia reported four new COVID-19 cases Tuesday, while Newfoundland and Labrador reported two. New Brunswick had three new cases, while there were no new cases in Prince Edward Island, which no longer has any active cases. 
-From CBC News and The Canadian Press, last updated at 1:30 p.m. ET
---
What's happening across Canada
As of 8:45 p.m. ET on Tuesday, Canada had reported 1,404,106 confirmed cases of COVID-19, with 14,935 considered active. A CBC News tally of deaths stood at 25,972. More than 29.9 million COVID-19 vaccine doses had been administered so far across the country, according to CBC's vaccine tracker.
In Ontario on Tuesday, health officials reported 296 new cases of COVID-19 and 13 new deaths. Nearly three quarters of adults in Ontario now have at least one dose of COVID-19 vaccine. 
Quebec, meanwhile, reported six additional deaths Tuesday and 105 new cases of COVID-19. The province is now allowing anyone over 50 to move up their second dose of vaccine, no matter which shot they received first. 
WATCH | The latest science around vaccines and variants in Canada: 
Across the North, there were no new cases of COVID-19 reported in Nunavut or the Northwest Territories on Tuesday. Health officials in Yukon reported 12 new cases. 
In the Prairie provinces, Manitoba reported two additional deaths and 115 new cases of COVID-19 on Tuesday. 
Saskatchewan had four additional deaths Tuesday and 47 new cases. The seven-day average of new COVID-19 cases in the province is 70, its lowest seven-day average since Nov. 1, 2020.
Health officials in Alberta reported four deaths and 127 new cases on Tuesday. Unlike Saskatchewan, the province has three $1-million lotteries to encourage more people to get a COVID-19 vaccine. At least one psychologist says, it'll probably work. 
WATCH | Will Saskatchewan launch a vaccine-incentive lottery?
In British Columbia, there were reported 108 new cases reported Tuesday and no deaths. With summer around the corner, B.C. says it will require day passes for people to visit five of its provincial parks, which must be obtained in advance of a visit, a move aimed at limiting crowding. 
-From CBC News and The Canadian Press, last updated at 8 p.m. ET
---
What's happening around the world
As of Tuesday evening, more than 176.5 million cases of COVID-19 had been reported worldwide, according to a coronavirus tracking tool. The reported global death toll stood at more than 3.8 million, according to the Johns Hopkins University database.
The British government fended off calls Tuesday to provide more financial support to businesses and workers who will suffer financially from its decision to delay the relaxation of coronavirus restrictions in England by four weeks to July 19.
Although many coronavirus restrictions have been eased in recent weeks, allowing large parts of the U.K. economy to reopen, a number of businesses — particularly those in the hospitality and entertainment sectors — have not been able to do so because it was not financially viable. After months of planning, those businesses had been preparing to reopen on June 21, the date the government had earmarked for the possible lifting of restrictions on social contact.
However, the recent spike in new infections as a result of the more contagious delta variant that was first identified in India has upended that plan.
The <a href="https://twitter.com/hashtag/COVID19?src=hash&amp;ref_src=twsrc%5Etfw">#COVID19</a> Dashboard has been updated: <a href="https://t.co/XhspoyTG79">https://t.co/XhspoyTG79</a><br><br>On Tues 15 June, 7,673 new cases and 10 deaths within 28 days of a positive test were reported across the UK.<br><br>41,831,056 people have now received the first dose of a <a href="https://twitter.com/hashtag/vaccine?src=hash&amp;ref_src=twsrc%5Etfw">#vaccine</a>. 30,209,707 have received a 2nd dose. <a href="https://t.co/EHtDYBNZWL">pic.twitter.com/EHtDYBNZWL</a>

&mdash;@PHE_uk
Following the announcement, unions joined with business leaders to urge the government to compensate those affected by the delay, particularly those in the arts and hospitality industries.
Elsewhere in Europe, Germany's health minister says the country has issued nearly five million vaccination certificates that are designed to be part of a European Union-wide digital pass system. Germany launched the rollout of the certificates late last week. Users can download proof of their coronavirus vaccination status onto a smartphone app.
In the Asia-Pacific region, India on Tuesday reported 60,471 new COVID-19 infections over the past 24 hours, the lowest since March 31.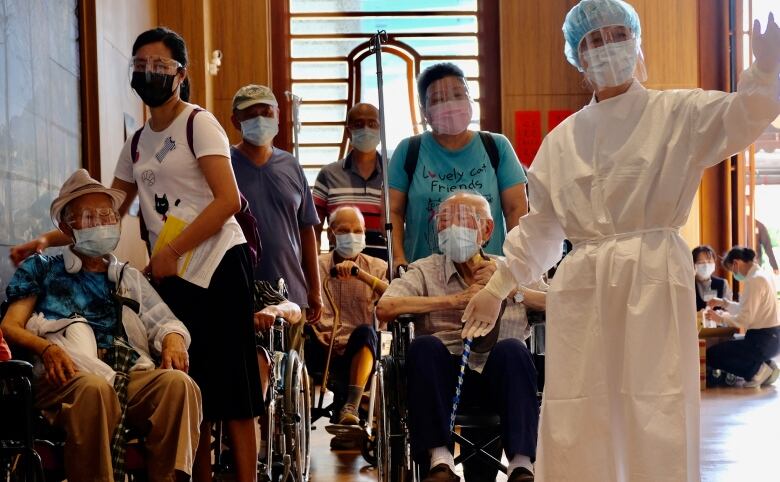 Africa will get priority treatment for the Group of Seven's pledged 870 million doses of COVID-19 vaccine, a senior World Health Organization adviser said on Monday.
In the Middle East, Israel is no longer requiring masks indoors, lifting one of its last coronavirus restrictions following a highly successful vaccination campaign. The restriction was lifted on Tuesday, though people will still be required to wear masks on airplanes and on their way to quarantine. Unvaccinated individuals must wear masks in nursing homes and other long-term health facilities.
Israel has vaccinated about 85 per cent of its adult population, allowing schools and businesses to fully reopen. There are only a few-dozen active patients in the country of more than nine million.
In the Americas, the U.S. death toll from COVID-19 has topped 600,000, according to the tally by Johns Hopkins University, as the vaccination drive has decreased daily cases and deaths. The number is greater than the population of Baltimore or Milwaukee, and about equal to the number of Americans who died of cancer in 2019.
Brazil's government says it has already documented 41 cases of COVID-19 related to the Copa America, which started Sunday. It says the cases include 31 football players or staffers with teams and 10 workers who were hired for the event. Brazil's Health Ministry also says all workers who tested positive are in Brasilia.
Mexico received 1.35 million doses of Johnson & Johnson coronavirus vaccines donated by the United States on Tuesday.
Chilean health authorities said they would extend a COVID-19 emergency through September to allow the government to impose restrictions.
-From Reuters and The Associated Press, last updated at 3:30 p.m. ET
---
---
With files from The Canadian Press, The Associated Press and Reuters