World
Canadian historian joins uproar in Israel over Polish Holocaust law
As Israel and Poland are locked in a diplomatic dispute over a Polish anti-defamation law, CBC correspondent Derek Stoffel talked to a Canadian historian about his research into Polish involvement in crimes during the Second World War.
Prof. Jan Grabowski worries academic research could be stifled by new Polish legislation
A University of Ottawa history professor flew to Israel this week, right into the eye of a brewing diplomatic storm involving the Jewish state and Poland over a controversial bill dealing with remembering the Holocaust.
Jan Grabowski has spent years examining the Holocaust in Poland, where he was born, focusing on Polish-Jewish relations. His research has brought death threats against him and his family and angry letters to his employer demanding he be fired.
But in an interview with CBC News hours after arriving from Canada, Grabowski vowed to press on with his work, outlining the focus of his next book, which will examine the role of the Polish Blue Police during the Second World War.
"It's about 20,000 people who were armed and who inflicted horrific suffering on the Jews," he said.
Controversial Polish legislation
Israeli leaders are leading the charge against a piece of legislation passed by the Polish Parliament earlier this month that made it illegal to assert that Poland bore any responsibility for atrocities committed by Nazi Germany.
Six million Jews were killed during the Holocaust, and many of those victims were Polish. Some of the most notorious extermination camps — Auschwitz-Birkenau and Treblinka to name two — were built on Polish soil.
But for decades Poles have chafed at references linking their nationals to the crimes of the Holocaust. Former U.S. president Barack Obama issued an apology in 2012 when he used the term "Polish death camp".
While most scholars, including those at Yad Vashem, the official Israeli memorial to the Holocaust, agree that labelling concentration camps as Polish is misleading, critics say what's more worrisome is the crux of the new Polish law that imposes fines or prison terms of up to three years for linking "the Polish nation" to crimes committed during the Holocaust.
'No Polish bystanders'
Grabowski notes that the prison sentence is the same duration Poles could expect to serve behind bars before the Second World War for "insulting the Polish nation."
At his Tel Aviv press conference. the Polish-Canadian dual citizen discussed a newspaper article from 1936, detailing the case of a Jewish woman who was evicted from a Polish university. 
"As she was evicted, she shouted 'Polish animals.' They beat her up, but she was the one the police arrested," Grabowski said. "She was put in prison for two months for insulting the Polish nation."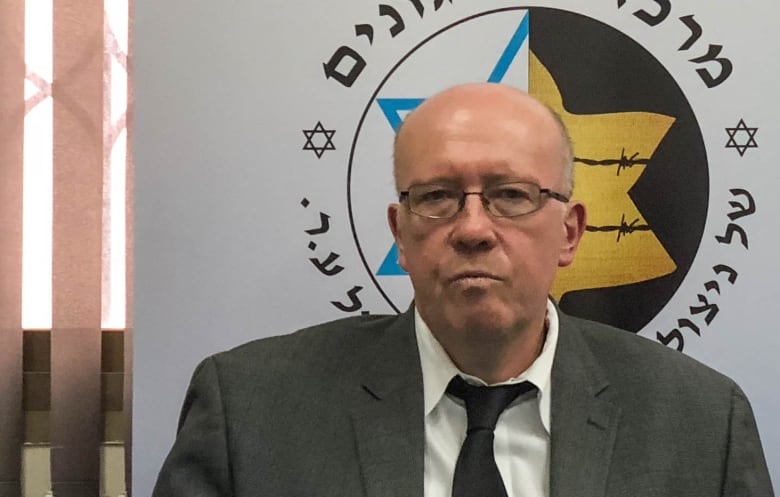 Grabowski, who is in Israel for a conference on Holocaust history, has faced much criticism from some Polish historians for his years of research, including his controversial conclusion that 200,000 Polish Jews were killed — directly or indirectly — by Poles during the war. 
"There are no Polish bystanders to the Holocaust," he told reporters.
Poland's embassy to Canada, in Ottawa, has criticized Grabowki for offering "groundless opinions and accusations."
"In reality, there was no free Poland during the Second World War, and the Holocaust was the murder by Nazi Germany of six million Jews," the mission wrote in a statement to Macleans magazine. "Poland, unlike many countries, was never an ally of Nazi Germany and never had a collaborative regime."
While he questioned the legal effect of the new Polish legislation, calling it "nonsense," Grabowski does worry about a chilling effect.
"This law was an embodiment of the growing frustration of nationalists in power [in Poland] who simply are trying to find tools with which to freeze the debate, knowing that they cannot refute historical evidence," he said. "What they can do is they can try to silence people who would like to undertake research in these areas."
What's Poland's position?
Poland's government dismissed claims the Holocaust law will hinder academic research. Officials say the legislation is needed to protect Poland's international reputation. 
But in a move seen by some to soften the impact of the bill, Polish President Andrzej Duda asked the country's constitutional court to examine the legislation after he signed it into law. 
That did little to silence the opposition to the law in Israel.
"We have no tolerance for distorting the truth, for rewriting history, or for Holocaust denial," Israeli Prime Minister Benjamin Netanyahu has said. "We will accept no limitation on truthful historical research."
The diplomatic row intensified on the weekend after the Polish prime minister told reporters in Germany, "there were Polish perpetrators, as there were Jewish perpetrators" of the Holocaust. 
Canada's Minister of Foreign Affairs Chrystia Freeland wrote on Twitter that Canada is "concerned by the potential impact on free speech" of the Polish law, urging Warsaw to "ensure open discussion and education about the horrors of the Nazi death camps."
🇨🇦&nbsp;is concerned by the potential impact on free speech of <a href="https://twitter.com/hashtag/Poland?src=hash&amp;ref_src=twsrc%5Etfw">#Poland</a>'s bill on <a href="https://twitter.com/hashtag/Holocaust?src=hash&amp;ref_src=twsrc%5Etfw">#Holocaust</a> complicity. We call upon 🇵🇱to respect intellectual inquiry and ensure open discussion and education about the horrors of the Nazi death camps.

&mdash;@cafreeland
Before the law was approved by the Polish Parliament, Israel's Ministry of Foreign Affairs reprimanded the deputy Polish ambassador, a day after he was summoned to meet Israeli officials.
Now that the bill has been enacted into law, Colette Avital, the top Israeli advocate for Holocaust survivors, is urging the government to go further by recalling Israel's ambassador from Warsaw, in response to Poland's "historical faux pas."
Avital, the chairwoman of the Centre of Organizations of Holocaust Survivors in Israel, said she's disappointed that Poland has taken a different path from most European nations, who have "have faced their history."
She added that the legislation is "in a way like spitting in our faces."