World
As gangs fight in the street, violence-plagued Acapulco battles to lure back tourists
Once known as a jet-set party town, Acapulco's reputation has taken a hit in recent years due to a high rate of violent crime. Now the oceanside Mexican city is trying to make a comeback — and getting Canadians to return is part of that strategy.
Investors are spending millions to revitalize the city's tourism, and Canadian travellers are a prime target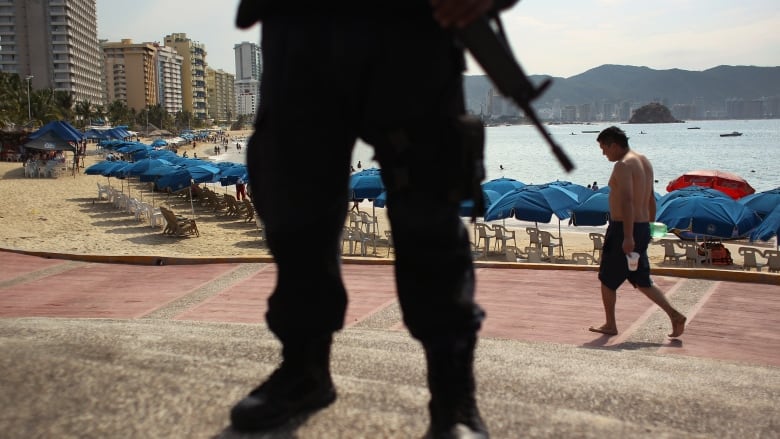 Perched dramatically on the edge of a cliff overlooking the Pacific Ocean, the view from Acapulco's Hotel Mirador is hard to beat. The iconic hotel, built in the 1930s, oozes with mid-century glamour.
In its glory days, Hotel Mirador welcomed rock stars and royalty, politicians and movie stars. Frank Sinatra, Elizabeth Taylor, Elvis Presley and John F. Kennedy all sojourned there.
Until the mid-2000s, the majority of guests were Americans and Canadians, vacationers from the north looking to escape from the cold winter months.
Not anymore.
"Every year we are seeing less Canadians," says hotel manager Jose Salgado.
Americans and Canadians used to make up 80 per cent of his guests, Salgado says. Now the majority of visitors are Mexican nationals.
The number of Canadians vacationing in Acapulco has dropped dramatically in the last four years.
According to the Mexican Tourism Board in Canada, 3,570 Canadians arrived at Acapulco's airport in 2016. That's a significant drop from 2011, when 5,918 Canadians made their way down.
Now Acapulco is trying to make a comeback — and getting Canadians to return is part of that strategy.
From party town to pariah
Once known as a jet-set party town, Acapulco's reputation has taken a hit in recent years due to a high rate of violent crime, often related to drug cartels.
Acapulco's murder rate has earned it the title of Mexico's most dangerous city, and one of the most dangerous places in the world.
In 2015, there were 903 homicides in Acapulco. With a population of just over 860,000, that makes Acapulco the world's fourth-most violent city, according to Mexican think-tank Seguridad Justicia y Paz, which compiles the list based on per-capita murder rates. (Caracas, Venezuela was ranked first.)
Most of the murders happen far from the tourist zone, but there have been cases where bodies have turned up on or near the beaches frequented by foreigners.
And the already-low tourist numbers took a nose dive after September 2014, when 43 students disappeared en masse from the town of Iguala, also located in Guerrero state and about a three-hour drive away from Acapulco.
Currently, Global Affairs Canada advises against non-essential travel to most of Guerrero state, including Acapulco.
In an effort to keep the peace, soldiers with bulletproof vests and assault rifles patrol the beach and the main commercial boulevard in the city.
But that's not the case in some areas outside the tourist zone, says one taxi driver, who didn't want to be identified for fear of reprisal. That's where police and military are rarely seen and drug cartels are known to rule the streets, he says.
"All the businesses pay, taxi drivers — all the people on the street — pay the famous quota," he explains, en route to a parking lot where six kiosk vendors were gunned down in early January.
The neighbourhood is a 15-minute drive from the tourist zone, but it feels like another world. 
The driver explains that since the small vendors didn't pay the quota to the drug gangs, they paid with their lives.
Seeking Canadians
This seemingly endless stream of stories about violence means Piquis Rochin, the international promotional officer for the Acapulco Destination Marketing Office, has her work cut out for her.
Rochin's main job is to convince travellers that Acapulco is still a safe place to come — and her message is aimed directly at Canadians. 
"For us, it's our main market, our number one market," says Rochin. "We cherish and we take very good care of Canadians."
Rochin says the murders used to calculate the city's crime rate often happen far from the strip of hotels on the edge of the bay. But because the crimes are reported online as happening in the region, a Google search of Acapulco is as likely to turn up pictures of dismembered bodies as it is vacation packages. 
Rochin puts some blame on the media.
"[The violence] has become a myth and each story feeds into the narrative of the most-glamourous city turning into the most dangerous," she says. 
Rochin also says she thinks the decline in tourists has more to do with demographics than crime. "Every year, we have a party for the Canadians. I see many of them repeatedly — they are getting older."
When a repeat visitor fails to show up, she says it's often because he or she has passed away.
So huge efforts are underway to entice younger tourists.
One company, Grupo Autofin, is set to invest $1 billion in Acapulco, building new hotels, a convention centre, a shopping centre, a spa and even a hospital, in hopes of attracting medical tourists. 
Later this month, the world's longest over-water zipline will open in Acapulco, running a length of 1,800 metres above Puerto Marques Bay.
And Mexican airport operator OMA is building a new $30 million US terminal at the Acapulco International Airport. A tunnel will also be constructed to bypass the city's traffic, whisking travellers between the airport and the hotel zone in about 10 minutes — a significant improvement over the 45 minutes it currently takes.
Abandoned destination
Still, it will take a lot for Acapulco to return to its former glory.
In 2006, 355,000 international passengers arrived at the airport. A decade later, in 2016, that number had dropped to 54,000, according to OMA.
The city is no longer on the radar for some Canadian travel agents. "I have not sold Acapulco for almost 20 years — lots of Cancun and Puerto Vallarta," says Toronto travel agent William Andrews.
But some Canadians who do travel to Acapulco say those who overlook it as a holiday destination are missing out.
"I feel comfortable here. This is like my home," says Toronto businessman Vincenzo (Jimmy) Lopresti.
Lopresti and his wife have been staying at the same hotel in Acapulco every year for three decades. They love the staff, the kilometres of sandy beach and the consistently hot and sunny weather.
Lopresti admits his children don't want him to travel to Acapulco anymore.
"They said there is a lot of gangland fighting," he says. "I said, you know, I've been going there so many years I've never had any problem."
But Lopresti says he already can't wait to come back again next winter — and thinks other Canadians should join him.