The National
·
The National Today
Acapulco's entire police force suspended in corruption probe as crime surges in Mexico
A closer look at the day's most notable stories with The National's Jonathon Gatehouse: Mexican authorities disarm, suspend Acapulco's entire municipal police; Indigenous vote could affect U.S. midterm elections; Nike profit up after launch of controversial Colin Kaepernick ad campaign
Newsletter: A closer look at the day's most notable stories
Welcome to The National Today newsletter, which takes a closer look at what's happening around some of the day's most notable stories. Sign up here and it will be delivered directly to your inbox Monday to Friday.
TODAY:
---
Surging crime in Mexico
Mexican authorities have disarmed and suspended Acapulco's entire municipal police force amidst a massive murder and corruption investigation.
Heavily armed soldiers and marines staged a daylight raid on the resort city's police headquarters yesterday, arresting two senior police commanders on homicide charges and seizing the guns, bulletproof vests and radios of the rest of the force.
The Guerrero state government issued a statement
saying it will be taking over policing responsibilities in the city "because of suspicion that the force had probably been infiltrated by criminal groups" and "the complete inaction of the municipal police in fighting the crime wave."
The Pacific coast city of 800,000, once a playground for foreign tourists, is now known as Mexico's murder capital. The local murder rate is 103 homicides per 100,000 residents, one of the highest in the world.
Most of the killings are connected to the drug trade, with up to 50 gangs currently battling for supremacy.
Drug violence in Mexico has left more than 200,000 dead since 2006. Another 35,000 people have simply disappeared.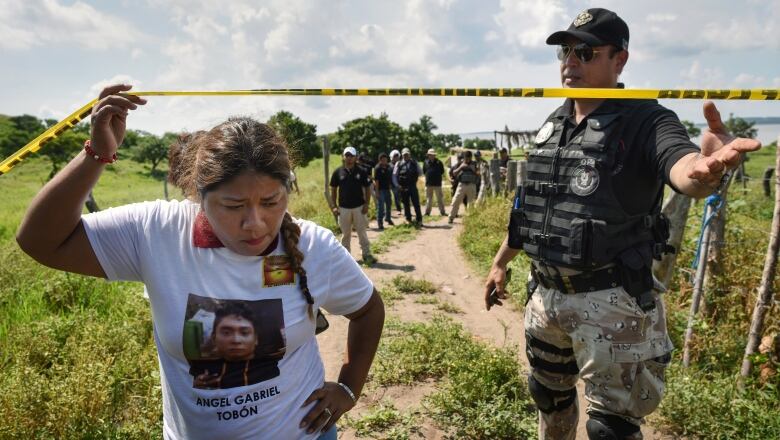 A 12-year federal government effort to
smash the cartels using the country's army has only served to increase the mayhem, as larger organizations splinter into smaller groups scrapping for territory.   
Last year, Mexico recorded 31,174 murders, a 27 per cent increase from 2016, and the country's murder rate is now at its highest point since 1990. To date, 2018 is proving even more deadly, with almost 19,000 killings over the first eight months of the year, a 20 per cent jump from 2017.
Horrors have become commonplace.
This week, authorities in the Gulf state of Veracruz issued photos of clothing items found in a mass grave, including an infant's pants, toddler's sandals, and tiny T-shirts decorated with Pokemon and Tinkerbell. So far at least 174 skulls have been discovered in the massive pit and the excavation continues.
The week before, local residents in a
Guadalajara suburb —
alerted by the stench of decomposing flesh
— discovered a tractor trailer stuffed with more than 270 corpses. As it turned out, authorities knew all about the bodies. They had been using the truck as a mobile morgue for weeks because city facilities are overflowing with the dead.  
But Mexico's crime problems go even deeper.
Yesterday, the National Statistics Institute released the results of a country-wide survey on "common crime," which it defines as pretty much everything short of murder, drugs and migrant trafficking. It estimates that there were 33.6 million "lesser" crimes committed last year, 2.5 million more than the year before.
Muggings on the street or transit were the most-cited offences, accounting for 28 per cent of the total.
The Institute estimated that there were somewhere between 64,000 and 97,000 kidnappings in Mexico last year, most short-term affairs for relatively modest ransoms.
The survey suggests that
only 10 per cent of crimes in Mexico are currently reported to police.
Andrés Manuel López Obrador, the new president-elect who takes office on Dec. 1, made the crime epidemic a central focus of his campaign and has promised to take personal control of government efforts to halt the violence.
The rot is profound, however.
In Guerrero state alone, more than a dozen municipal police departments have been disbanded due to corruption over the past four years, including the force in the state capital of Chilpancingo, where dozens of teenagers turned up dead following run-ins with the cops.  
A pending auction of drilling rights in a rich oil and gas deposit in Tamaulipas state, near the Texas border, may end up being a bust because foreign firms are scared of violent drug and human trafficking gangs that roam the countryside.
And the spread of violence now threatens Mexico's tourism industry, which attracted some 40 million people last year and brought in $21.3 billion US.
The country's incoming tourism secretary is
pledging to counteract the bad media with more advertising campaigns
and promotional events.
But even the fantasy versions of Mexico seem to be bumping up against its worrying reality.
The $45 million US spent on a Cirque du Soleil show, Luzia: A Waking Dream of Mexico, has been declared a "bad investment" by the new government since it failed to increase visitor numbers.
---
Cartoons with political teeth
CBC Los Angeles bureau reporter Kim Brunhuber has been examining how the Indigenous vote may affect the U.S. midterm elections, particularly in light of the Trump administration's desire to open up Indigenous lands for exploitation. One of the people he spoke to is a popular Native American artist who regularly takes aim at President Trump through newspaper cartoons.  
Meeting up with America's most famous Native American cartoonist wasn't easy.
It was my last day in New Mexico and I was running out of time. After numerous emails and phone calls, he finally agreed to meet me at his home in Santo Domingo Pueblo, near Albuquerque.
Except as I waited at the appointed hour near his house, he told me he was actually in the city of Santa Fe and that he should be along soon enough. So, in the searing New Mexico heat, I waited outside the pueblo post office while Indigenous tribe members posting letters regarded me curiously.
But Ricardo Caté was worth the wait.
​
Caté has made a national name for himself by skewering President Trump in
Without Reservations
, the only Native American cartoon featured in a mainstream daily newspaper.
"I don't want to preach to the choir," Caté told me at his studio – a small shack attached to his trailer home. "I want Trump supporters to see this. I want them to think about how we feel about these issues."
Caté's is a unique voice on the political landscape. His recurring character, "The Chief," delights in pointing out the absurdity of positions held by what he calls "the dominant society."
He shows me the cartoon he's working on: two Indigenous men watching a fleet of sailing ships arriving off the coast. "They're watching all these ships coming in and one simply says, 'We need to toughen our immigration laws,'" Caté says.
His cartoons have been running in the Santa Fe New Mexican newspaper since 2006. But Caté is confident that in these hyper-political times, his work is more relevant — and necessary — than ever.
"I can't quite explain it, but it's doing something," Caté says. "My art is doing something that's making a difference. And that's what I like about it."
He's hoping to use his art to help mobilize the Indigenous vote during the upcoming midterms. Only about 40 per cent of Native Americans are registered to vote, and their voting rates lag behind all other ethnic groups. But things may be changing.
​
Caté told me many Native American communities are abuzz because of the record number of Indigenous candidates running for office in November. That includes Deb Haaland, who is running in New Mexico and could become the first-ever Native American congresswoman.
"I'd like to jump on that bandwagon and actually help her with my art," Caté told me.
"I foresee a lot of natives actually headed to the polls this election. I think it would bring a lot of really cool changes."
---
---
Just buy it
Colin Kaepernick is good for business.
American shoe maker Nike released its latest earnings report last night, showing its revenue up 10 per cent to $9.95 billion US for its first fiscal quarter, and a profit of $1.1 billion — a 15 per cent rise.  
The company beat analyst predictions with adjusted earnings of 67 cents per share, which was four cents better than expected.
Nike's decision to make Kaepernick, the originator of the NFL's take-a-knee anthem protests,  the face of its relaunched "Just Do It" ad campaign infuriated many American conservatives, and there was talk of consumer boycotts.
But to date, evidence suggests that the
controversy has helped the brand.  
The company's stock, which was already up 30 per cent this year, surged again this month, hitting an all-time high of $86.04 and adding $6 billion to Nike's market value. (Becoming perhaps a little too hot, as the market later backed off despite the strong earnings report. This morning, Nike is trading around $83.)
Social media mentions — an indicator of the brand's place in the zeitgeist — are up 50 per cent since the ads featuring the former San Francisco 49er debuted on Sept. 4.
Meanwhile, consumer analysts are predicting a sales bump based on online orders and survey data that shows more than half of Americans approve of the campaign.
However, even as the company rides the progressive wave, there are questions about whether its executives are really committed to Kaepernick's attempts to highlight racial injustice, or simply pretending.
Several left-wing websites
have seized upon U.S. Federal Electoral Commission data
that shows the company and its affiliates have donated at least $424,000 to the Republican party and its candidates so far in 2018, almost four times as much as they have given to Democrats. (Although in 2016, it was the other way around, with Democrats receiving 58 per cent of the company's cash, versus 40 per cent for Republicans.)
The biggest beneficiary of the Kaepernick "controversy"?
Phil Knight, Nike's 80-year-old founder and former chairman, who has seen his personal net worth soar by more than $6 billion this year. Knight now ranks as the world's 23rd richest person, with a fortune of $33.7 billion.
---
A few words on ... 
Bill Cosby's final moments as a free man.
---
Quote of the moment
"We're a university, so we're really focused on evidence-based decision-making. The research is suggesting that, actually, behaviour by individuals is not going to change in a material way after decriminalization occurs."

- University of British Columbia counsel  Hubert Lai on the school's decision to allow cannabis use in its designated smoking areas.
---
What The National is reading
---
Today in history
Sept. 26, 1990: Oka Crisis ends
The ragged 78-day standoff between armed Mohawk warriors and the Canadian Army, which began with the death of a police officer in early July, ended unexpectedly and in chaos. As twilight fell, the warriors and their supporters simply strode out from behind the barricades and started heading for town, as the soldiers vainly tried to get them to follow orders. Tensions rose and there were scuffles, arrests, and plenty of screaming and swearing as the cameras rolled. It was hardly a surrender.
---
Sign up here and have The National Today newsletter delivered directly to your inbox Monday to Friday.
Please send your ideas, news tips, rants, and compliments to thenationaltoday@cbc.ca. ​
---
---