Military chaplain adds adviser for Indigenous soldiers
The military's Chaplain General has added an Indigenous Adviser to his team in an effort to ensure indigenous soldiers have the same kind of spiritual support as other Canadian Forces members. The adviser started in August and says he's been busy from day one.
Sgt. Moogly Tetrault-Hamel is the military's first Indigenous Adviser
Canada's Indigenous soldiers have long gone without the kind of spiritual support offered to other members of the Canadian Forces.
Now, with the appointment of the first Indigenous adviser to the military's Chaplain General, the Canadian Forces' spiritual leaders have someone to help them understand how best to support Indigenous soldiers across the military.
In his new role, Sgt. Moogly Tetrault-Hamel is determined to fight for Indigenous soldier's spiritual needs and their rights.
Our Indigenous soldiers have to be able to be supported within their spiritual needs, in the same way that the Christian, the Muslim, the Jewish people are being supported- Sgt. Moogly Tetrault-Hamel
The new adviser will offer training to chaplains, advice on spiritual accommodations and will write a policy for chaplains that reflects the needs of Indigenous soldiers.
As an example, Tetrault-Hamel said he could ensure Indigenous soldiers have access to sweat lodges if requested or have a space at work to smudge, a cleansing ritual that involves burning traditional medicines.
Spiritually supporting soldiers
"Our Indigenous soldiers have to be able to be supported within their spiritual needs, in the same way that the Christian, the Muslim, the Jewish people are being supported," Tetrault-Hamel said in an exclusive interview with CBC News.
Tetrault-Hamel, who is Abenaki First Nation and grew up in Quebec, joined the Canadian Forces in 2001, following in his father's footsteps.
He's served across the country and overseas as a supply technician, advocating for Indigenous soldiers along the way. He has served as the regional chair for the Defence Aboriginal Advisory Group in Alberta and British Columbia before moving to Ottawa this past August to take on his new role.
The Chaplain General is the head of the Royal Canadian Chaplain Service, the branch of the military responsible for "supporting the moral and spiritual well-being of military personnel," according to DND's website. It is tasked with serving all members no matter what faith or spiritual beliefs.
Tetrault-Hamel said the need for more spiritual support for Indigenous members is not new — Indigenous soldiers have been part of the military since its earliest incarnations.
"But to finally have a way, a means, to properly support our spiritual and cultural is new," he said.
He notes that Indigenous culture across the county is diverse and he can't know everything about all of the different cultures. But, he said, "my job is to consult the different elders and knowledge keepers in the areas where they are from and to make sure we [find] a way to properly support our Indigenous soldiers."
An inclusive force
His new role is part of the military's efforts to become a more inclusive force.
CBC has reported on allegations of discrimination against Indigenous members in the Canadian Forces. In December, a proposed class-action lawsuit was filed in Halifax involving three former Canadian Forces members, including a now retired Cree member of the Royal Canadian Air Force.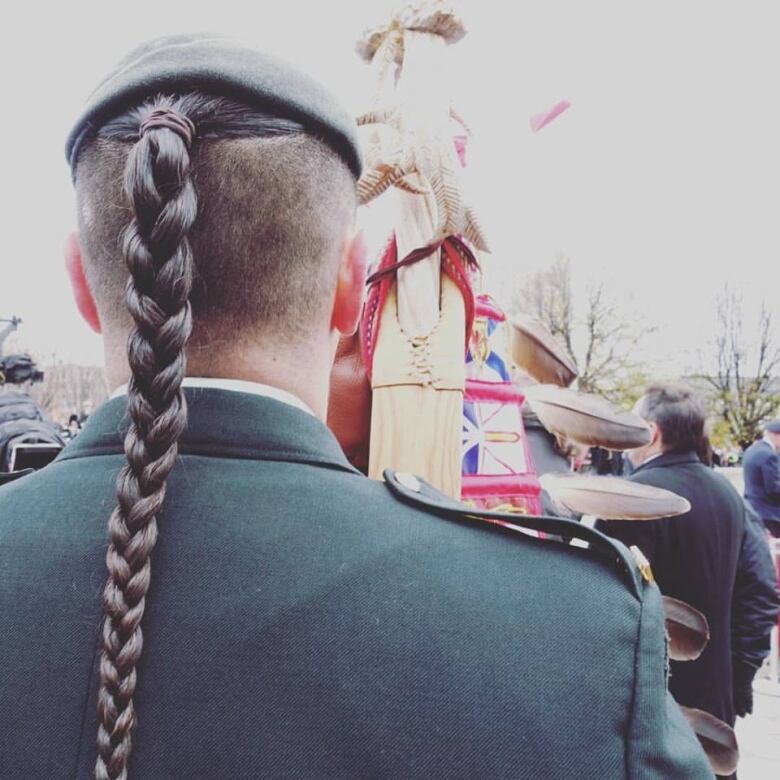 It alleges that there is "systemic discrimination and harassment in the Canadian Forces," and that "derogatory slurs, racial harassment and violent threats are tolerated or ignored."
Tetrault-Hamel said he has experienced discrimination as an Indigenous Canadian, and the prejudice in Canadian society is reflected in the Forces as well. He said adding the role he now holds is part of the military acknowledging that fact, and is trying to make things better.
Tetrault-Hamel says his job is going to go beyond helping military leaders make accommodations for Indigenous members; he says he also wants the chain of command to understand the meaning behind the traditions.
"I'm able to create the awareness piece so that it's not just; yes he's allowed to do it, but why he's allowed to do it," he said. Because that will help put soldiers, who may look different from their other comrades, feel at ease.
Starting in August, Tetrault-Hamel has conducted a handful of training sessions with military chaplains. And he says he's been getting lots of calls for advice and support.
According to National Defence there are approximately 2,294 Indigenous members currently serving in the regular Forces and reserves, based on self-identification figures from June 2015.