Politics
·
Analysis
Donald Trump set for nomination, but Hillary Clinton still poised to beat him
With Ted Cruz and John Kasich out of the race, Donald Trump is now the presumptive Republican presidential nominee. But with his sights now set on the White House, what Americans think of Trump may be the bigger obstacle than his Democratic opponent.
A majority of Americans hold a very unfavourable view of the presumptive Republican nominee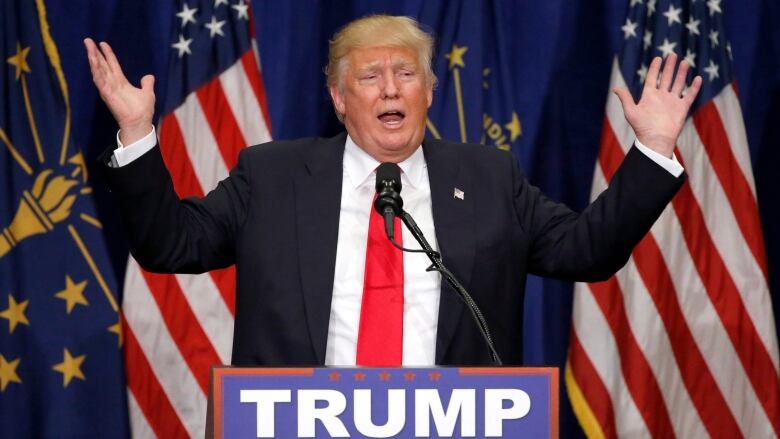 Donald Trump has finally vanquished his foes in the race for the Republican nomination and is now the party's presumptive nominee. But polls suggest the White House remains as elusive a prize for him as it was when his nomination victory was still in doubt.
That's because Donald Trump is the most disliked candidate for the presidency in recent memory. Despite Democrat front-runner Hillary Clinton's own weaknesses as a candidate — she has high unfavourable ratings and is an establishment candidate in an anti-establishment election year — she is still the odds-on favourite to win in November.
In polls compiled by RealClearPolitics, Clinton beats Trump in head-to-head polling with 47 per cent to 41 per cent, a tally that includes a lot of undecided voters. Excluding them would give Clinton a roughly seven-point edge over Trump and a victory similar to Barack Obama's comfortable win in 2008 over John McCain.
A number of recent polls, however, have even given her a double-digit lead over Trump. Though a smaller number of polls have also pegged the race as a toss-up, the wide consensus in the polling favours Clinton heavily.
That is also the case at the state level, where the election will be decided. In the four states won by the narrowest margins in 2012 (Florida, Ohio, and Virginia by the Democrats, North Carolina by the Republicans), Clinton is polling ahead of Trump by an average of five or six points. These states were won by half that in 2012.
Trump tops list of disliked nominees
Trump's biggest challenge in this presidential race will not be his opponent. It will be what Americans already think of him.
According to FiveThirtyEight, an average of 53 per cent of Americans hold a strongly unfavourable or very unfavourable opinion of Trump. This level of intense dislike for a candidate is extraordinarily rare. Since 1980, every candidate running for the White House at this stage of the campaign, with the exception of George W. Bush in 2004, has registered under 30 per cent on this score. Most have been at 20 per cent or less.
Clinton's unpopularity is rare as well, however. An average of 37 per cent of Americans hold strongly unfavourable or very unfavourable opinions of her.
This is the only opportunity that exists for Trump. He is disliked by a huge portion of the electorate — but so is Clinton.
---
The Pollcast: What's next in the U.S. presidential race
Éric Grenier, host of The Pollcast podcast, is joined by Keith Boag, the CBC's senior reporter in Washington, D.C., to talk about where the presidential election goes from here.
---
Demographic deficits
Still, Trump has huge obstacles in front of him, including his low numbers among some election-deciding demographics.
Among women, a recent IBD/TPP poll gave Trump a favourability rating of just 31 per cent, with 67 per cent of American women expressing an unfavourable opinion of him. Clinton, by comparison, does much better: 48 per cent favourable to 52 per cent unfavourable.
Among blacks and Hispanics, Clinton's favourability rating sits at 71 per cent against 27 per cent unfavourability. Only 14 per cent of blacks and Hispanics have a favourable view of Trump, compared to 84 per cent with an unfavourable view.
Trump does do better among whites and men, and he scores better among these two groups than does Clinton. But still, a majority of men and white Americans hold an unfavourable view of Trump. These are poor numbers among his best demographics, and his negatives are more deeply felt than Clinton's.
Friendly fire
Elections in the United States have become increasingly polarized, with fewer and fewer registered Democrats and Republicans voting for the other party. That could change this year, however.
Polling by CNN/ORC and IBD/TPP shows between 24 and 30 per cent of registered Republicans hold an unfavourable view of Trump, while 17 to 20 per cent of Democrats say the same for Clinton.
While that means some Democrats may not vote for their party's nominee, the potential for more Republicans to stay home or vote Democratic is not insignificant. And that makes the White House all the more difficult for Trump to win.
Though the Republican nomination suddenly fell into his hands this week, ending the speculation concerning a contested convention, hard work remains in front of him. Trump has made a habit of defying predictions and beating the odds since he rode that golden escalator into the Republican nomination contest last year. 
But those predictions and odds largely ignored the reality of Trump's strong polling numbers among Republican voters. Now reality is running against him.