Politics
Business leaders urge Ottawa to end Trans Mountain impasse
Some of Canada's most influential business leaders are urging the federal government to get the Trans Mountain pipeline built, warning that the impasse is casting a shadow over Canada's reputation as safe place to invest.
'We're going to get this done,' says Finance Minister Bill Morneau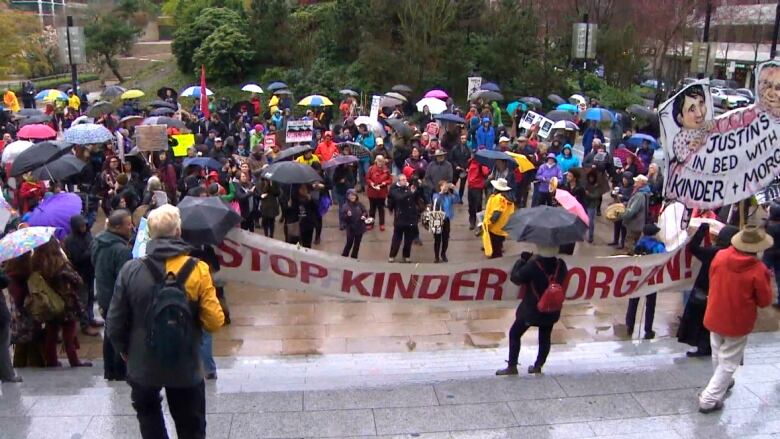 Some of Canada's most influential business leaders are urging the federal government to get the Trans Mountain pipeline built, warning that the impasse is casting a shadow over Canada's reputation as safe place to invest.
"We have to get that pipeline done," said Dominic Barton, global managing partner of consulting giant McKinsey & Co.
"We can talk all we want about growth, but if we can't actually get our products and services to the markets we need to, we are kneecapping ourselves."
Barton, who also chairs the Trudeau government's economic advisory council, made the remarks in Toronto while attending the Public Policy Forum's third annual Growth Summit.
In a keynote discussion, Barton said the federal government has to come up with a better way to move forward on major infrastructure projects, including the Trans Mountain expansion.
"It's taking way too long," he said. "There is too much of a focus on process and not output."
Project faces stiff opposition
Tensions over the proposed expansion reached a high pitch on Sunday, when Kinder Morgan announced it was suspending all non-essential activities and related spending on the $7.4 billion project, citing persistent opposition from the British Columbia government.
This morning, Prime Minister Justin Trudeau's office confirmed he is cutting short a planned trip to Peru for the Summit of the Americas to meet with Alberta Premier Rachel Notley and B.C. Premier John Horgan in Ottawa to talk about a way forward for the pipeline expansion project.
Horgan's government opposes the project and is asking the courts to rule on whether it has the right to restrict the flow of bitumen through the pipeline.
Notley's government has accused B.C. of risking a constitutional crisis and recently announced it plans to introduce legislation that would give the province the power to reduce oil flows, which would lead to a spike in gas prices in B.C.
'Failure is not an option': Morneau
Speaking at the Public Policy Forum's summit, Finance Minister Bill Morneau reiterated his government's vow to see the project go forward — a message he said will be repeated in the prime minister's upcoming meetings with the premiers of Alberta and B.C.
"When the federal government makes a decision to move forward on a project, we need to be able to do that," he said.
Texas-based Kinder Morgan has given Ottawa until May 31 to provide concrete assurances that the project will go ahead, despite the opposition that now threatens to block it.
Several Indigenous and environmental groups are staunchly opposed to the pipeline's expansion, and more than a dozen groups are challenging the project's approval at the Federal Court of Appeal.
Morneau said the government has responded to concerns expressed by pipeline opponents, citing his government's $1.5-billion oceans protection program, announced in March to mitigate the risk of a potential oil spill.
Conceding that the Trans Mountain expansion might not win the support of all of its critics, Morneau said the federal government has the jurisdiction and the means to see that it gets built.
"We will need to listen along the way, but that is the outcome that we will achieve," he said.
Investor confidence shaken
Still, continued opposition to the Trans Mountain expansion is a sign that Ottawa must find a better way to address bottlenecks in its approval process for major infrastructure projects, said Barton.
"We've got to involve people in it, but there's got to be a set timeframe for that," he said.
"It can't be endless and it can't be so unclear, because people are just not going to invest."
The Business Council of Canada also expressed its fear that mounting delays and uncertainty could kill the pipeline project, hampering Canada's efforts to get its oil resources to tidewater.
"Markets and investors around the world are watching closely," said council president and chief executive officer John Manley in a news release.
"In the absence of a swift resolution to this issue, foreign and domestic investors will be left to question whether Canada is a suitable place to invest, create jobs and grow their businesses."
At a news conference held Thursday afternoon, an alliance of B.C. business leaders called on the province's premier to reverse course on his opposition to the pipeline expansion, accusing him of igniting a trade war with Alberta and undermining investor confidence.
"If we can't build this project, it will show the world that government approvals and the rule of law count for nothing in Canada," said B.C. Chamber of Commerce President Val Litwin.
"Make no mistake — if this pipeline can't move forward, it will have broad implications for resource development in B.C. and in Canada and investment in general."