Indigenous
·
Video
Is there a place for cannabis in First Nations culture?
The role of marijuana in First Nations culture was the topic of discussion on Friday's CBC Indigenous panel.
Panellists weigh in on CBC Indigenous interview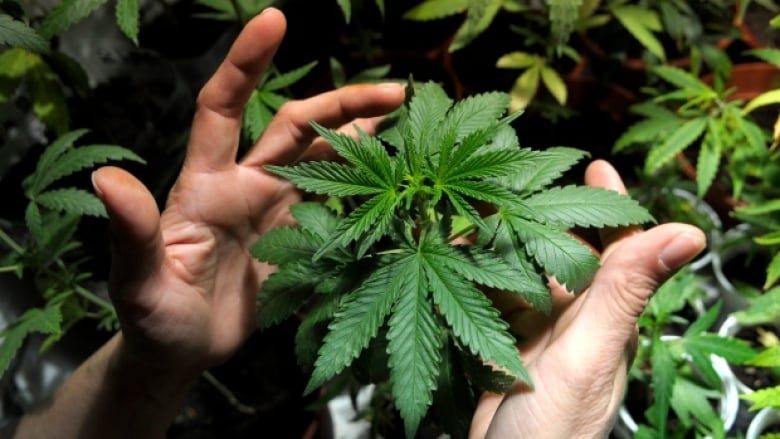 The role of marijuana in First Nations culture was the topic of discussion on Friday's CBC Indigenous panel.
Kylo Prince, a former Sixties Scoop adoptee, said he had his first hit of a joint at the age of eight, on a rooftop, in the "bible belt" in Indiana.
Close to 40 years later, he's got a firm grasp of his culture but says he has also incorporated the use of marijuana.
"I've had lots of elders tell me that [marijuana] was medicine," said Prince.
He's from the Long Plains First Nation in Manitoba, and over the years, Prince has spent a lot of time reconnecting with his culture and ceremonies.
"That medicine was given through me for some of the things that I had to go through. Some of the spirit helpers, they like us to smoke that," said Prince.
Watch the Facebook Live panel
During a CBC Indigenous live panel, Prince said he had suffered physical and sexual abuse when he was younger, which led him to use harder drugs.
He sees marijuana as a better alternative to battle anxiety and depression than using prescription medication.
As for cultural uses, he doesn't see any harm with using marijuana and living a traditional lifestyle. He said he has used marijuana before and after ceremonies, but never during. 
"People always say, you don't smoke that in your [ceremony] pipe, and I don't. I know how people feel about it," said Prince.
On July 1, Canada will legalize marijuana and Prince thinks people's perceptions will change.
"People got used to the idea that it was illegal," he said. "Once it's legal, people will be less anal about it."
Working with medicinal users
Elder Albert McLeod gave up using marijuana close to 32 years ago. He is a two-spirit elder who sits on the Thunderbird House elders' council in Winnipeg and has worked extensively in the two-spirit community.
"I work with people who have AIDS who are taking medicinal marijuana or are taking THC in pill form," said McLeod.
Although he said some people approaching ceremony may be using medicinal marijuana, McLeod doesn't believe that it should be included as part of ceremony.
"The intent of the ceremony, is about purification," he said.
"The less things that you have in your body that can distract you from that relationship with spiritual world, the stronger the healing will be."
He acknowledges that other Indigenous Peoples in the south use peyote as part of their ceremonies, but he said he doesn't think it has a place in northern regions. He said he feels people are intended to use the medicine plants that grow in their own region.
"Our plant medicines [like sage and sweetgrass] that are local to here, are stronger than anything that can be introduced," he said.
"We have our own medicines, and marijuana is not one of them."
Through his work at Thunderbird House, located in the middle of Winnipeg's downtown core, McLeod has seen many people struggle with homelessness, addictions and historical trauma.
He said people who use drugs should not be prevented from seeking traditional healing. 
"We're not supposed to control who comes to the door, because it's going to be someone who is seeking knowledge, and wisdom and healing," said McLeod.
"If only healthy people are coming through that door, then we are only healing healthy people."
He added that, to him, "marijuana, compared to meth or fentanyl, is a minor issue."