Health
Vapes need same restrictions as tobacco, medical groups tell federal parties
There's an urgent need for vaping products to be given the same advertising and flavour restrictions as tobacco, a group of health organizations in Canada said in calling for immediate political action.
Call from health coalition comes after officials announce 1st Canadian case believed to be linked to vaping
There's an urgent need for vaping products to be given the same advertising and flavour restrictions as tobacco, a group of health organizations in Canada said in calling for immediate political action.
The appeal came Thursday at a news conference in Ottawa from representatives of:
Action on Smoking and Health.
Canadian Cancer Society.
Canadian Medical Association.
Canadian Lung Association.
Coalition québécoise pour le contrôle du tabac.
Heart & Stroke.
Ontario Campaign for Action on Tobacco.
Physicians for a Smoke-Free Canada.
"We've just unleashed a torrent of addiction amongst young people in Canada through our thoughtless disregard of the need for effective regulation of these products," Dr. Andrew Pipe, Heart & Stroke board chair and a smoking cessation physician in Ottawa, said in an interview. "Now we're playing catch-up in Canada, and we're in an almost unforgivable situation."
On Wednesday, health officials in London, Ont., announced what's believed to be the first case in Canada of a respiratory illness linked to vaping. The high-school-age individual used e-cigarettes daily, was initially on life-support and is now recovering at home.
The key missing piece of information in London's case is what was in the cartridge, said Dr. Samir Gupta, a respirologist and associate professor in the department of medicine at the University of Toronto.
Public hospitals in Ontario have been asked to provide the province's chief medical officer of health with statistical, non-identifying information related to incidences of vaping-related severe pulmonary disease.
"Clinicians have reported to Toronto Public Health [TPH] that they had encountered a small number of patients in recent weeks who potentially had vaping-related severe illness," Dr. Michael Finkelstein, Toronto's associate medical officer of health, said in an emailed statement.
TPH said it has asked clinicians to ask their patients to share illness-related information. "We have yet to receive this information," Finkelstein said.
The U.S. Centers for Disease Control and Prevention (CDC) reported 530 confirmed and probable cases of lung injury related to e-cigarettes as of Tuesday. The agency said Thursday that based on gender and age information on 373 people, 72 per cent were male and 67 per cent were 18 to 34. 
No single device, ingredient, additive or pathway to illness has been identified in the U.S. investigation. Most of the people reported using tetrahydrocannabinol (THC, the main component in cannabis that gives users a high) or both THC and nicotine. Some of the cases have reported using only nicotine, CDC said.
The U.S. Food and Drug Administration is now investigating more than 150 products and substances and said it has activated its criminal investigations arm to explore the supply chain of vaping products and identify the cause of the illnesses. No individual vapers will be targeted, said Mitch Zeller, director of the FDA's Center for Tobacco Products.
During the current Canadian election campaign, the health groups involved in Thursday's news conference called on all parties to commit, within 60 days should they form government, to stop promotions for vaping products on television, radio, billboards, public transit hubs, convenience stores, social media, newspapers and other mainstream media.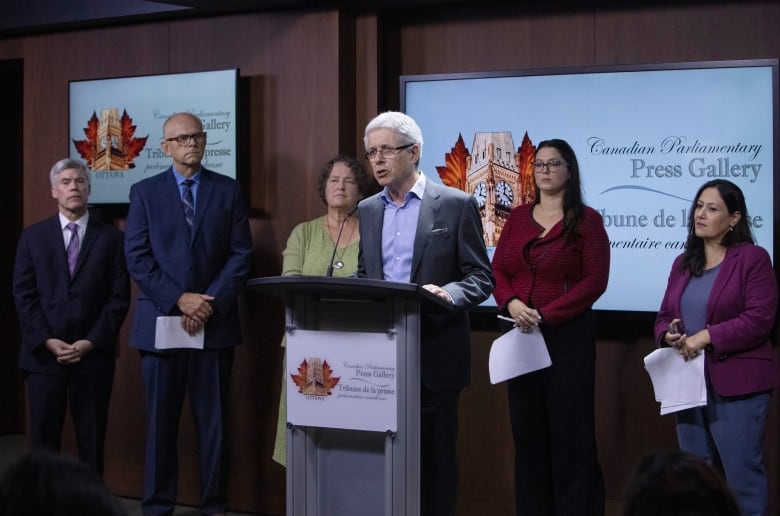 The groups said manufacturers are allowed to entice youth and non-smokers with attractive flavours, give the products away and have no obligations for nicotine limits or health warnings on packages as in this case for tobacco.
The medical groups want a nicotine level restriction of 20 mg/mL similar to in the European Union. The current maximum is 66 mg/mL. The U.S. has no nicotine limit for e-cigarette products, said Rob Cunningham, senior policy analyst with the Canadian Cancer Society. 
"We do not need to wait for a death in Canada to warrant action," said Terry Dean, CEO of the Canadian Lung Association.
In Ontario, advertising of e-cigarettes is currently permitted in convenience stores and gas stations.
"Once we understand what the concern is, then we'll look at any steps necessary in order to protect the health of our young people," Ontario Health Minister Christine Elliott said Thursday. 
Keep on top of symptoms, Health Canada urges
The Canadian Vaping Association said it wants federal, provincial and territorial governments to immediately ban certain marketing. The group said it represents vape store owners, not vaping brands. 
Advertising "must be removed from all convenience stores, gas stations or any retail location that is not age restricted," the association said in a statement.
Health Canada has been urging people who vape to watch for symptoms such as coughing, shortness of breath, fatigue, diarrhea, vomiting and chest pain. It has also said health-care professionals should ask patients about their use of e-cigarette products if they have respiratory symptoms.
Health Canada said Thursday it has consulted on proposed new regulatory measures to further restrict vaping product advertising "to protect youth from inducements to using these products, including restricting the display of vaping products at points of sale."
The U.S. media companies CBS, WarnerMedia and Viacom said they'll drop e-cigarette advertising, CNBC reported. 
In the U.S., Michigan and New York state have voted to ban flavoured e-cigarettes.