Thanks to this young goalie, Malvern's varsity hockey team isn't just for boys anymore
Emma Balazsi is living her dream. And thanks to her talents as a goalie, Malvern Collegiate's varsity boys hockey team has had to take the word "boys" out of its name.
Emma Balazsi says she was surprised to be called up for the boys hockey team, but decided to give it a shot
Seventeen-year-old Emma Balazsi has done such a stellar job as the first female goalie on the boys varsity hockey team at Malvern Collegiate Institute that the word "boys" has been officially struck from the team name.
Balazsi said she fell in love with a pair of yellow pads worn by her favourite goaltender when she was a little girl and started dreaming of one day becoming a goalie herself. She says she started out as a skater when she was five years old, but always yearned to strap on the pads, chest protector and mask and stop the puck instead of shooting it.
At the age of seven, she finally got her wish and hasn't looked back since. 
"Once I became a goalie I was a lot happier," Balazsi told CBC Toronto.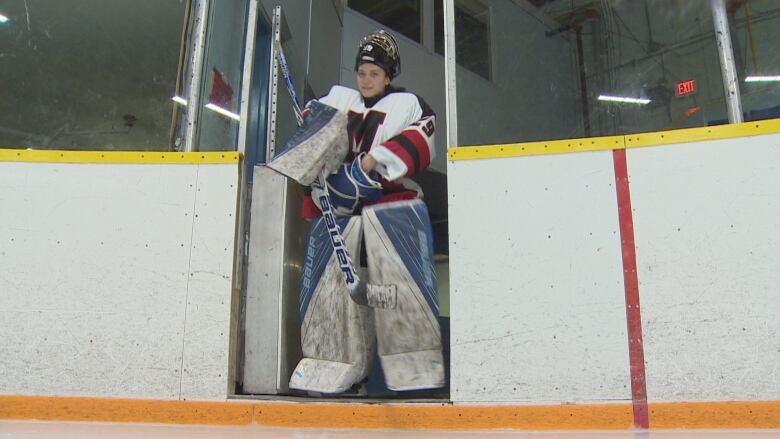 A decade later, her play is making a lot of other people happy too.
It was last fall that Brian Spanton, head coach for Malvern, got word that Balazsi wanted to try out for the team.
She made a big impression on him.
"She's been terrific both on and off the ice and has really turned a lot of heads with her play and in goal ... Quite frankly, I didn't know what to expect at this level . . . [but] she answered that pretty quickly with the way she has played. I was pleasantly surprised."
'Emma's a great goalie,' team captain says
Balazsi admits that she was a bit worried when she was first called up for the team, but not because she doubted her abilities.
"I wasn't really intimidated that I couldn't handle it physically, I was kind of scared what it would have been like socially with the boys and how they would kind of take it," she said.
"I think they took it really well and I felt like part of the team since day one and they have always been really supportive" Balazsi added.
Team captain Hunter Volden agrees, saying he and his teammates always knew Balazsi was their best option in the net.
"She showed it at tryouts and we're just glad that she's on the team," Volden told CBC Toronto. Emma's a great goalie and she's been doing her job and we've been getting wins where we need them. It hasn't really been an issue."
Balazsi has her own change room but she says she usually meets with the team in the boys' dressing room for their pre-game talk.
"It's a little new having someone dressing in a different dressing room and everything but we go to school with her every day and see her and it's just like having another person in the room, not really a big deal," Volden said.
And the team captain said he would have no problem with Malvern one day being a co-ed varsity team.
"I just hope the best players are the players that are picked, so, if they try out and they're better than the boys that are trying out, they should make the team," Volden said.
'A pretty great experience'
For her part, Balazsi says she can feel the support from her teammates.
"Since getting to know the guys I feel a lot more comfortable because I know they have my back just as much as I have theirs," she said. 
"It has been a pretty great experience; the boys are really great and the coaches are awesome. We have a really high level programme so it's been pushing me a lot and I hope to be pushing the boys too."
Balazsi is heading off to Brock University next year and has already committed to play for a Brock women's hockey team.
With between three and four different practice sessions per week, three to four games plus her gym sessions, Balazsi has been doing an extraordinary job of balancing work and play.
"I'm really good at time management, I like to plan things out and I do things as soon as they are assigned to me so I don't have to worry about them at the end. So, it hasn't been a problem yet and I hope it doesn't become a problem," she said.
Balazsi wants to see the game grow, and points to the professional Canadian Women's Hockey League, the professional circuit that now spans Canada, the U.S. and China, as "a really great league" deserving of more attention.
"There are a lot of great female athletes out there that deserve it." 
With files from Julia Knope