Toronto
Syrian scholarship students now seeking refugee protection
Five Syrian scholarship students have applied for refugee protection and some say it's because they felt let down by the renowned Toronto charity that brought them to Canada.
Students criticize educational foundation for not securing work permits or providing money for basic expenses
Five Syrian scholarship students have applied for refugee protection and some say it's because they feel let down by the renowned Toronto charity that brought them to Canada.
The students were part of a group of seven young women who received full-ride scholarships last year to study English in Toronto as part of the Daughters For Life Foundation.
Thirteen months later, five of the students have applied for asylum, while the other two continue with their scholarships and remain in the country on student visas.
Daughters For Life insists it fully supported the students and says their decision to seek asylum is based on the advantages of refugee protection and not because of any alleged shortcomings in the scholarship program.
But in interviews, three of the Syrian students say the foundation didn't prepare them for life in Canada, that they struggled financially and, with their future immigration status in question, had no choice but to claim asylum.
They told me I could work and they would help me find a job.— Aya Hammoud, student
"I had nothing," student Alaa Alakel said in an interview.
Alakel, 24, is the only one who has been granted refugee status. The others are awaiting immigration hearings.
Alakel studied medicine in Aleppo, Syria, before being arrested and forced to flee the country. She says she took the scholarship in order to continue studying to become a doctor.
But while her room and board were covered during the scholarship, Alakel lacked money for basic necessities like hygiene products and transportation.
"The problem is, you want to go and study, but you don't have a TTC pass," she said.
The contract the students signed with the foundation states the costs of "personal incidental expenses" are not covered by the scholarship.
Despite this, Daughters For Life founder Izzeldin Abuelaish says he offered the students spending money if they needed it, and provided it to some.
The scholarship covers round-trip airfare, housing, meals, tuition and health insurance.
In an interview, Abuelaish said the students seeking refugee status are making a "personal choice."
"They know that applying for asylum gives them a lot of benefits," he said.
Mission to empower young women
Daughters for Life sponsors young women from the Middle East to study in Canada and other countries.
Abuelaish, a Palestinian doctor and Nobel Peace Prize nominee who now teaches at the University of Toronto, created the foundation in memory of his three daughters who were killed in a 2009 bombing in Gaza.
"I fully believe in the role of girls and women's education in the world and this is the blessing I want to send to my daughters," Abuelaish said.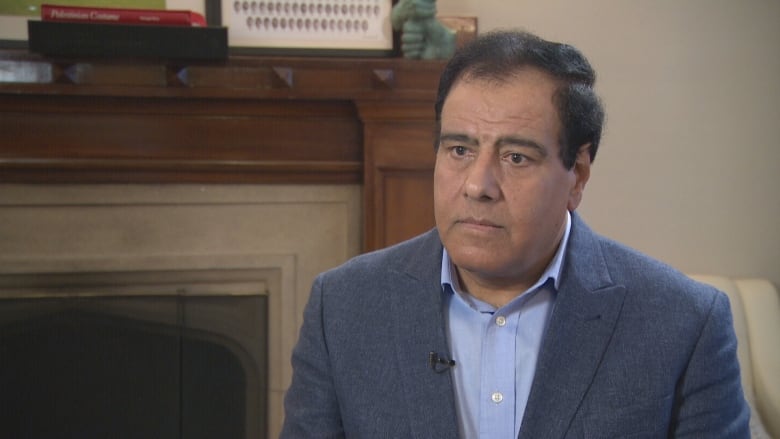 Last year, in response to the ongoing conflict in Syria, the foundation sponsored seven women whose studies were halted in the war-torn country.
The scholarship was for an intensive nine-month English-language program, with the hope of being accepted to a Canadian university afterwards.
For Ayaat Labbad, the scholarship was like a "gift from God."
Labbad, 24, completed the ESL program and with the foundation's help received a full scholarship from Ryerson University.
She praises the foundation for getting her to Canada and providing support.
"They treated us like family," Labbad said. "If you ask, they will help you."
Labbad's sister Asma is one of the students who applied for refugee status.
However, Asma says it was not because there was anything wrong with the scholarship, but due to pressure from her mother.
"She forced me," Asma said. 
'Suffered a lot'
But other students seeking asylum point the finger at the foundation.
"They talk about how they're going to help us achieve our dreams, but they didn't," Aya Hammoud, 19, said in an interview.
Another student, Raya Slieka, 25, said she "suffered a lot" during the scholarship and did not feel supported by the foundation.
Hammoud said she struggled to pay for personal expenses during the scholarship, having only a small amount of money when she arrived.
It's like I had to pay for everything myself.— Alaa Alakel, student
"I really saved it. I couldn't go to restaurants or have fun. I saved it to pay for the the TTC card every month."
During the scholarship, Hammoud lost her prescription glasses and could not afford an eye exam.
She never asked the foundation for money. But Hammoud says she repeatedly inquired about getting a work permit, something she and others say they were promised before coming to Toronto.
"They told me I could work and they would help me find a job," Hammoud said.
The contract the students signed indicates that employment is contingent on the terms of their visas. Their student visas did not allow them to work.
At one point, after asking about finding a job, Hammoud says Abuelaish told her she should find work under the table.
Abuelaish denies ever suggesting that the students work illegally.
Problems with university
Although the scholarship was only for the ESL program, it was agreed that the foundation would assist the students getting into undergraduate programs afterwards.
Daughters For Life has relationships with several universities and helps its scholars apply for international scholarships offered by these schools.
But only one student, Ayaat Labbad, managed to get one.
Labbad is also the only student to have passed the International English Language Testing System (IELTS) exam required for university, something that Abuelaish says none of the five students applying for refugee status has been able to do yet.
But Hammoud says that she and the other students didn't take the exam because there was a cost involved and the foundation didn't prove it had enough university scholarships available.
Slieka says that the foundation offered to reimburse her for the $300 fee if she passed the test, but she didn't have the money.
"How can I pay for that?" she said.
The students took ESL classes at the International Language Academy of Canada (ILAC), a private school on Yonge Street in Toronto.
ILAC founder and co-president Jonathan Kolber has been assisting some of the students after their decision to apply for refugee protection.
Alakel is currently working at the school and continues to study there free of charge.
"We're not involved in the step of getting them into university, but there may have been some gaps in the expectations," said Kolber.
Alakel, who now has refugee status and a work permit, has been accepted to study sciences at Ryerson University, conditional on her passing the IELTS exam.
A proposed solution
Alakel's student visa was the first to expire last September. As the date neared, and with no prospect of university, she began to panic.
"I told him [Abuelaish] I can't go back to Syria," she said.
Abuelaish says that in August 2017, the foundation offered to extend the student's visas and scholarships (including room and board), and assist them in getting work permits until they were able to pass the IELTS exam and get into university.
But Hammoud says the offer appeared to fall short on key matters, including housing and obtaining a work permit quickly enough to support themselves. 
"I didn't believe them when they said they're going to help us. I lost hope," she said.
Alakel also had doubts about the plan.
"It's like I had to pay for everything myself until they get me to university," she said.
Abuelaish points out that Alakel had applied for asylum before the foundation's solution was offered.
"We will never leave them," he said. "I want them to be thankful to Canada, to Canadian people, to Daughters For Life."
Alakel says she is grateful, but wants other potential Syrian scholars to know what she went through.
"It is not acceptable to have the situation we had," she said.
With files from Ghalia Bdiwe