Toronto
·
Analysis
What Sam Oosterhoff's nomination means for Patrick Brown's PCs
Sam Oosterhoff will become Ontario's youngest-ever MPP if he wins next month's byelection for the PCs in Niagara West-Glanbrook. But his age is not the only reason his candidacy is turning heads.
Oosterhoff is the PC candidate in Niagara West-Glanbrook, could become Ontario's youngest-ever MPP
Sam Oosterhoff could soon become the MPP for Niagara's wine country, and he's barely old enough to drink (legally).
Oosterhoff, 19, is the Progressive Conservative candidate in the Nov. 17 byelection in Niagara West-Glanbrook.  If he wins, he will become the youngest MPP in Ontario's history. 
But his age is not the only reason his candidacy is raising eyebrows. 
First of all, he defeated a political heavy-hitter to win the nomination: Rick Dykstra, a three-term Conservative MP for St Catharines and the current Ontario PC party president. Some are interpreting this as a slap in the face to the Ontario PC braintrust.
Secondly, Oosterhoff has expressed some strong socially conservative views. Yet PC leader Patrick Brown is trying to steer his party to the centre and stay away from taking controversial positions on touchy social issues.   
"My family, neighbours, and church helped instill in me the values of community, dedication and service," Oosterhoff says on his website. "I will never waver in my support of parents as primary educators, and I will strive to ensure that parental rights are respected in education." 
Oosterhoff's Facebook likes include the "We can end abortion" community and the Libertarian Christian Institute — as well as the indie bands Imagine Dragons and Death Cab for Cutie. 
In between his twitter posts about political issues, he occasionally tweets references to his Christianity, such as Proverbs 14:12: "There is a way that seems right to a man, but its end is the way to death."
In response to requests from CBC News for an interview on Monday, Oosterhoff's brother Aaron said he was unavailable.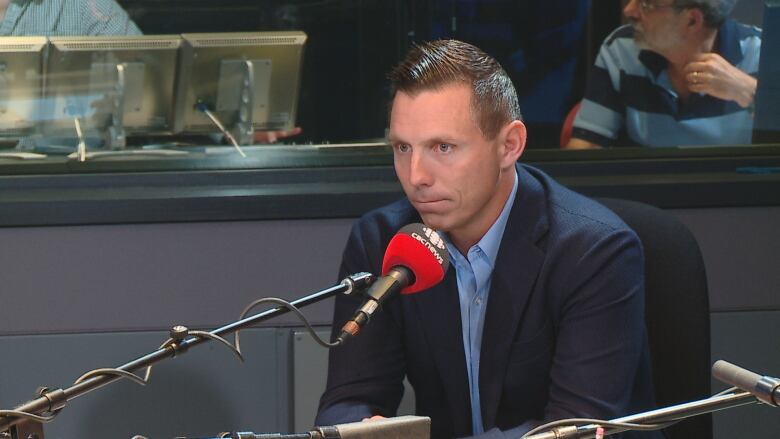 What does the nomination of a social conservative candidate say about the direction of the PC party? The leader insists it says nothing. 
"On marriage equality, on sex education, I've made my position very clear, abundantly clear," Brown told the Ottawa Citizen on Monday.  "Sam's told me that he's happy to be part of the team and happy with the direction I've taken the party." 
Brown badly needs to keep his party out of the hands of social conservatives if he hopes to win the next election. He's aware that while there is a firm base of voters in Ontario that strongly supports such views, it's simply not broad enough to take a majority of seats. And if his PC party gets labelled as reactionary on social issues, it can forget about winning in urban areas.
Brown wants to make sure his party's message emphasizes fiscal responsibility, channels people's anger over rising hydro bills, and fuels a desire for change, given that the Liberals will have been in power for 15 straight years come 2018.
The Liberals seem almost gleeful about Oosterhoff's nomination. 
"I do think it raises some questions about where that party stands on some pretty important issues," Deputy Premier Deb Matthews said Monday at Queen's Park. 
A reporter asked Matthews if it helps the Liberals persuade voters that the PCs can't be trusted on social issues. 
"I'm not sure we need help with that," she replied. "Just look at Patrick Brown's statements on the issues covering the spectrum. It's clear that he hasn't quite figured out who he is, what he cares about, what his values are." 
Still, it would be a stretch to conclude from Oosterhoff's nomination that the PC party is being hijacked by social conservatives. 
"Nomination contests in constituencies can be funny things," said Anna Esselment, an associate professor of political science at the University of Waterloo.
In an e-mail to CBC News, Esselment said there's not much a leader can do about who gets nominated 
"Those who can out-organize and out-sell memberships have a good chance of beating party stalwarts who may make the error of putting too much reliance on their name and years in the party organization to help them win," she said.
​Party officials say that Oosterhoff won the nomination by out-hustling his opponents, selling a lot of memberships and getting his people out to vote.   
On the record, PC MPPs had positive things to say about Oosterhoff's nomination. 
"I'm going to campaign with him, I don't have any issues at all," deputy leader Steve Clark told me. (Clark was also a youngster when first elected: just 22 when he became mayor of Brockville.)
Nepean-Carleton MPP Lisa MacLeod is one of the more socially progressive PCs and is usually ebullient around reporters. She didn't look thrilled when I asked her about Oosterhoff.   
"I haven't met him yet, I'm looking forward to it," MacLeod said in as flat a tone as I've ever heard from her.
"Is that all?" I asked. 
"That about sums it up."