Toronto
Ontario PCs dominate Toronto suburbs and 905, while NDP swipes urban seats from Liberals
Picture Toronto and Brampton and Oshawa as pockets of orange, surrounded by blue.
Kathleen Wynne is projected to win her home riding of Don Valley West — barely
Picture Toronto and Brampton and Oshawa as pockets of orange, surrounded by blue.
PC Leader Doug Ford and his team dominated ridings in the 905 area code while scoring new support in Etobicoke, Scarborough and Willowdale — parts of Toronto where voters had backed Liberals in the past. 
"We have taken back Ontario," Ford proclaimed as his party won a majority government on Thursday night.
The PCs' real power revealed itself in suburbs from Mississauga to Vaughan to Ajax, where it often took just minutes to declare that Progressive Conservative candidates had won.
Andrea Horwath's NDP, meanwhile, swiped a chunk of downtown Toronto seats from the Liberals, who were left with just three seats. 
Here's are some major highlights from the vote: 
Ford won in Etobicoke North — the heart of "Ford Nation" — by nearly 10,000 votes.
The NDP swept Toronto's downtown core.
Liberal Leader Kathleen Wynne managed to hold her Don Valley West seat by a slim margin.
Every major party campaigned hard in the Greater Toronto Area, knowing that winning in the most populous part of the province is key to capturing a majority. 
In the final days of the race, pollsters reported PC support in Toronto's suburbs appeared solid. Darrell Bricker, the CEO of Ipsos Public Affairs tweeted that this made Ford "tough to beat." His prediction was right.
Ford's PCs break through in Toronto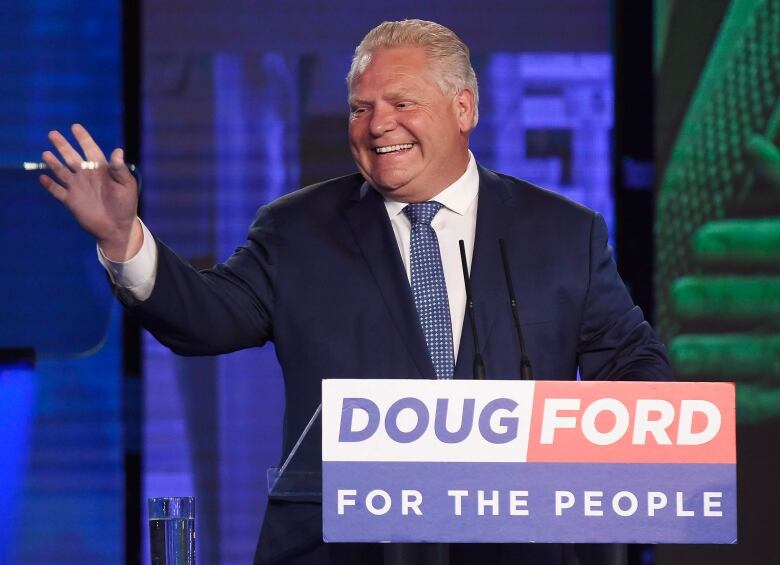 The PCs seized all three Etobicoke seats, while scoring victories in Willowdale and north Scarborough. 
However, PC candidates weren't even close in many downtown races and did suffer some defeats.
Denzil Minnan-Wong, a star candidate who served as Toronto's deputy mayor, couldn't upset Liberal Michael Coteau in Don Valley East.
Doug Ford, a former Toronto city councillor himself and the brother of late mayor Rob Ford, actually spent the least time in the downtown of all four party leaders, according to a CBC News map tracking the leaders' campaign stops. However, his campaign did promise major investments for the city.
Toronto Mayor John Tory congratulated Ford on the win and issued a statement noting Ford's promises to spend on transit and mental health match the city's priorities.
Outside of the city, both Caroline Mulroney, in York-Simcoe, and Christine Elliott, in Newmarket-Aurora, won easily. Both ran against Ford for the PC leadership and appear poised to play key roles in his government.
A piece of orange Peel
The NDP broke through in two parts of the 905: Brampton and Oshawa. 
The NDP captured Brampton North, Brampton East and Brampton Centre, while the PCs captured the southern parts of the rapidly growing city.
Horwath campaigned alongside federal NDP Leader Jagmeet Singh in the area, and vowed to build a third hospital.
The party also managed to hold onto its seat in Oshawa, despite a strong challenge by the PCs.
The wins in Toronto stretched from Parkdale-High Park to Scarborough, including the city's dense core. 
Liberal cabinet ministers crushed
The GTA was largely responsible for giving Wynne's Liberals a majority government in the last election. That's all changed.
A number of high-profile Liberals were swept away by the PCs blue wave, including former ministers Charles Sousa, Stephen Del Duca and Peter Milczyn.
Wynne won her seat by less fewer than 200 votes. Meanwhile, Mitzie Hunter, the former education minister, appears to have won by an even slimmer margin in Scarborough-Guildwood — just 81 votes.
As the final votes are tallied, it's possible the heavy losses in the GTA will lead to the Liberal party losing its official party status at Queen's Park.