Toronto
Schools in Toronto, Peel and York regions to return to in-person learning on Feb. 16
The Ontario government says schools in Toronto, Peel Region and York Region will reopen for in-person learning on Feb. 16, while students in Durham and Halton regions and those outside of the Greater Toronto Area will return to the classroom on Feb. 8.
Students in other regions that haven't yet returned to the classroom will do so Feb. 8
Schools in Toronto, Peel Region and York Region will reopen for in-person learning on Feb. 16, while students in Durham and Halton regions and those outside of the Greater Toronto Area will return to classroom on Feb. 8, the Ontario government announced on Wednesday.
Education Minister Stephen Lecce said the decision was based on the advice of Dr. David Williams, the province's chief medical officer of health, with the support of local medical officers of health and the unanimous recommendation of the council of medical officers of health.
"Ontario is ready to reopen our schools because it is safe," he told reporters.
Lecce said the government is proceeding because there has been a decline in community transmission and in-class learning is important for child development and mental health.
He added that the government will monitor trends to ensure elementary and secondary schools remain safe after they reopen.
"Safety has and is what will drive our decisions every step of the way. We know how critical getting kids back to school is. We will not put your child and your family at risk," Lecce said.
"I want to be clear: If things change, if trends move in the wrong direction, following the advice of the chief medical officer of health, we will not hesitate to act."
The schools to be opened on Monday are those in 13 public health units, including Hamilton and Windsor. Schools in Toronto, Peel Region and York Region are slated to reopen after the Family Day long weekend.
Ontario had previously said all students learning online could return to physical classrooms by Feb. 10, but the detection of virus variants and concern cases could spike had cast doubt on that date.
WATCH | Lecce on staggered reopening of schools:
As part of his rationale for reopening schools, Williams cited Peel's case count being under 200 on Wednesday and Toronto's being under 500. Toronto has said its counts are not currently accurate because of instability caused by a data migration of Toronto Public Health (TPH) to Ontario's centralized COVID-19 tracking system. Williams joined Lecce at the announcement.
Williams said if there is transmission within a cohort of students at a school after reopening, that cohort could be sent home until testing is done or the incubation period of the virus ends. If there is believed to be transmission within a school, the administration could close it while testing is done and an investigation is carried out.
Cohort and school closures will be done on a case-by-case basis, he said.
Yes, Dr David Williams did quote today's daily <a href="https://twitter.com/hashtag/Covid19?src=hash&amp;ref_src=twsrc%5Etfw">#Covid19</a> case numbers today as a rationale for reopening schools. But it's unclear how reliable those numbers are right now, as Toronto Public Health switches over to a new data system.<br><br>Here's part of his response. <a href="https://t.co/ukVI7DJ1Yr">pic.twitter.com/ukVI7DJ1Yr</a>

&mdash;@CBCLorenda
New measures to protect students, staff
The government has introduced new measures to protect students and staff against the spread of COVID-19 in the classroom. These measures include:
Provincewide access, in consultation with local public health units, to targeted asymptomatic testing for students and staff.
A mandatory masking requirement for students in grades 1 to 3 and a masking requirement for grades 1 to 12 outdoors where physical distancing cannot be maintained.
Providing 3.5 million high-quality cloth masks to schools as a back-up supply for grade 1 to 12 students.
Enhanced screening for secondary school students and staff.
Guidance discouraging students from congregating before and after school.
Temporary certification of eligible teacher candidates who are set to graduate in 2021 to stabilize staffing levels, following high levels of absenteeism.
Lecce said the province has allocated $341 million in federal funding to enhance safety in schools for students, teachers and other education workers.
The federal funds will be given to school boards for a variety of measures, including to hire more cleaning staff, buy personal protective equipment and enhance air filtration in schools.
All elementary and secondary school students began January with online learning as part of a provincial lockdown. Since then, the provincial government has taken a staggered approach to reopening physical classrooms.
Earlier on Wednesday, Ontario Premier Doug Ford wouldn't say what thresholds the province relied on to decide whether or not it's safe to reopen schools, but he said he knows parents want their kids back in the classroom. 
It's tough for parents, he said, adding: "Imagine having kids in your house all day long. You're trying to work from home or even come home from work — it's a real challenge."
In Toronto, Peel and York, where schools are continuing with remote learning until before the Family Day weekend, the government will allow before-and-after school programs to reopen on Feb. 16, and emergency child care will remain available until and including Feb. 12 to support front-line workers.
Lecce said the government will allow before-and-after school child-care programs to resume on Feb. 8 in public health regions where schools can reopen on that day. Feb. 5 will be the last day for emergency child care.
This week's COVID-19 case counts have been unreliable due to data entry issues — although there has been a decline in the number of cases in the wake of the province's stay-at-home order. On Wednesday, Ontario recorded 1,172 new infections and reported 67 more deaths linked to the virus. 
'Full support' 
At a news conference following Lecce's announcement, Toronto Mayor John Tory said he was in "full support" of the province's approach, including its timing on reopening the city's schools. The mayor added that the Feb. 16 date was set with input from the city's medical officer of health, Dr. Eileen de Villa. 
With concerns about new, more transmissible variants, de Villa said schools will have enhanced protocols in place. 
For example, masking is now required outdoors where physical distancing cannot be maintained. De Villa also recommended school photos not be taken to prevent students from grouping together. 
"If a student or staff has even one mild symptom of COVID-19, they cannot attend school" and should be tested, de Villa said. If someone in a cohort tests positive, the entire cohort will be sent home to self-isolate, she said. 
Asked what the city's "red line" might be in terms of rolling back the reopening, de Villa said there is no single metric for that and that officials would take a holistic look before deciding. 
Toronto recorded another 444 cases of COVID-19 on Wednesday, with 352 people in hospital and 80 in intensive care. Another 17 people have also died since Tuesday, de Villa said.
The city's case counts have been underreported while it transitions to a new reporting system. That process is expected to be complete by next week, de Villa said. 
Investments needed, NDP says
NDP education critic Marit Stiles, a Toronto MPP, said on Wednesday that the minister failed to explain how he made his decision to reopen schools. Stiles said the reopening must be accompanied by safety measures to ensure schools can remain open during the pandemic.
"It's not just enough to reopen them without putting in place some important measures, like testing, smaller class sizes, better ventilation and paid sick leave," Stiles told CBC's Power & Politics on Wednesday.
In an interview with CBC Toronto, Stiles added: "We all want to see children safely back in school full-time. That's has to be our aim. We know that's really essential. Having said that, there's a lot more that they could be doing to ensure that no spread happens."
Stiles said class sizes must be capped at 15 students to ensure distancing and that a comprehensive in-school testing program with clear targets and funding is needed. "You can't just reopen schools. You have to make them safe too."
Stiles said investments are needed to keep schools safe because of high daily case counts and new COVID-19 variants in circulation. 
"Sending students and staff right back to schools without substantial new protections could doom us to repeat the pattern of more spread, more illness and more missed school days," she said.
The Ontario Parent Action Network — a lobby group for equitable public education — also expressed concern about reopening without "key safety measures." 
"We demand measures that will keep kids, workers and community safe, and give us the best shot at a prolonged in-school year." the group said in a news release on Wednesday.
Sam Hammond, president of the Elementary Teachers' Federation of Ontario, the province's largest teachers' union, said on Wednesday that adequate safety measures must be in place to prevent future closures.
Hammond said the government must take "urgent action" to fund additional measures and provide time for school boards to implement them.
"The Ford government has not invested any new provincial money since August," Hammond said. "They must stop taking credit for federal funding and invest now to avoid contributing to a third wave."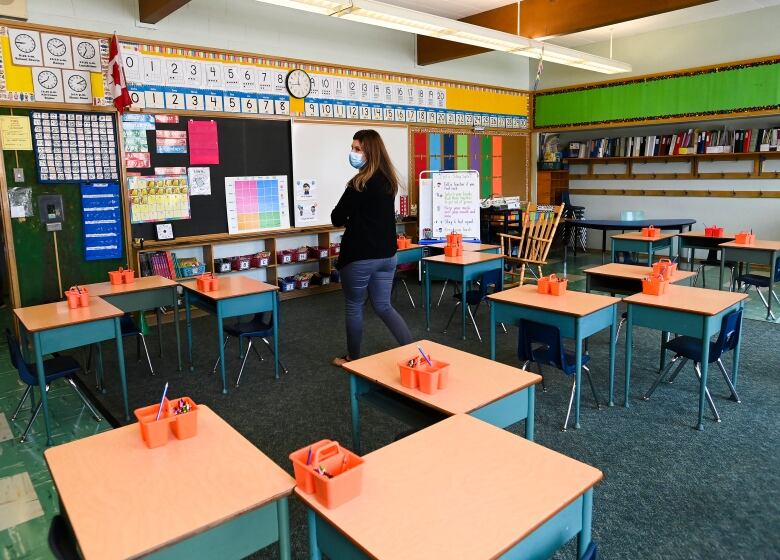 Province has said it will expand testing
On Monday, Lecce said the province plans to expand COVID-19 testing for students and that it will allow school boards to bring in student teachers to fill supply roles as more schools reopen amid the second wave of the pandemic. 
Officials said the targeted testing will be available in all public health units where students have returned to class. They said they expect that Ontario can complete up to 25,000 laboratory-processed and 25,000 on-site, rapid antigen tests per week but offered no timeline on how long it could take to get to that level.
Expansion of the testing program accompanies the injection of another $381 million that Ottawa recently released as part of Phase 2 of the federal Safe Return to Class Fund. A previous $381 million in federal funds for school reopenings came last August.
School reopening has been staggered in province
On Jan. 11, students resumed in-class learning in all northern Ontario public health units. On Jan. 25, students in some areas of southern Ontario went back to in-person class. 
On Feb. 1, students in four public health units — Eastern Ontario, Middlesex-London, Ottawa and Southwestern — were able to resume in-person learning.
A total of 520,000 students in Ontario have been able to return to classrooms as of Monday, according to the ministry.
Schools in the following public health units return to in-person learning on Feb. 8:
Brant County Health Unit
Chatham-Kent Public Health
City of Hamilton Public Health Services
Durham Region Health Department
Haldimand-Norfolk Health Unit
Halton Region Public Health
Huron Perth Public Health
Lambton Public Health
Niagara Region Public Health
Region of Waterloo Public Health and Emergency Services
Simcoe-Muskoka District Health Unit
Wellington-Dufferin-Guelph Public Health
Windsor-Essex County Health
With files from Muriel Draaisma, Shanifa Nasser and The Canadian Press