Jagmeet Singh open to suggestions on where to run for a federal seat
Jagmeet Singh, the newly minted leader of the federal NDP, says he would consider running for a seat in the Greater Toronto Area if an opportunity presented itself.
NDP leader, elected a month ago, admits reinvigorating interest in party in Quebec is a challenge
As Jagmeet Singh stands on a street in downtown Toronto after a media interview, a passerby says: "Hey, you're going to be next prime minister of Canada. Mind if I get a photo?" 
Singh, wearing a bright orange turban, graciously agrees.
The newly minted federal NDP leader, in the position for nearly a month, is acutely aware of the attention he is receiving from strangers in Canada's largest city and said he would consider running for a seat in the Greater Toronto Area if an opportunity presented itself. 
A seat in either Brampton or Mississauga is possible if one was vacant, he said. Before he was elected federal NDP leader, Singh represented the provincial riding of Bramalea-Gore-Malton for the Ontario NDP for six years. 
"If a spot were to open up, I would consider it," Singh tells a reporter. "But it has to open up." 
Singh told CBC's Metro Morning on Tuesday that the amount of attention he has received has grown significantly since he was elected leader.
"I think in politics, what you get is a platform, or an audience, or a stage, to talk about issues that matter. And that stage has just become a lot bigger."
Singh said he is comfortable not having a seat and noted that the late NDP leader Jack Layton, originally a Toronto city councillor, did not have a seat when he was elected to the party's top post.
Layton spent time touring the country and meeting Canadians before he ran federally and Singh said he would be "honoured" to do the same.
"What I've said is that I'm confident and comfortable right now not having a seat," he said. 
"I'm also open, though, if there is a seat that makes sense and if there is a real genuine connection with the riding. I'm open to it and I'm open to advice on it."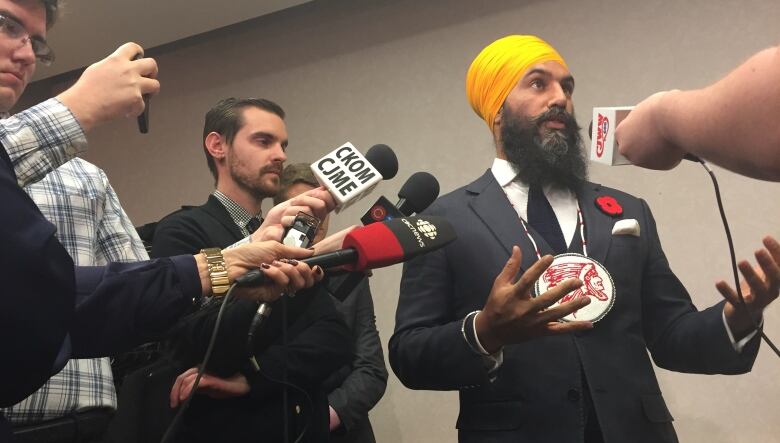 Asked about the fourth-place finish of the NDP in Quebec's recent Lac-Saint-Jean byelection, where the candidate was initially a close second, he acknowledged the challenge of reinvigorating interest in the party in Quebec. He noted he was elected leader more than two weeks after the byelection campaign began.
"I think, for the past two years, there was a sentiment that the party was kind of leaderless in the sense that there wasn't a momentum going forward," he said. 
"My response, though, when I went to Lac-Saint-Jean, when I was spending time in Alma, was phenomenal. I was able to meet with lots of folks. There was a genuine warmth to the people I met."
Rebuilding in Quebec means emphasizing the common ground between the social democratic principles of the NDP and the progressive values of Quebec residents, he said. "I'm looking forward to creating that connection again."
He said divisive laws, such as Quebec's Bill 62, are not the future. He is personally opposed to the law, which bans face coverings when a person receives or provides public services. 
"It's the exact opposite of what we want to see in policies. It's a policy that divides people," he said.
Asked about the fact that research shows 66 per cent of Ontario residents would support a similar law, according to a poll by Ipsos Public Affairs, he said systematic racism exists across Canada, not just in one region.
"We need to have the courage to confront that it is a reality," he said. "First, you have to name it. Systematic racism exists. We have to call it out. We can't pick and choose when it comes to human rights. It's going to take some discussion."
Singh, the first member of a visible minority to lead a federal party, said the representation of visible minorities is important at every political level. 
"It's a powerful step forward to have that representation," he said. "Back when I was a kid, growing up, I would have never imagined even picturing myself as a national leader because there was no one ever that looked like me at that stage."
With files from Metro Morning