Toronto
·
Analysis
Ford government is already getting Torontonians engaged - and enraged
At a time of year when Torontonians are usually thinking about patios, Doug Ford's move to slash city council nearly in half has them thinking about politics, instead. Can opponents mobilize the city's fired-up residents and scuttle the premier's plan?
Torontonians opposed to Ford's plan to cut council packed 3 townhall meetings last week
Toronto residents were fired up last week.
For three nights, during a time of the year when beaches and beer beckon, they packed events organized to show opposition to Premier Doug Ford's move to cut the size of Toronto city council.
On Monday night, they jammed a room for a town hall meeting at the Scadding Court Community Centre.
On Wednesday, the venue was the 519 community centre.
And then on Thursday, the collective uproar over the Ford government's decision to cut the number of elected councillors mid-election took people to church, with an event at Metropolitan United.
These people had a lot of things they could be doing on summer nights in Toronto. They chose to voice their political opposition.
Ford has people paying attention
It's worth remembering that less than a month ago this level of civic alarm was almost unthinkable. Back in July, Toronto voters were gearing up for what appeared to be a pretty by-the-numbers municipal election.
While organizing was happening behind the scenes, there was a general opinion among candidates and media that people would maybe start paying vague attention to the politics affecting their city and the October 22 election sometime in mid-September.
But thanks to Ford, people are paying attention now.
The number of people suddenly engaged and/or enraged was never likely to stop Ford's legislation from taking effect, of course. With Ford leading a majority government, there was little anyone could do to stop the Progressive Conservatives from passing the bill last week.
And while there remains some glimmer of hope with legal challenges moving forward — Toronto city council will vote Monday on whether to argue the city's case before a judge — this has always been an uphill battle for a city government that, technically, only exists because the province lets it.
But even if all paths to block Ford's legislation are blocked, it would be a mistake to dismiss the level of public engagement surrounding it.
Fords have history of getting people fired up
This has happened before. The premier saw it first-hand.
In the summer of 2011, when he was a city councillor in Toronto alongside his brother, Mayor Rob Ford, hundreds of people showed up at a city hall meeting to discuss a slew of proposed cuts to municipal services like libraries and recreation programs.
With a long list of people signed up to speak against the cuts, the meeting lasted all night.
Though dismissed as a bunch of downtown progressives not reflective of the city as a whole, the show of public opposition was something of a turning point for the Ford administration.
As the kind of politicians who style themselves as voices of the people, the sound of a hundreds of voices speaking in opposition to the Fords had resonance. Over time, it got harder for the Fords to win votes at city council.
Provincial politics are different than municipal politics, of course. While at city hall people opposed to legislation are able to work to convince councillors — free from formal party affiliation — to vote for or against various items, there is little hope of that working at Queen's Park.
Public engagement — and opposition — will matter
But voices of opposition can and will still matter.
They'll matter in Ford's caucus, where PC MPPs from across Ontario have got to be wondering why their premier is spending political capital in their first few months of government with legislation that affects just one municipality.
They'll matter with the federal Conservative Party, looking next year to win seats in Toronto. Will a controversial right-wing premier beset by public opposition really help their chances?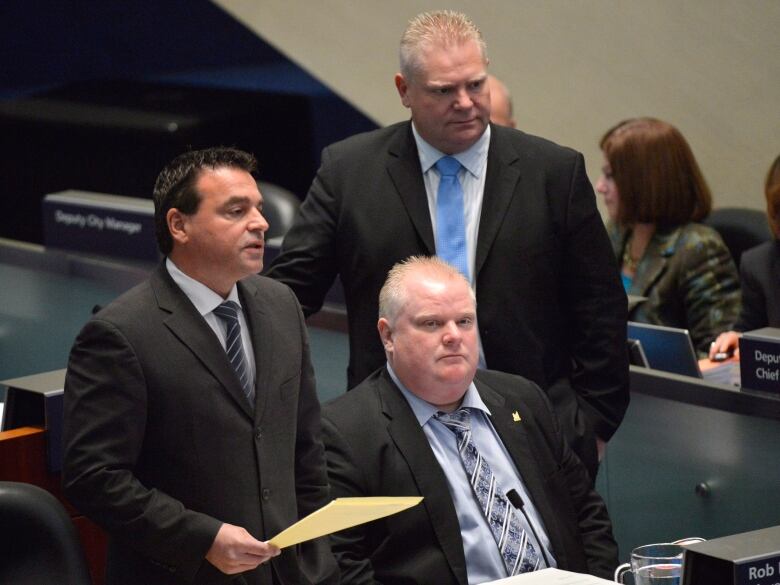 And the voices will matter during the run-up to the Oct. 22 municipal election, where public interest and voter turnout is almost guaranteed to be much higher than it would have been otherwise — no matter how many wards Toronto ends up with.
No outcome is guaranteed, but it's never been desirable for politicians to have rooms full of people voicing opposition.
Just months into Ford's government, those voices are already loud — and if history is any guide, they could carry.