Toronto
·
Go Public
Cancer patient misdiagnosed, then denied treatment
The daughter of a dying cancer patient is going public about how Ontario hospitals misdiagnosed her mother's disease — delaying crucial treatment for months — then refused to operate. Her daughter believes they refused because her mom didn't have health insurance.
Trillium Health accused of failing to help elderly woman because she's not Canadian
The daughter of a dying cancer patient is going public about how Ontario hospitals misdiagnosed her mother's disease — delaying crucial treatment for months — then refused to operate. Her daughter believes they refused because her mom didn't have health insurance.
"I was hurt, because it happened in Canada. It was not something that happens here," said Angeliki Kourouclis, whose mother came here from Ethiopia to visit in 2012.
"I brought my mom to the hospital with the plan that I will be paying for the care that she will be receiving," said Kourouclis, whose records show she has paid all the medical bills, to date.
"I never asked anyone to provide free care."
To add insult to injury, Kourouclis believes diagnostic errors and delays led her travel health insurer to ultimately refuse to reimburse her for any of her mom's treatment.
"It's the argument they are using to not pay."
Kourouclis is an information technology professional who lives in Mississauga, Ont. Her 72-year old mom Kelemua Esayase has come here several times in recent years to visit her two Canadian daughters.
When she arrived for her latest visit, her daughter said she was in good health for her age. She started having abdominal pain, though, so Kourouclis took her to the ER at Trillium Health Centre.
She said she made it clear she was willing and able to pay for whatever was needed, plus her mom had travel health insurance.
Treatment denied, delayed
Even so, right from the start, she said, doctors were reluctant to treat her, she believes because she was from an African country and didn't have provincial health coverage.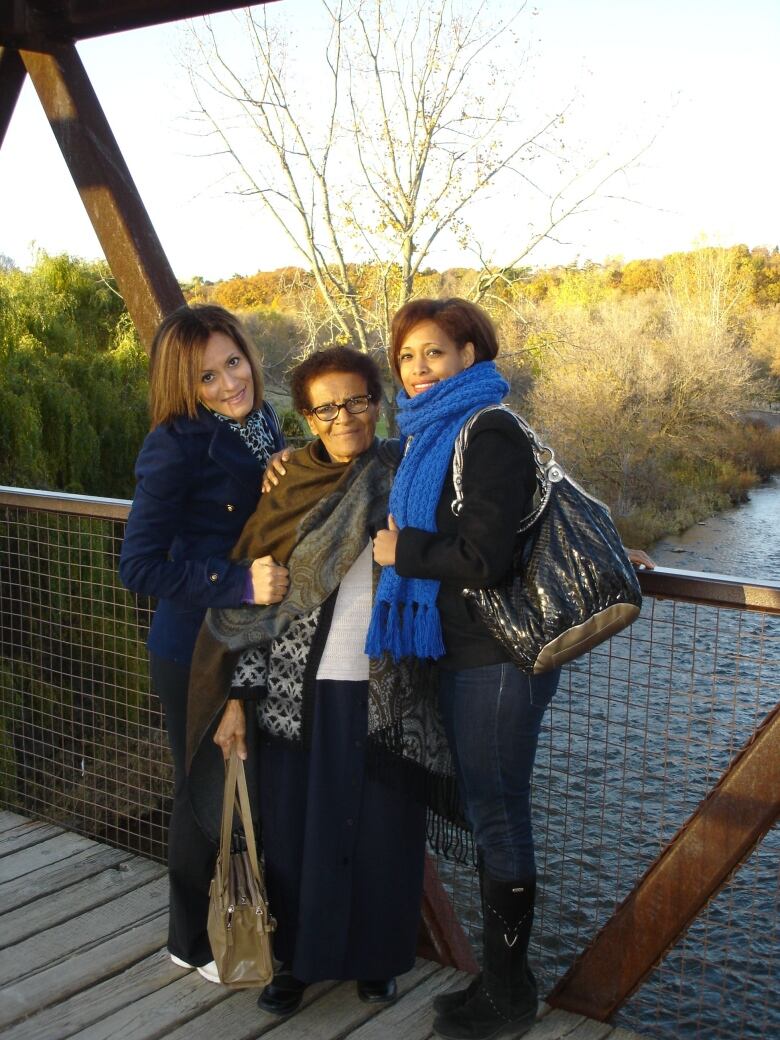 "None of them came to see her," said Kourouclis. "I just felt that they didn't want her there. They didn't feel that she deserved to be there and receive care."
Hospital records Go Public has seen note, "because she had no [provincial] health insurance coverage she was discharged."
Kourouclis took her mom home but brought her back the next day, so doctors ordered a CT scan and other tests. However, the results showed no definitive cause for the elderly woman's pain.
Submit your story ideas:
Go Public is an investigative news segment on CBC-TV, radio and the web.
We tell your stories and hold the powers that be accountable.
We want to hear from people across the country with stories they want to make public.
Submit your story ideas to Kathy Tomlinson at Go Public
Follow @CBCGoPublic on Twitter
Over several months, as her mom got sicker, Kourouclis said several GI specialists then refused to take her as a patient.
She renewed her mother's travel health insurance, to make sure she had coverage. When she finally found a doctor last summer, ovarian cancer was discovered, which had reached an advanced stage.
"I was devastated," said Kourouclis. "She had not been receiving medication for a long time. And for a real long time also she couldn't walk."
'Bad' mistake revealed
Kourouclis was then told her mom's initial negative CT scan at Trillium was one of more than 600 read incorrectly by radiologist Ivo Slezic. Trillium said last year 11 of those patients had experienced "clinically significant events."
"They told us that my mother was actually misdiagnosed in November of 2012. At the time she was told that she had no tumours, she had no cancer — but she in fact did have tumours on her ovaries," said Kourouclis.
Slezic's cases were flagged and reviewed by Trillium last year, because of his high error rate.
"I had to sit with my mother and tell her that there was a mistake — and that it was bad, you know it was worse than we thought it was. It was a really bad day for us."
Kourouclis believes the delay robbed her mom of a fighting chance to beat the disease.
"The prognosis would have been different. She could have gone into remission. And, all this emotional turmoil that she went through made her disease worse."
Her mom's doctor told Kourouclis she would operate on her at Credit Valley Hospital, another in the Trillium group, after some chemotherapy.
In the meantime, though, her travel health insurer denied her mom's claim for coverage.
'Pre-existing condition' cited
Travel Insurance Coordinators (TIC) decided because Esayase had earlier tests (which predated her latest policy and failed to detect her disease) it considered her cancer to be "pre-existing"
"Medical records received indicated that you sought treatment and underwent numerous tests … we regret to advise you that your claim has been declined [because of a pre-existing condition]," said a letter from TIC in August.
A Trillium hospital board then refused to allow the surgery to go ahead as planned, citing her advanced disease. Her daughter doesn't buy that explanation.
"They started playing God as soon as they formed a picture about my mother. She's a 72-year-old Ethiopian woman. The care is going to cost thousands of dollars. She can't afford it. We are not going to provide it," said Kourouclis.
"I told them I had a job. They didn't care."
Kourouclis later drove 16 hours in a November snowstorm to get her mom to Mercy Hospital in Baltimore, Maryland, where doctors did operate, within days.
"As long as you are paying the bills, [U.S. hospitals] don't care where you come from what you look like. To them, you are here to receive care and they are willing to provide it," she said.
By then, though, Esayase's cancer was so advanced, her daughter said the U.S. surgery only helped to ease her pain. The cancer has now spread to her liver.
'So sad'
"I have never felt so sad ... I am doing everything possible to keep her going," said Kourouclis, in tears.
"I say to her, 'There is only one thing I want you to do every day and that is to breathe. That's all you have to do. You don't have to worry about the finances; you don't have to worry about the doctors or anything'."
Her lawyer wrote to Trillium, suggesting it cancelled the surgery because her mom didn't have insurance, which he believes is outrageous. He received no reply. 
"I have to conclude, in the absence of a response from the hospital, that financial considerations impacted on this decision, which frankly as a Canadian I think that should be an affront to many of us," said Chris Guerette.
"This person is willing to pay. This person appears to have the ability to pay. How can we turn our back on someone with ovarian cancer who could very well have a very bad outcome — including death — and just delay this way?"
Trillium also refused to say anything to Go Public about this case and didn't respond to any other questions.
"We are continually communicating and working with patients and their health-care providers to ensure patients are getting the care they need," read Trillium's only comment.
Residency irrelevant, says ministry
Ontario's Ministry of Health said that, in general, hospitals must treat every patient who needs life-saving care.
"Ontario hospitals cannot refuse to treat or admit an individual if the refusal would thereby endanger the person's life, regardless of the individual's residency or insurance status," said spokesman David Jensen.
"When it comes to cancer services, Cancer Care Ontario has put in place an evidence-based protocol for determining when patients need chemotherapy or surgery. Ultimately, physicians are responsible for making health-care decisions, in consultation with patients and their families."
The insurance company said the family can appeal its decision to deny coverage.
"We are open to reviewing her claim and welcome any new information related to her claim including all medical records and invoices," said TIC spokeswoman Debbie Robinson.
Guerette said he thinks he has a good chance of getting the insurer to pay. He also said the family may have a case against the hospital.
"If it turns out that the coverage was impaired by the misdiagnosis of the hospital's radiologist and proper steps were not taken — in that the mistake that was made was not a reasonable one — there could be liability visited on the hospital."
In the meantime, Kourouclis said, her mom's visitor visa expires early next year, but she doesn't know if she will make it that long.
She is now trying to get her into a drug trial for ovarian cancer, but so far, her mom has been denied access to that, too.
"The disease itself is so rotten. It takes over your life. And then you have all these additional things. I feel like I am being bombarded from all sides and I can't even handle the little basic things, you know, caring for her."
Submit your story ideas to Kathy Tomlinson at Go Public
Follow @CBCGoPublic on Twitter