Sudbury
With 28 fires out of control, Ontario gets help from U.S., Mexico, other provinces
Crews fighting forest fires in northern Ontario are receiving help from other provinces, the U.S. and Mexico as they try to contain several blazes after days of hot and humid weather.
63 forest fires are burning in northern and northeastern Ontario, residents hope the weather will shift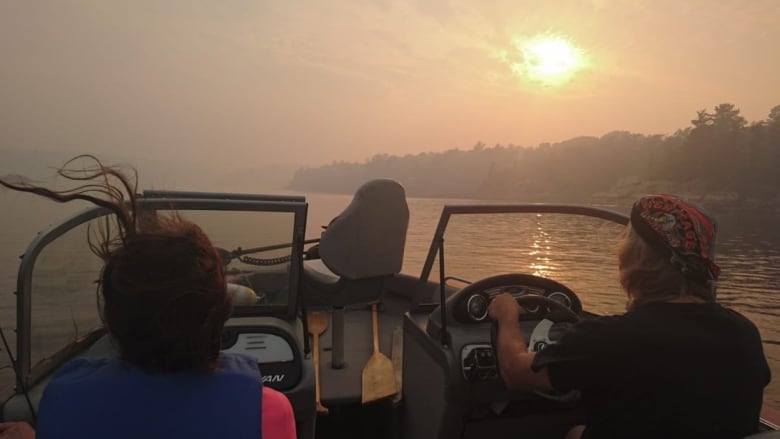 Crews fighting forest fires in northern Ontario are receiving help from other provinces, the U.S. and Mexico as they try to contain a cluster of blazes after days of hot and humid weather.
Ontario's Ministry of Natural Resources and Forestry said in a release that, as of Sunday afternoon, 63 forest fires were burning in the northern and northeastern parts of the province, with 28 of them out of control. The ministry said 35 fires are either being held or being observed. 
Isabelle Chenard, a fire information officer for the ministry, says 775 fires have consumed 181,000 hectares of the province this year. That number has grown more than 75 per cent since this time last year, she explained. 
Since Canada Day, Chenard says, a swath of fires have been started by lightning strikes.
"Several waves of lightning that have passed through the northeast side of the province with very little precipitation," she added.
Out-of-province help, in the form of crews and equipment, has come from B.C.. Alberta, Saskatchewan, Northwest Territories, Nova Scotia, P.E.I. and Newfoundland. Minnesota and Wisconsin have also contributed personnel. And more help is expected to arrive on Monday.
The ministry said 104 people from Mexico arrived in Sudbury on Saturday — a number that includes five crews of 20 firefighters, two agency representatives and two team leaders.
Evacuations
The fires have prompted the evacuation of some communities in northern Ontario.
Evacuation orders have been issued for the Key Harbour and Killarney areas, as well as an area from the western and northern borders of the French River Provincial Park, east to Highway 69 — a portion of the Trans-Canada Highway — and south to the Key River. 
The fire dubbed Parry Sound 33, affecting 5,000 hectares, is still listed as out of control — blanketing the region in heavy smoke. The blaze has prompted mandatory evacuation orders on Saturday for 50 homes that are only accessible by boat. 
Many evacuees are seasonal cottage-goers or campers who have fled to hotels in Sudbury, or have gone home, said James Palmer, whose family has owned the Hartley Bay Marina for 65 years. He was among those pushed out of the area Saturday but he hopes to return soon to check up on the property. 
"Our business is still standing, but that could change at a moment's notice," he said. "It's extremely stressful, because not only is it my home, it's my place of business."
He noted the marina is one of the only access points to the mainland from campgrounds.
Killarney Mayor Virginia Rook called the fire's encroachment on the municipality scary and fears it could claim her home and camp if crews don't get it under control quickly.
"Hopefully we get some rain soon," she told CBC News. 
The ministry said one of the largest fires, known as North Bay 72, is now 21,516 hectares. It is located near McGiffin Lake within Lady Evelyn Smoothwater Provincial Park. The fire is considered part of what the ministry calls the Lady Evelyn fire cluster, north of Temagami.
"Heavy helicopters continued to bucket water onto this fire, coordinating with crews on the ground," the province said in the release.
High temperatures, low humidity and gusty winds meant that fire was active on Saturday, pushing into the interior green islands. 
Smoke blankets region, parts of Manitoba
Plumes of smoke, filling the air in parts of northern Ontario, as the fires continue to burn is causing concern, the ministry noted.
"Many Ontario residents have reported smoke drift in their communities," the ministry said.
Wind in the northwestern region of the province has carried the smoke from fires in the Kenora area further west into Manitoba. 
"Smoky conditions are expected to continue when fires are active, until weather patterns change," said the ministry.
"We've had a lot of smoke," said Renee Germain who lives in Warren, Ont., located between Sudbury and North Bay. Though she's not in the evacuation zone, she's offering her property as a refuge for those with horses and livestock.
People in the French River and Britt, in the Parry Sound district, are looking to move their animals due to the smoke, she said. She's reached out to a few people.
"You never know, you may not have any smoke right now, but in an hour from now, you could get smoked out," she said.
"We're hoping that we can help other farms, or other homes, save a few animals," she said. "If we can help other people who are impacted, I really hope that people out here follow suit."
Germain said the warnings about fires are unsettling, and she's concerned about animals getting left behind.

"Everything is very, very dry. We haven't had much rain at all," she said. "We have new fires that are starting every single day."
With files from The Canadian Press