Saskatoon
Remai Modern show invites everyone to be part of the art
Swiss artist Thomas Hirschhorn's new work at Remai Modern is a bright, colourful participatory space meant to encourage visitors to share and learn with one another.
Swiss artist Thomas Hirschhorn hopes to stir up sharing, learning and fun with his project
France-based Swiss artist Thomas Hirschhorn's What I can learn from you. What you can learn from me. opens this weekend at Remai Modern.
The colourful, immersive "critical workshop" located in the museum's ground-floor Connect Gallery is meant to spark participation from visitors who are encouraged to both learn from others and share what they know.
Leisha Grebinski, host of CBC Radio's
Saskatoon Morning
, caught up with Hirschhorn to se what she could learn from the artist. 
This interview has been edited for length, clarity and context. 
Leisha Grebinski: Describe for people where we are.
Thomas Hirschhorn: It's a workshop. It's a space dedicated to being here, to hanging around, to exchange — and, if people who drop in are keen enough to share with others, to teach specific knowledge, a skill or a competence.
LG: Explain that a bit more. If I were to walk into this space, what would I do?
TH: First of all, I will be here all the time, as my mission. I call it "presence in production." This artwork  is for one month, four weeks. I will be here all the time. I will welcome the people and explain what what they can do here, that they can hang around, they can use the computers. But also they can, if they're keen enough, really teach something they know. It can be whistling, it can be a dance, perhaps another language. It can be telling a history, a story. It can be how to make a painting ... or how to cook something. From a human being to another human being — just one to one.
LG: I find that a little intimidating, because I'm trying to think what could I teach you. What could you learn from me?
TH: Whistling? Perhaps you can whistle, I can't whistle.
LG: I can't whistle, either.
TH: See, something to learn! Perhaps you can think on it a little bit. Yesterday, for example, a woman proposed to teach how in she cooked in prison. Because she went to prison, she can teach that. I think it's a fantastic, beautiful idea. They didn't have a lot of things to cook with. She only had a toaster and a microwave. The idea is to learn what you don't expect to learn and to teach what only you can teach. 
LG: How do you expect the physical space to change over the next little while?
TH: I hope it will be filled with memories of teaching and memories of encounters. I hope it will be filled by the experience we make together here.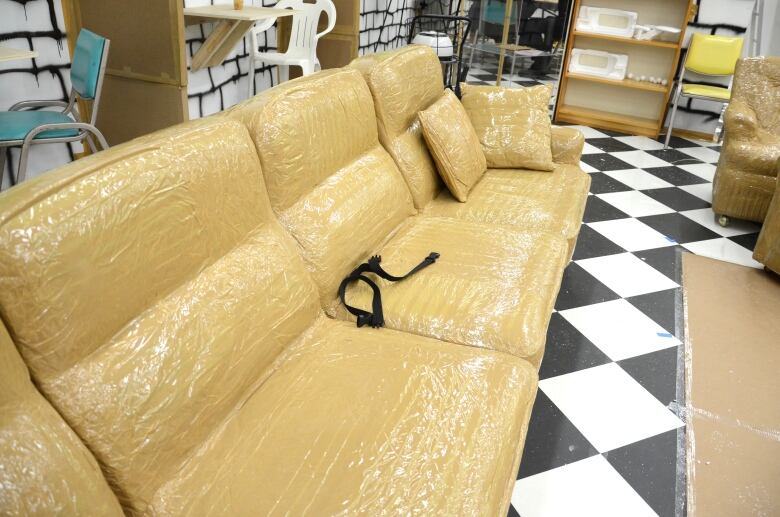 What I can learn from you. What you can learn from me. opens Jan. 27 and runs through Feb. 27 at Remai Modern.
With Files From CBC Radio's Saskatoon Morning