Saskatchewan
Sturgeon Lake has fire services terminated
Sturgeon Lake First Nation will rely soley on its volunteer firefighters after Buckland Fire and Rescue terminated its services to the reserve.
Buckland Fire and Rescue ended services after an outstanding bill was unpaid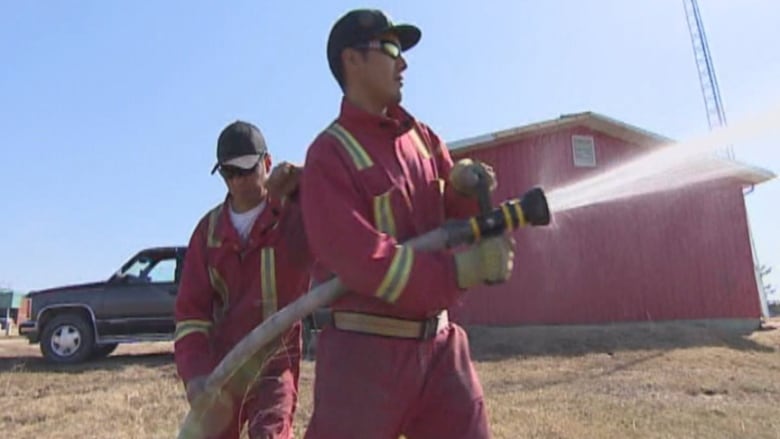 A northern Saskatchewan First Nation will now rely on its volunteer fire department to fight fires.
Buckland Fire and Rescue, a private firefighting firm located in Prince Albert, has terminated its services with Sturgeon Lake First Nation.
Fire Chief James Miller said Sturgeon Lake hasn't paid its $8,000 fee from last year.
This is the first time that Buckland Fire has not been paid in 15 years of providing services, said Miller, but after the deadline passed services to the First Nation were ended.
"We want to make sure that it's well known that we're not responding there so we're not in any sort of liability," Miller said.​
I feel very confident that we will be able to handle the situations, whatever comes in our community.- Wesley Ballantyne
Sturgeon Lake Councillor Wesley Ballantyne said his community did not have the money to pay the bill before April 30, the deadline set by Buckland Fire.
According to Buckland Fire and Sturgeon Lake there was no written agreement between the two parties, but members from Sturgeon Lake First Nation attended a Buckland Fire board meeting to discuss a written agreement and outstanding accounts in February.
By the middle of April, Buckland Fire had not heard back from Sturgeon Lake and indicated they had until April 30 to reach an agreement, Miller said.
The fees were incurred from three fires in 2013 between March and November.
Reserve will depend on volunteers
Ballantyne says he had concerns with the invoices sent because the bills lacked details, adding that Aboriginal Affairs only allocates so much money for fire fighting.
"We all wanted a better understanding of what kind of call, where it was, and we never had that," said Ballantyne. "All we get is an invoice with this is how much, and please pay."
Without the services of Buckland Fire, the reserve will depend on its volunteer firefighters.
Sturgeon Lake has been connected with 9-1-1 services and established a schedule for the reserve's 10 volunteer fire fighters, all of whom have been trained by the Saskatchewan Volunteer Fire Association, Ballantyne said.
"I feel very confident that we will be able to handle the situations, whatever comes in our community,"  he said.
Buckland Fire will still help the reserve with vehicle entrapments, as Sturgeon Lake is not equipped to handle them, said Miller.
Surgeon Lake plans to pay off its $8000 fee to Buckland in increments.
with files from Ryan Pilon