Saskatoon doctor prepares to treat hurricane victims in Florida
Surgeon Sheev Dattani works at the Florida Hospital in Tampa where the medical staff is busy preparing for tropical storm Irma.
Irma set to hit Tampa Monday
He may know a thing or two about snow storms, but a Saskatchewan doctor is about to experience his first hurricane.
Surgeon Sheev Dattani works at the Florida Hospital in Tampa where the medical staff is busy preparing for a tropical storm.
The eye of Hurricane Irma hit Marco Island in southwest Florida as a Category 3 hurricane at 3:35 p.m. ET on Sunday. Wind gusts of 210 km/h were reported. In just a few hours, the storm flooded streets, knocked out power to more than 2.5 million homes and businesses and snapped construction cranes over the Miami skyline.
Tampa, about 450 km northwest of Marco Island, is bracing for similar conditions. Dattani said they're seeing the winds pick up to about 60 kilometres per hour. It's raining, but it's nothing compared to what has been predicted for Monday.
"[There is] a mix of people who are very calm, others who are panicking," Dattani told CBC on Sunday. "The thing I feel real reassured about is that everyone seems really ready for this."
"We're all quite prepared for the hurricane."
At the hospital, Dattani said they've made four operating room teams available.
Emergency teams have been assembled and Dattani said the emergency room is staffed full of physicians, nurses and volunteers.
Calm before the storm
Dattani said he expected it to be busier in the hospital Sunday, but it has proved to be a 'calm before the storm' situation.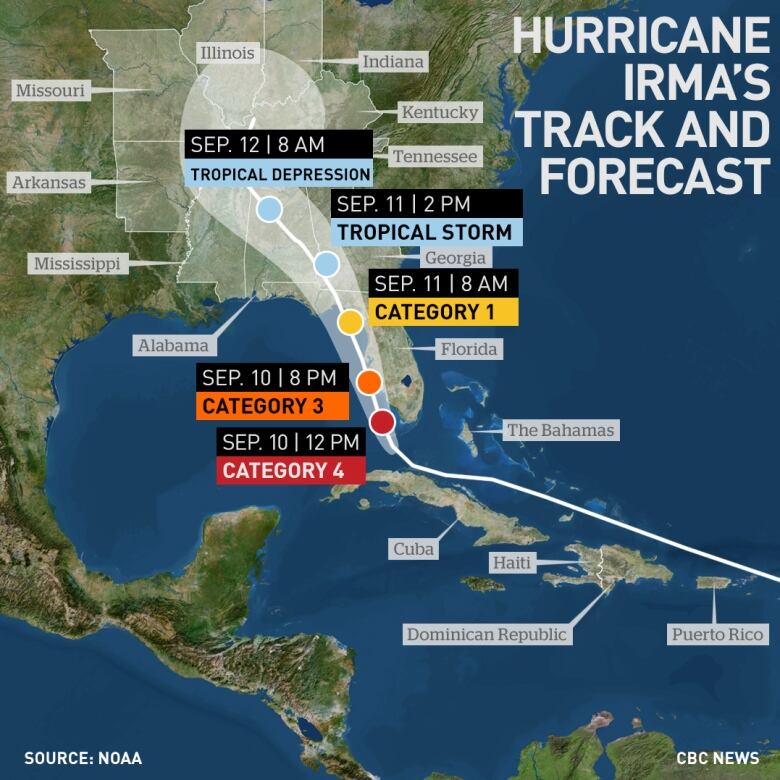 The National Weather Service has issued a hurricane warning for Tampa. Gusts up to 200 km per hour are expected Monday morning and into the afternoon.
The current threat to life has been rated extreme. Catastrophic rains are forecast to cause up to a metre of flooding as small streams, creeks, canals, and ditches are expected to turn into raging rivers. Residents are being urged to seek shelter.
"A lot of people have experience with hurricanes but a lot of native Floridians are saying this is the worst that they've heard of and seen," Dattani said. "I was born and raised in Saskatchewan so this is new to me."
The Saskatoon native did his residency at the University of Saskatchewan and trained to be a general surgeon in the same hospital. He moved to Florida for a fellowship in colorectal surgery.
Although he is a specialist, Dattani said all the doctors at his hospital are ready to jump into action where they are needed.
"Our training is quite broad. So I'm prepared for anything," he said. "I'm grateful for my medical training and I'm grateful for being able to support whoever I can here."
On Sunday, U.S. President Donald Trump approved a major disaster declaration for Florida, authorizing federal funding to assist local and state agencies with response and recovery.