Saskatchewan
Life with Lyme in Sask.: Residents who say they have disease feel ignored
Saskatchewan's Ministry of Health maintains only three human cases of Lyme have been reported since 2008 — a statistic some residents who are living with the disease say is dead wrong.
People told stories of being refused testing and not believed when they asked about Lyme
One night in July 2014, Marilyn Hamoline woke feeling sick. She was dizzy, extremely weak, and suffering flu-like symptoms.
"Basically everything with my body was going wrong. It felt like I had woken up into an 80-year-old body," said the Saskatoon woman.
Nearly a year-and-a-half later, Hamoline was diagnosed with Lyme disease by an out-of-province practitioner after getting two rounds of out-of-country lab work done.
Hamoline started looking outside Saskatchewan's borders after failing to get answers from local doctors about what was wrong with her.
"I asked every single specialist that I saw for a Lyme disease test and they had an automatic response," she said. "It was interesting because they all said it the exact same way: 'Lyme disease does not exist in Saskatchewan.'"
3 cases since 2008
The Saskatchewan Ministry of Health maintains that since 2008, only three human cases of Lyme disease have been reported in the province. Of those, two were associated with out-of-province travel. It's undetermined if the third case was contracted locally or elsewhere.
But CBC News spoke with five people who, like Hamoline, say they or a family member have been diagnosed with the disease and struggle to have it recognized within the provincial health network.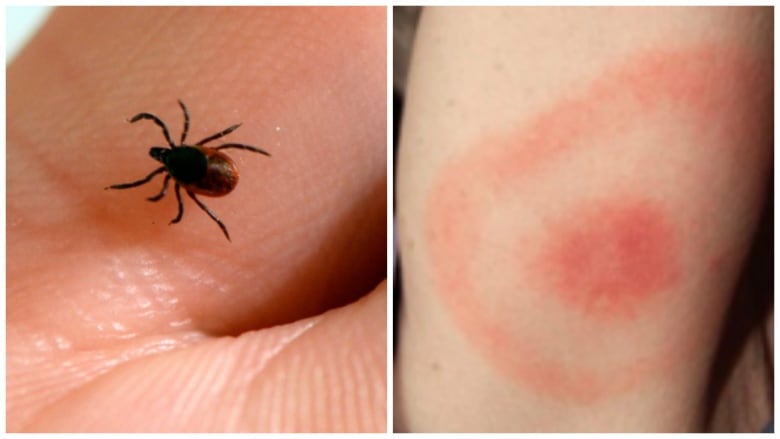 Looking for answers
Jim Wilson, founder of CanLyme, the Canadian Lyme Disease Foundation, said he fields 20 to 30 calls each year from Saskatchewan residents who are presenting symptoms of the disease.
"The most common response from physicians has been that there is no Lyme disease in Saskatchewan," he said.
Lyme disease is spread by black-legged ticks, which are not native to the province. So, according to the government's website, the risk of contracting Lyme disease in Saskatchewan is low.
It's not zero, though — a position Saskatchewan's deputy chief medical officer recently reiterated.
"The tick that carries Lyme disease can be brought into the province from migrating birds, so there is a very low probability that someone could pick up an infected tick," said Denise Werker.
"I can't predict when [Lyme disease] would be here in Saskatchewan but we continue to take this seriously and to watch for it in the ticks and in the humans."
If I report I have a tick-borne disease or I say the 'L' word—Lyme disease—then I'm immediately treated like I'm delusional,- Candace Uhlik
Candace Uhlik, who lives in Prince Albert, Sask., and was diagnosed with Lyme disease in November 2015 after being sick since 1997, is dumbfounded by this assertion.
"Each and every time when I enter triage they'll ask me, 'Do I have any medical conditions?' and if I report I have a tick-borne disease or I say the 'L' word — Lyme disease — then I'm immediately treated like I'm delusional."
2 black-legged ticks sent for testing
So far this year, two black-legged ticks found in the province have been submitted to the University of Saskatchewan, according to biology professor Neil Chilton. 
The school's lab has sent those ticks to the national microbiology lab in Winnipeg to test for the bacteria that causes Lyme. He said the results have not yet returned. 
Hard to find a doctor
Wilson said because of the prevailing attitude there is no Lyme disease in the province, getting tested proves difficult.
Tera Hunter was bitten by a tick in July 2009 while at Fishing Lake, Sask., and developed a classic bull's eye rash. She saw a doctor and was prescribed ointment.
Months later, her symptoms worsened: she experienced dizziness, vomiting, brain fog and numbness in her limbs.
"It was scary," she said. "You have no clue and you go doctor to doctor to doctor and they say nothing's wrong or they tell you it's all in your head."
One doctor raised the possibility she could have Lyme disease — with a caveat that he wasn't interested in treating her if that was the case.
"It's still frustrating. Seven years later and I still can't find a doctor willing to treat me," Hunter said.
Hunter finally got her diagnosis in 2010 after flying to Kansas to meet with a Lyme disease specialist. The trip cost $30,000.
Before that, she paid to have blood work tested at the IGeneX lab in California. Paying out of pocket to sending blood work abroad was something a few people CBC spoke with resorted to in order to get answers.
Hamoline also had lab work done there, as well as at Arminlabs in Germany.
Seven years later and I still can't find a doctor willing to treat me,- Tera Hunter
According to the IGeneX website, a person can place an order for a testing kit to get sent to their home. A separate price list indicates the cost of testing for strains of the bacteria that cause Lyme ranges from around $250 to around $1,470.
Divided views on testing
Patrick O'Byrne, executive lab director of the Saskatchewan Disease Control Lab, said anyone who gets tested in other countries should get retested in Canada.
"There has been reports of a high rate of false positives on these tests that are done out-of-country with labs that don't follow the protocols."
The government website indicates some health professionals are concerned private and for-profit labs are not following standard protocols when it comes to testing for tick-borne illnesses.
That said, Wilson argued Canada's testing does not test enough strains of the disease and therefore, isn't accurate, which is why the foundation recommends testing in out-of-country labs.
According to the government's framework, informed by Health Canada and the Public Health Agency of Canada, a diagnosis of Lyme disease can be based on symptoms, exposure to infected black-legged ticks and laboratory testing.
A test can happen in two stages: first, a screening test and second, a confirmatory Western blot test where a patient's blood sample is sent to a microbiology lab in Winnipeg to be tested, O'Byrne explained.
But which test a patient takes can depend on where they may have been exposed to the infected tick.
The government maintains the tests meet CDC standards and are internationally approved.
Both Hunter and Hamoline say they were both tested within Canada and their results came back negative, as did others who spoke with CBC.
Increase testing in Sask.
The province reports an increase in testing in recent years, which O'Byrne attributes to more awareness about the disease.
In 2016, more than 1,454 Lyme cases were tested and only one was positive.
The number of cases tested for Lyme disease:
2016: 1454
2015: 1168
2014: 1351
Kim Fusick said her doctor told her she was the single human case of Lyme disease reported in the province last year.
Although she found an embedded tick back in 2011 and fell ill shortly thereafter, she said medical staff attributed her exposure to the bacteria to the time she spent in British Columbia because of the type of bacteria found, spread by ticks not found in Saskatchewan.
Fusick said others have called her lucky because her test came back positive the first time, but she doesn't feel that way.
"It's still trial and error in treatment," she said. "They don't really know what works."
She said she's tried both oral and IV antibiotics, but still has days of feeling sore and dizzy.
Turn to natural medicine
Hamoline said her experience of not being believed by doctors coupled by non-answers led to her feeling forced out of the medical system.
It's a familiar story for other Lyme disease patients who also turned to naturopathy.
My health has never been the same,-Marilyn Hamoline
Hamoline and Hunter are seeing a naturopath in Calgary who specializes in the disease, referred to as a 'Lyme literate doctor.' As a result of their out-of-province testing and subsequent treatment, both have paid upward of $14,000 and $100,000, respectively.
Wilson said the list of medical doctors in Canada who are willing and knowledgeable to treat Lyme is small, whereas there's more willingness among naturopaths to embrace research on the disease that is not yet accepted in Canada.
However, he said the organziation's position is that treatment for Lyme must be antibiotic-based. 
"There's nobody in Saskatchewan that is currently trained on the latest treatment methods. They don't even believe that Lyme is here yet. There's such a huge disconnect that I can't get help from a medical doctor here," said Hamoline.
"My health has never been the same."