Saskatchewan
'They are being deceptive': Hamlet residents must sell homes or lose water service
Seventy people in a Saskatchewan hamlet near Lloydminster are frustrated and angry at elected officials for quietly buying neighbouring properties rather than upgrading their water systems.
Upgrades to water systems to deal with high ammonia levels in Sask. hamlet would cost estimated $3M
Melissa Heney's eight- and 10-year-old children don't know where they'll be living when school begins next week, or whether they'll get to stay with any of the friends they've grown up with.
Their community may soon fold, as contaminated water in the hamlet of Lone Rock, Sask., has left residents with the choice of moving, or seeing their water service cut off.
"They've got their friends here, they've got their lives here," said Heney. "Of course they cried."
Heney's family has lived in the hamlet, just southeast of Lloydminster, for 25 years. Two years ago, she bought her own home there.
High ammonia levels in water
Water Security Agency records show Lone Rock has struggled with high levels of ammonia in its water system for the past two years.
The area is surrounded by heavy oil exploration and drilling.
"I've wondered whether surrounding oil activities have compromised the aquifer," said Melissa's brother, Sean Heney.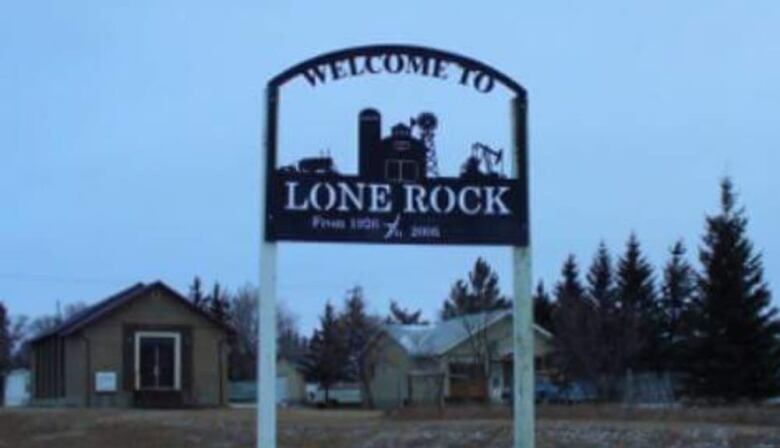 The Rural Municipality of Wilton said upgrades to Lone Rock's water and sewer systems would cost an estimated $3 million — money the RM is not prepared to pay.
"The oil companies want to see where their money is going and don't want their money used for residential," said Melissa Heney. "Our tax dollars alone wouldn't cover operating costs."
'They said it cost too much to run the town'
Last week, Heney and her neighbours learned they must either sell their homes and leave Lone Rock, or stay and see their municipal sewer and water service cut in the years ahead.
Residents have until Halloween to decide.
"[The RM] said it cost too much to run the town," said Heney, who doesn't know yet what her family will do.
She's been trying to shelter her children, but they've been asking questions as the people of Lone Rock become more and more frustrated and scared.
RM bought properties through numbered company
Heney and her neighbours said they've been left in the dark as elected officials in the RM of Wilton make decisions about their community. 
In February, the municipality set up a numbered company through Musgrave Agencies in Lloydminster. That numbered company has now bought 13 properties in Lone Rock, land titles records show.
"We didn't know at that time it was the RM," said Heney. "All they would say was that they were acting on behalf of a numbered company."
Full transparency would have caused a drop in property values.- Glen Dow, RM of Wilton reeve
She was not approached to sell her home.
This summer, residents were told by Musgrave Agencies they would be given a fair-market assessment, and would be offered five per cent above market value if they chose to sell to the numbered company.
They were also told the numbered company's offer expired within four days of its assessment.
'Easier to do it with a numbered company': reeve
The reeve of the RM defends the secrecy around the numbered company, and keeping the 70 residents of Lone Rock in the dark.
"The alternative would have been to make a large announcement and then if properties fell it would have done people a lot more harm," said Glen Dow. "Full transparency would have caused a drop in property values."
They are using scare tactics to bully people out of their homes.- Randy Holt, Lone Rock resident
He said the water and sewer system will stay on until 2024, but ignoring the situation was no longer an option.
"It was much easier to do it with a numbered company and a legal firm and be able to say no, we didn't in any way affect the outcome," Dow said.
"People don't like change, and secondly they don't like change that has any financial implications."
'If it isn't illegal, it most certainly is immoral'
Until last week, Heney and her neighbours were stonewalled when they tried to discuss their options with elected officials, she said.
Dow refuted that, saying residents who have complained about being denied access to minutes of council meetings are "incorrect."
Melissa Heney's husband, Randy Holt,  disagreed and said the rural municipality's actions have torn his community apart.
"If it isn't illegal, it most certainly is immoral," said Holt.
"They are being deceptive. They are using scare tactics to bully people out of their homes."
'We don't know what we're staying for'
All 35 families in the hamlet must now weigh the cost of installing their own well and septic system in a declining community against making a fresh start elsewhere.
"We don't know what we're staying for," said Heney. "The reeve in the meeting didn't even know for sure if what they were doing was legal."
Cut Knife-Turtleford member of the Legislative Assembly Larry Doke told one Lone Rock resident the rural municipality was within its rights to carry out the decision made by council.
In an emailed statement, he said "the government is responsible to ensure [the RM is] following the Municipal Act."