Saskatchewan
'This is the tragic legacy of Canada's colonial past': Jagmeet Singh speaks in Saskatoon
Jagmeet Singh, federal NDP leader, visited Saskatoon at the FSIN Legislative Assembly in TCU Place as part of his cross-Canada tour.
The federal NDP leader stops in Saskatoon during his cross-Canada tour
Determined to win the title of Canada's next Prime Minister, Jagmeet Singh gave Saskatoon a glimpse at his politically-fueled priorities on Thursday.
The newly-elected leader of the federal New Democrats visited Saskatoon at the Federation of Sovereign Indigenous Nations Legislative Assembly in TCU Place as part of his cross-Canada tour.
Before reporters had a chance to ask questions, Singh addressed the issue of violence against Indigenous women.
"When there are missing and murdered Indigenous women, especially Indigenous women, it communicates that there is something less sacred about those lives," he said, adding that federal funding for the MMIW inquiry is vital for its success.
Although some politicians have been known for not keeping promises or following through on policy, Singh insists the NDP's plans can bring Canada closer to reconciliation.
"I've spoken about how important it is for us to have policies that acknowledge that the people who are most discriminated against are often racialized, Indigenous people," Singh said, adding that his proposed criminal justice system will help lower numbers of Indigenous people behind bars.
Language
The NDP leader stressed that Indigenous languages are "national treasures," which provide insight, wisdom and teachings.
"We need to fund their promotion, their support, teaching, allowing other people to learn the language, and teach the language," he said.
Singh's strong affinity for language preservation comes from his own experience. He explained he only began speaking his "mother tongue" within the last five years.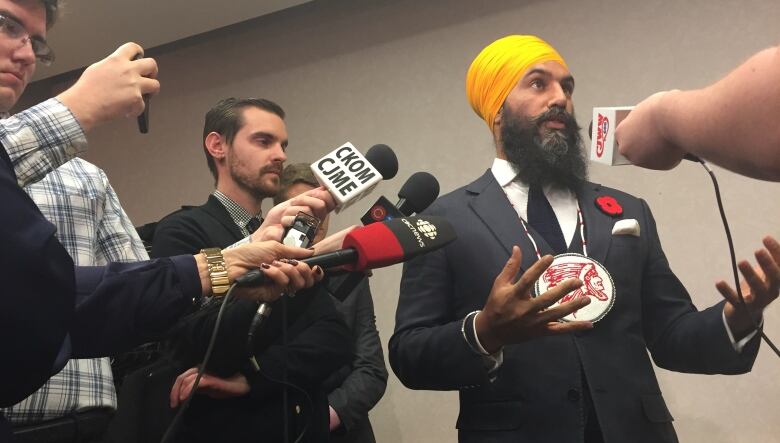 Strong convictions
When it comes to issues around health, education and housing for Indigenous people, Singh determined what he believes is the main source of those issues: colonialism.
"Let's be clear: This is the tragic legacy of Canada's colonial past. We have to confront that, we have to realize that. We have to come face to face with that reality, and that's why, for the NDP, 'reconciliation' is not a word — it is a call to action."
Close to home
Since the Saskatchewan Transportation Company was scrapped in the March 22 provincial budget, Singh took a stance against the province's decision to shut it down. 
"If the government here in Saskatchewan doesn't want to give the finances for the transit, we want the federal government to lend its financial support to continue this essential service in Saskatchewan," he said.
In his leadership campaign he proposed a national transit strategy.
Singh also touched on job creation and diversifying economy investments with propositions for a national and federal energy grid, where surplus "green and clean" energy is stored. 
With files from Bridget Yard