Saskatchewan
Drummers celebrate diversity for Canada 150 in Regina
You might be able to hear the beat of more than 2,000 drums in Regina on July 1.
Regina among 8 Canadian cities involving in drumming event
You might have been able to hear the beat of hundreds of drums during Regina's Canada Day celebrations.
The Queen City was one of eight cities participating in a drumming event to commemorate the country's 150th birthday. 
It ties in with a Vancouver drumming group's attempt to break the world record for the most nationalities in a drum circle performing a recognized orchestral piece of music.
The Regina event occurred simultaneously with other drum circles in Vancouver, Calgary, Winnipeg, Toronto, Ottawa, Montreal and Halifax.
On Saturday, hundreds gathered at the Saskatchewan Legislature to take part in the Regina event. 
Those in the crowd were handed Chinese hand drums with Canada 150 designs — 2,000 of which were brought over from China 
Around 25 different drummers took to the stage, representing pipe bands, First Nations and Chinese drumming groups. 
Cameron Fuelscher, who plays a snare drum in a pipe band, was one of the brave performers.
Despite nerves, he felt he played well. Asked about the feeling of standing on stage, staring out into the crowd, Fuelscher described feeling "like on a cliff about to fall over."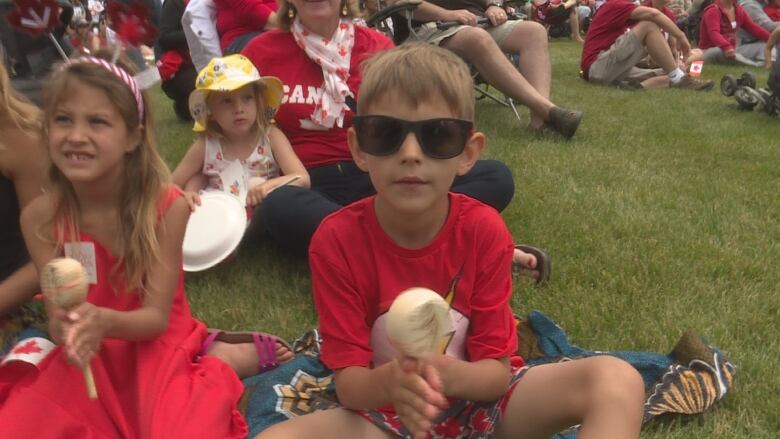 Nerves were less of an issue for Will Currams, an instructor with the Conservatory of Performing Arts Pipe Band.
Participating in an event with different drummers from different cultures made him feel proud, he said. 
"It's a fantastic coming together, indicative of what Canada's all about."
Currams said he's lived in Canada only six years after emigrating from Ireland. 
 "It's been a wonderful experience."
Drumming for multiculturalism
Regina organizer Nelson Eng, who is from the Regina chapter of the World Chinese Business Association of Canada, said the event was a celebration of diversity. 
"Drumming is really common for every nation," he said. 
"Anything can make noise ... no matter where you are, what you carry."
He said Saturday's event was the first time he saw so many people come together in one place for a celebration. 
"This is why I love it."
With files from Brian Rodgers