Ottawa
A look back at Ottawa's Grey Cup history
On Sunday, Ottawa will host the Grey Cup for the seventh time. As fans prepare to make new memories, we're looking back at previous events — including the 1939 game, where groundskeepers attempted to thaw the frozen ground at Lansdowne Park by lighting hundreds of litres of gasoline on fire.
Ottawa has hosted the Grey Cup six times, starting with the 1925 game at Lansdowne Park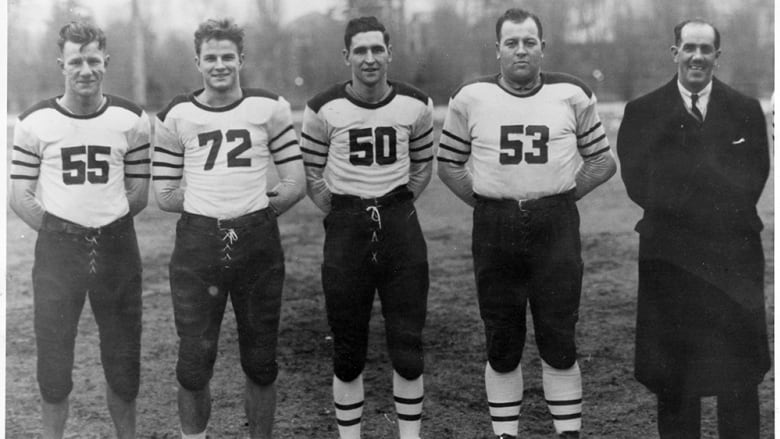 When the Toronto Argonauts take on the Calgary Stampeders at Lansdowne Park on Sunday, the teams and football fans will add a chapter to Ottawa's long history of hosting the Grey Cup.
1925: Ottawa vs. Winnipeg
Ottawa hosted the Grey Cup for the first time in 1925. Ottawa's team, the Ottawa Senators, beat the Winnipeg Tammany Tigers handily. Final score: 24-1.
1939: Ottawa vs. Winnipeg
Ottawa's team was a contender again the second time the Grey Cup was played at Lansdowne Park. This time, the Winnipeg Blue Bombers defeated the Ottawa Rough Riders 8-7.
The day before the game, groundskeepers attempted to improve the state of the frozen field by lighting hundreds of litres of gasoline, but the field froze again overnight.
1940: Ottawa vs. Toronto
The Winnipeg Blue Bombers weren't allowed to defend their title because of a rules dispute.
Instead, a two-game event pitted the Toronto Balmy Beach against the Ottawa Rough Riders. The first game was in Toronto during a snowstorm, and the second was on a snow-covered field at Lansdowne Park. The Ottawa Rough Riders won 12-5.
The event was considered a bust at the box office. According to the CFL, fewer than 7,000 people in total paid to watch either game.
1967: Hamilton vs. Saskatchewan
The Grey Cup returned to the capital for Canada's 100th birthday celebrations. The Hamilton Tiger-Cats won the game, defeating the Saskatchewan Roughriders 24-1.
Miss Ottawa Rough Rider Julie Dixie, a Nepean teacher, also won the title of Miss Grey Cup in 1967. The Canadian Football League scrapped the Miss Grey Cup pageant in the early 1990s.
1988: Winnipeg vs. B.C.
It was a close game, with the Winnipeg Blue Bombers beating the B.C. Lions 22-21.
2004: Toronto vs. B.C.
The Toronto Argonauts defeated the B.C. Lions 27-19. The Tragically Hip delivered the halftime show.
Cautionary tales of Mother Nature vs. Grey Cup
With snow in the forecast for this weekend's game in Ottawa, longtime football fans might also be thinking about past Grey Cups in other cities where Mother Nature was an extra force on the field.