Ottawa
·
Q&A
Ottawa dispensary says task force report has 'a lot of good and bad'
Neal Hanniman, co-owner of the Ottawa Cannabis Dispensary on Laperriere Avenue, says there was "a lot of good and bad" out of the new report from the government-appointed task force studying cannabis legalization and regulation.
Ottawa Cannabis Dispensary co-owner happy to see age restricted to 18-plus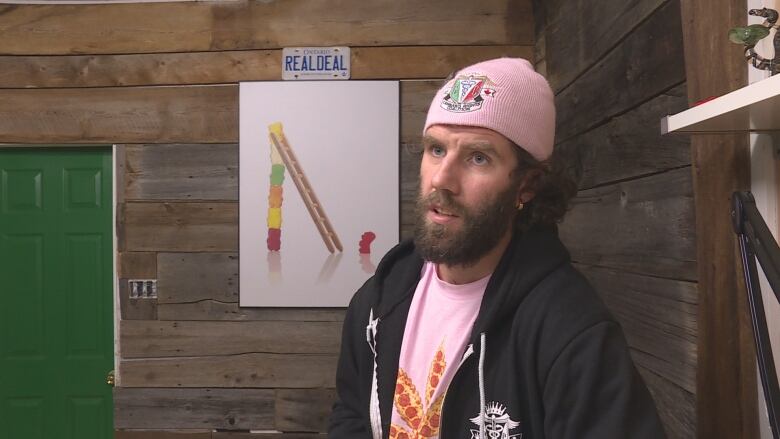 Canadians now have a better sense of the track the federal government will take as it moves toward legalizang marijuana. 
On Tuesday, the task force appointed by the Canadian government to study the legalization of marijuana determined that sales should be restricted to those 18 and older, with a personal possession limit of 30 grams.
So what does that mean for local dispensaries?
Neal Hanniman, who co-owns the Ottawa Cannabis Dispensary on Laperriere Avenue, spoke to the CBC's Simon Gardner just after the report was released.
Simon Gardner: So the latest news from the task force…
Neal Hanniman: There was a lot of good and bad that came out of it. I was definitely glad to hear that they recommended the age be 18-plus. I'm also glad that they recommended each household person would be allowed four plants or to carry an ounce of cannabis on their person. One of the benefits they came out with is that they acknowledge the need for craft cannabis, they've acknowledged the fact that dispensaries are an essential part of medical cannabis out West as a society and that it should be like that throughout our country.
SG: What is the definition of craft cannabis?
NH: Craft cannabis is basically like momma and poppa growers. People who are growing for themselves or for the quality of the plant. When you are growing for yourself and other patients you're not into [cutting] corners or spraying chemicals, you want the best all-natural flowers for yourself.
SG: Were you surprised by anything?
NH: I was surprised actually that they didn't take any stance on the victims of prohibition [or eliminate] all that program that they acknowledged didn't work. They've set out regulations and rules ... that will still victimize people and still keep prohibition alive [and that's] what we need to step away from.
SG: You mean prohibition is still going to be part of the Criminal Code?
NH: Of course. And wasting the time and tax dollars and the court system.
SG: So as a small dispensary you must be happy they are recommending not selling it through liquor stores ... which is what [Ontario Premier Kathleen Wynne] was talking about.
NH: The premier was definitely going that way. Happy to hear that. Definitely still concerned that Shoppers Drug Mart still might have a say in it. For me, small dispensaries like this are craft cannabis and this is what patients are looking for. We're not looking for those big storefronts. That's what the government is looking for as far as revenue goes. When patients just like you [saw] come in here they are looking for that first-hand knowledge and access.
SG: Do you think this report helps you secure your future?
NH: I believe it does… We do realize it's a harm reduction, we do realize it could be used for opioid addictions as well as alcoholism. It kinda sets a good platform for us to be able to address the city not as, you know, not just a bunch of stoners or patient stoners but as people who are trying to have a progressive discussion of how we can eliminate the black market, eliminate the crime and move forward in a progressive manner.
SG: What was your biggest fear that they'd come out with?
NH: My biggest fear was that they were going to make a whole regime so they would own storefronts, production, distribution completely. They acknowledged that there was a desire for craft cannabis, they had been to dispensaries out West, been to Colorado and had seen what the patients actually wanted. They are there on behalf of the government, they have their agenda, but I think they did listen to the people.
This interview has been edited for length.