Nova Scotia
Dartmouth man pleads not guilty to charge of wilfully promoting hatred
A Dartmouth, N.S., man has been charged with wilfully promoting hatred against any identifiable group after a 2020 complaint about an offensive sign posted on a rural cabin.
Charges stem from 2020 complaint about a sign posted on a Queens County cabin
A Dartmouth, N.S., man has been charged with wilfully promoting hatred following a complaint made to police about a sign on a rural cottage in Queens County in September 2020.
The sign, featuring an illustration of a noose and the words "Redneck Hangout," was attached to a small wooden building near a cottage in the woods.
A news release Wednesday from the RCMP said they received a complaint on Sept. 8, 2020, and located the sign on Beaver Tail Lane near Buckfield. The sign was removed by the owner the next day.
Mark Andrew Kozlowski, 46, the owner of the property, was arrested, the release said, and subsequently released while an investigation was conducted. 
RCMP charged Kozlowski on March 22, 2022, with wilfully promoting hatred against any identifiable group.
Kozlowski's lawyer, Victor Goldberg, appeared on his behalf before Judge Paul Scovil in Bridgewater provincial court on Wednesday morning and entered a not guilty plea.
The trial dates have been set for March 27 and 28, 2023.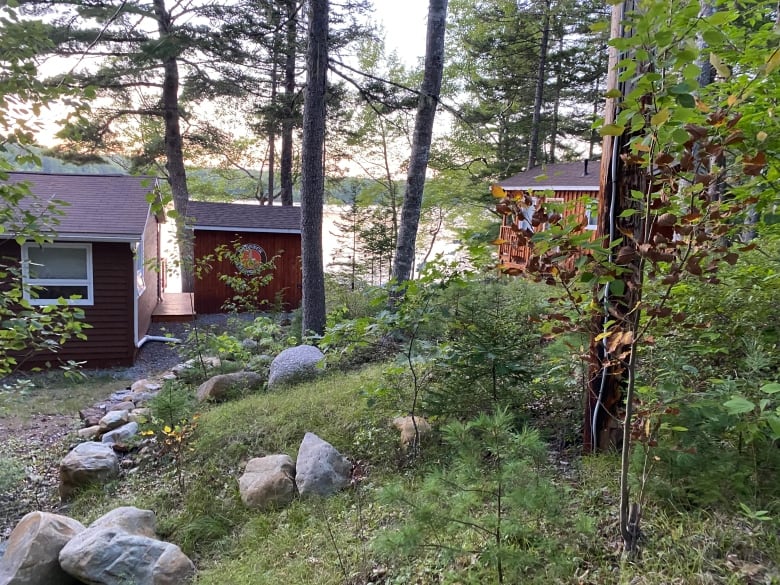 Reasons for delay
Asked about the long delay between the complaint and hate charges being laid, RCMP spokesperson Cpl. Chris Marshall said cases of this nature are complex and not as simple as members of the public might think.
"We have to be able to collect evidence and information that effectively leads to the belief on reasonable grounds that this person in a public place has willfully promoted hatred toward an identifiable group," he said.
"Oftentimes there will be consultation with the prosecution service to ensure that the evidence, information we have collected will be able to lead to a prosecution in this case as well."
Marshall said in this case search warrants were executed for electronic devices. Police sifted through the documents and images on them in order to collect evidence to bolster the case.
Kozlowski is president of Wilson Equipment Ltd., a heavy equipment company.
At the time of the incident, a post on the company's website apologized to anyone who was offended and said the sign was put up without Kozlowski's knowledge. It stated the company did not support hatred or violence directed at anyone for any reason.
In April, Nova Scotia passed the Dismantling Racism and Hate Act. It's designed to serve as a blueprint for addressing systemic racism, hate and inequity in Nova Scotia. It gives a definition to hate and requires the development of a provincial strategy and health equity framework by July 2023.
In an email a spokesperson for Nova Scotia's Department of Justice said there is no specific charge for hate crime, but said there were 55 police-reported incidents of hate crimes in the province in 2020.
The Nova Scotia Public Prosecution Service said in an email it has opened 11 prosecution files under Section 319 of the Criminal Code, which deals with public incitement of hatred and wilfull promotion of hatred, in the last decade, with a total of 15 charges. The majority of those charges, 13, have been laid since 2020.