Nova Scotia
·
CBC Investigates
The unsettling real-life confrontation that begins Classified's song about abuse
Powerless weaves together stories of sexual abuse and has received national attention. It begins with the recording of a mother walking into a church office and challenging a clergyman.
Powerless begins with recording of Nova Scotia woman questioning clergyman she believes abused her daughter
The voice of a mother telling a clergyman her family is devastated by the damage he allegedly inflicted by molesting her daughter echoes through the Scotiabank Centre in Halifax at a showcase toasting the best in East Coast music.
"I'm sorry that she is affected, I did not ever intend to hurt anyone," the man responds in the exchange that plays over a song's hook.
It's a real conversation.
Nova Scotia rapper Classified begins his single Powerless with excerpts from the recording of the woman confronting, in a church office, the man she accuses of abusing her daughter three decades ago.
Beyond the tables draped in black cloth where members of the music industry sip drinks, the woman's daughter, Marianne Ashfield French, watches from the lower bowl of the arena as the Enfield, N.S., rapper performs it for the first time.
The song weaves together stories of sexual abuse and has received national attention for the spotlight it puts on the plight of missing and murdered Indigenous women and girls. Ashfield French is not Indigenous, but her story helped inspire Classified's work.
Her allegation that she was abused as a six-year-old has never been tested in court, and the man she accuses later called it "totally false." The specifics — that she was sexually assaulted when her parents were away attending a funeral in 1984 — only emerged when she was in counselling in her 30s.
Although RCMP decided last year there was insufficient evidence to lay charges, her alleged abuser's voice has reached hundreds of thousands of people through Powerless — a vigilante justice twist in the form of a rap song.
CBC cannot verify her claims nor can Classified, whose real name is Luke Boyd. Since no charges were laid, CBC has decided not to name the alleged abuser, who went on to become a clergyman, in the church where he once worked.
Boyd was so moved by the audio recording that he incorporated it into his single. He said he didn't hesitate when his manager questioned whether he could broadcast the audio because it left him with no doubts that a crime was committed. 
"If you ask someone, 'Well, you molested my child,' and they say, 'Well, I don't remember if I did' ... After hearing the conversation it was, like, something has to be done," Boyd told CBC.
Ashfield French and Boyd were born on the same day in the same hospital on the outskirts of Halifax in 1978. 
Although they didn't meet until connecting at a bar in downtown Halifax earlier this month following this year's East Coast Music Awards, they had corresponded online for about 18 months.
You can hear the emotion of her mother just being so frustrated confronting someone who did this to her child- Luke Boyd
Ashfield French messaged the musician after he publicly criticized a Newfoundland judge in October 2016 who sentenced a St. John's man to five years in prison for the brutal rape of an 11-year-old girl.
She decided to send the recording to Boyd in part, she said, because she "wanted to show the world just how broken the system is."
That fall, Boyd said he was inundated with messages — from survivors who suffered horrific abuse, people frustrated by the sentences sex offenders receive and even police who said they spent more time building a case than people spend in jail after a conviction.
At first, Ashfield French's story was one of hundreds. But the recording itself stood out.
"You can hear the emotion of her mother just being so frustrated, confronting someone who did this to her child. And it's just real," he said. 
When contacted by CBC this month, the man Ashfield French accuses of abuse said he was not aware his voice was part of the song and video. He declined to comment further, other than to deny the allegation.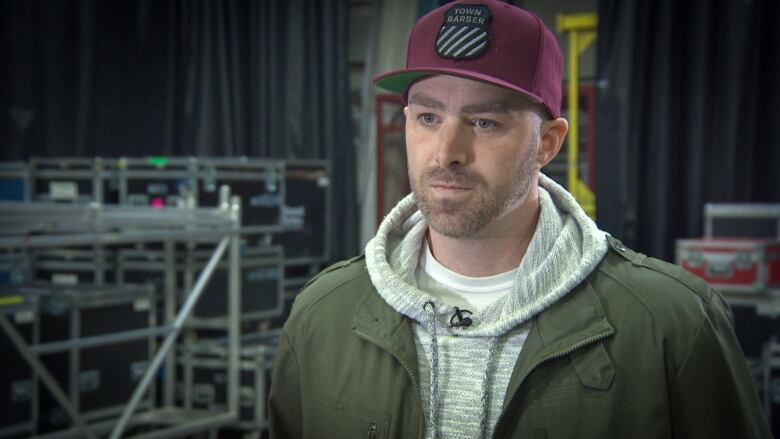 Ashfield French said she'd always had shreds of memories of a bad experience that she attributed to a recurring nightmare. When she was in her 30s, she sought counselling and said vivid details of abuse she endured became clear. 
These are things you carry through your adult life and it's awful. You struggle- Marianne Ashfield  French
"My mom thought I was just having a bad dream. At 35, when that's still a very significant memory, it's not a dream," she said.
The American Psychological Association says recovering memories is rare, but not unheard of. It is challenging to study in a laboratory setting the validity of people's memories of childhood abuse.
Jim Hopper, a clinical psychologist who focuses on trauma and is a teaching associate at Harvard Medical School, said people can disassociate from traumatic memories but still store them in their brain.
"When someone has been abused, these are unpleasant, unwanted, disturbing memories, so people naturally try to push them out of their mind," he said, adding that people may retrieve parts or all of those memories later.  
"Someone may go for years or decades without retrieving memories, and then they encounter the right cues or triggers in the right context, and memories start coming forward."
Confronting the clergyman
Two years after confronting her memories, Ashfield French said they're still so clear she has no doubts about what happened to her. 
"It's affected every single aspect of my life. I was never good enough, I was never wanted, I was never loved and these are things you carry through your adult life and it's awful. You struggle and you struggle to be a good person." 
Soon after talking to her therapist about the memories, Ashfield French contacted the man she believes hurt her. Six months later, she flew from her home outside Calgary to Nova Scotia to file a report with police and confront him in person.
She said she was shaking so much that during their conversation she fumbled with her phone and didn't record properly. Because of that, her mother, Margaret-Anne Ashfield, decided to speak with him, and after announcing in his church office she was recording she demanded the man "come clean."
He told her he had no memory of what her daughter was talking about.
"I told your daughter that the only possible memory I have is that I attempted to touch her. She said, 'We don't do that,' and that was the end of it," the man said.
The phone recording of their exchange is 4 minutes and 24 seconds long, scratchy at times, with sounds of the bustle of a church service beginning in the background.
At one point, Ashfield said: "Listen, I have been through that kind of hell and I know what she is going through and I cannot believe you of all people, people we trusted …"
He responded: "And I am ashamed of it." It's not clear what he's referring to.
The oversight body of the man's church launched an investigation into alleged misconduct after hearing from Ashfield French.
In a copy of a sworn affidavit provided to CBC by Ashfield French, the man she accuses denied any wrongdoing. 
"I couldn't ever remember touching her sexually and I know I never have," he wrote in a list of 22 points.
The church wrote to Ashfield French in October 2017, saying the team that investigated her complaint found there was a "lack of concrete corroborating evidence to support" it.  
"We acknowledge that you have suffered significant pain," the letter said. "Unless there are others who can corroborate your allegation, we cannot justify moving forward with any discipline." 
Boyd didn't just incorporate the audio into his song, he said he also took it to church officials. 
He wasn't entirely satisfied with the action they took but said he was assured the man had retired. 
Margaret-Anne Ashfield said her morning conversations with her husband often turn to the pain her daughter has experienced.
"I can't take it away and that's what a mother always wants to do," she said. 
She never expected to have her voice in a rap recording, but she said it's oddly "rewarding" following the frustration and anger she felt when the church and police dismissed the case.
"Now it's out there," she said.
Marianne Ashfield French said her life changed the day she confronted her alleged abuser.
"I left like a kid, I wanted to go do snow angels and do all the fun things that I feel like I missed out on. I missed out on a lot of actual joy in my life because I was so scared and angry," she said.
Talking about child abuse has been part of her healing process, she said. She hopes some day victims won't be scared to disclose it. She'd like to see educators receive more training to recognize the signs of, and respond to, sexual abuse. 
"So many kids are growing up like I did. Quiet and shy and you don't feel good about yourself," she said, sitting in the backyard of her childhood home. "Survivors need to come and speak out. Enough is enough." 
Him standing up and getting the word out there to so many people. It's huge. It's helping. It will help.- Marianne Ashfield French
Ashfield French said after sharing her story with Classified 18 months ago, she found someone in Nova Scotia who believed her. Though she has a large support network at home in the Calgary area, she had few remaining ties to her home province. 
"At that point it was just my parents here who I felt truly believed me. And he was the third. And whether he knows it or not, he supported me," she said.
Hearing Powerless for the first time — and her alleged abuser's voice — was jarring, she said, but she hopes it inspires survivors. 
The support she said she received from Classified, and hearing her story reflected in his song, has "meant the world" to her.
"Him standing up and getting the word out there to so many people. It's huge. It's helping. It will help."