Nova Scotia
South Shore residents, visitors urged to do daily tick checks
Alongside promoting Nova Scotia's quaint seaside villages and scenic parks this summer, some municipalities have another message for visitors and residents: check for ticks.
Halifax Regional Municipality discusses similar tick awareness campaign as risk of Lyme disease spreads
Alongside promoting Nova Scotia's quaint seaside villages and scenic parks this summer, some municipalities have another message for visitors and residents: check for ticks.
The Municipality of the District of Lunenburg is spending about $120,000 on a Lyme disease education and prevention campaign to address what the mayor has called "an epidemic" in the area.
It's one of the reasons Halifax regional council is looking into a similar campaign. 
In the Lunenburg municipality, signs warning people about blacklegged ticks have been posted at parks and trails. Councillors are handing out brochures at the farmers' market and 18 deer bait stations will soon be installed.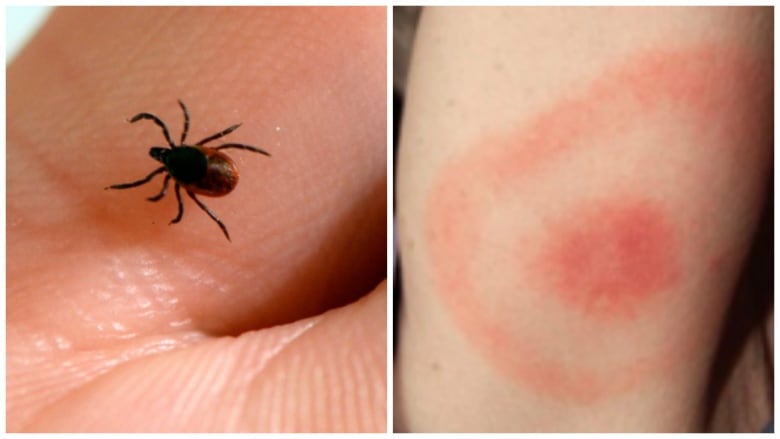 Lyme disease is caused by bacteria called Borrelia burgdorferi that can be transmitted through the bite of blacklegged ticks. 
"We don't want to scare people away from visiting our area or anything like that but we definitely want to educate people so that they know what to do if they do get a deer tick on them," said Mayor Carolyn Bolivar-Getson. 
Ticks on the move
Bolivar-Getson joined municipal officials and volunteers at the Lunenburg farmers' market earlier this month to spread the word about Lyme. They'll be back at the market this week, and at a home show at the Lunenburg County Lifestyle later in May.
The team advised people to do daily tick checks, to tuck their pants into their socks and showed them how to properly identify the tiny insects. 
"Our goal is to increase awareness and change residents' behaviour," said Bolivar-Getson. "Because it is proven that the best prevention is the daily tick check and if you can get those ticks off within 24 hours, that's key."
According to a map released this spring by Nova Scotia's Department of Health and Wellness, the risk of Lyme disease is spreading. Last year, six areas of the province were considered high risk.
Now, it's 13 — all areas except Guysborough and Cape Breton.
In 2016, the number of reported cases of Lyme disease in Nova Scotia rose to 326, up from 247 the year before. The numbers for 2017 haven't been released on the department's website. 
The department notes better awareness is one of the reasons more cases are being reported.
Killing ticks on deer
In addition to the education campaign, the municipality is setting up 18 deer bait stations this month in Garden Lots, Blue Rocks and areas outside the Town of Lunenburg.
The contraptions hold food that attracts deer. When the deer feed, rollers rub a chemical called Permethrin around their neck and head that kills the ticks.
The three-year pilot project is a partnership between the municipality and Public Health Canada.
"We need to know … if the bait stations are effective and it will take three years to do that," Bolivar-Getson said. "I believe that the province and federal government will have a key role to play."
HRM supports similar campaign
The Halifax municipality, following the lead of Lunenburg, asked staff on May 8 to work on implementing a tick awareness campaign.
"Across the province, ticks have been a long-time problem and this year, it's at its highest," Coun. Tony Mancini said at last week's meeting.
He said while it's a provincial health issue, the municipality has a role.
"We are encouraging our own residents to go to our own parks, which they should ... it's just responsible of us to make sure that we continue to remind people," he said. 
The Town of Shelburne hasn't gone as far as the Lunenburg municipality, but mayor Karen Mattatall said during Lyme Disease Awareness Month in May, the town shares information about ticks and how to avoid getting bitten.
The town has also lobbied the Department of Natural Resources to do something about the number of deer, Mattatall said.
"The most important thing is to encourage people to be cautious, pay attention, not be afraid, just pay attention," she said.