Nova Scotia
Mayor defends homeless evictions, but housing advocates call them 'unconscionable'
Halifax Mayor Mike Savage says homeless people were evicted on Wednesday for their own safety, but housing advocates say the municipality's actions were 'unconscionable.'
'We want people to be safe,' says Halifax Mayor Mike Savage
Housing advocates are calling the Halifax Regional Municipality's decision to evict homeless people from public parks and green spaces and destroy their shelters and tents on Wednesday "unconscionable."
On Wednesday morning, bylaw officers and police told people who were living in tents and shelters at Horseshoe Park, the Common, Peace and Friendship Park and the former Halifax Memorial Library site that they had to get out of their homes and were fined for breaking a bylaw.
In the afternoon, the situation became physically violent when about 200 protesters and dozens of police congregated in front of the former library on Spring Garden Road, where one shelter was removed on a flatbed truck and another was dismantled with chainsaws.
Police with body armour and riot gear pepper sprayed some protesters, including at least one child who was in the fray, and used their bicycles to push back the crowds. Some protesters threw water bottles and milk jugs at police. 
Police Chief Dan Kinsella said Thursday that 24 people were arrested. All were subsequently released on promises to appear in court at a later date, he said. They face charges including obstruction of justice, assaulting police, resisting arrest and mischief.
"It is unconscionable what the city has done," said Sakura Saunders, a spokesperson for the group Halifax Mutual Aid, which builds small shelters for homeless people to live in.
"It's obscene that they used a chainsaw to take down a shelter that's needed right now."
Saunders spoke to CBC News at an encampment on Chebucto Road, where at least one person had set up a tent after being evicted Wednesday.
"These people had nowhere to go, despite the doublespeak that we're hearing from the city that everyone has options," said Saunders.
Saunders said the housing crisis means that if someone is evicted right now, finding a new place to rent — even if they have the money to pay rent — is nearly impossible because demand is so high.
In an interview with the CBC's Information Morning on Thursday, Mayor Mike Savage said health and safety were the driving forces behind the evictions.
"We believe in terms of public health and safety of both those who are living in these conditions, but also the people in the neighbourhoods who have had some significant issues, that this was something that we had to do."
Savage said there have been "serious complaints" associated with the shelters and encampments.
"Citizens have felt threatened and have been put in positions that they shouldn't have to be," he said. "The parks belong to everybody. We want people to be safe. We also want people to have housing. And I just don't believe that tents or sheds are the best solution."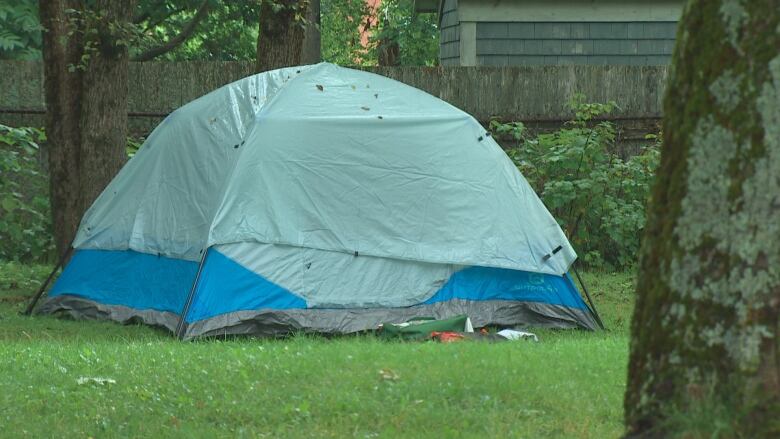 Savage said the municipality has taken a "patient approach" to the shelters and tents and issued notices in June to people living in them, offering other places to stay such as shelters and hotels. He said those options are healthier and safer than living in a tent or what he called a "shed."
"One of the sheds had a fire not that long ago. It could have been tragic," he said.
The mayor said he doesn't believe Wednesday's approach of forcing people out of their only home was harmful.
"We would not go ahead with an approach of moving people out if they weren't given some option as to where they could live," he said.
CBC News has spoken with at least one person who was living in a tent who said he was not given another option on Wednesday.
In an email, HRM spokesperson Laura Wright said the municipality received over 200 calls through 311 regarding homeless encampments between Aug.19, 2020, and the same date this year.
"It should be noted that these calls are not necessarily all complaint-based and may include general questions pertaining to homeless encampments," Wright said.
City workers threatened by protesters
Scott Chetwynd is president of CUPE Local 108, which represents outdoors workers at HRM. He said members of his union carried out the removals, but blamed HRM for putting them in a dangerous situation. 
He said staff were asked to come into work early Wednesday, but not told why. Managers then told them to go to several parks to remove the tents, sheds and other debris. 
"Aside from the moral standing of having an issue of taking away the homes of people without homes, there was also a lot of issues around a lot of needles and medications," he said. "Packing up these tents, a lot of this stuff was not properly stored. They had no training in regards to blood-borne pathogens or biohazard training."
He said protesters harassed workers, threw stuff at them, smashed their vehicles and let the air out of their tires.
"Some threatening behaviours from some members of the public and obscenities hurled their way, even throughout the evening. Overall, there was just a lot of health and safety concerns that were of great concern to us," Chetwynd said. 
"A lot of these members, being newer, didn't realize they had the right to refuse unsafe work." 
Eric Jonsson, a street navigator who works with people experiencing homelessness in Halifax, spent Wednesday trying to find hotel rooms and support for those with nowhere to go.
"We do have a bit of money to pay for hotels, but we were calling around to a bunch of different hotels yesterday and today, and almost all of them are full," Jonsson said Thursday.
"Once in a while you may get lucky, but it's just like rolling the dice."
With COVID-19 restrictions lifted and tourists returning to the city, Jonsson said outreach workers are trying every day to "cajole" hotels into accepting as many people as they can. He said it will be an easier task as the weather cools down and tourists return home.
Shelters are also regularly full, and if a bed opens up, not everyone feels comfortable in those close quarters, Jonsson said.
When asked about Savage's comments that people in tents had all been offered temporary housing, Jonsson said he doesn't think everyone has a place to go.
He's heard that people forced out of parks and shelters have been "heartened" by Wednesday's protest.
"I think people like feeling like they're supported by the community … it makes people feel less isolated and alone," he said.
Ashley Avery, the executive director of Coverdale Courtwork Society, said the options presented by the city are not always suitable for people experiencing homelessness.
"A person who is unhoused may not want to accept a bed in a shelter if one were even available. Shelters can be incredibly traumatizing," said Avery, whose non-profit organization supports women who are involved, or at risk of becoming involved, in the criminal justice system.
Shelter beds are also not always available, Avery said. The same problem exists with hotel rooms, said Saunders.
Avery said evicting homeless people from tents and shelters can force them into even more unsafe situations.
"We talked to somebody yesterday whose tent had been destroyed a few days ago. She was sleeping in a more visible place in the city and she was told, you know, go off the peninsula, go out of sight. And so now she is somewhere that is secluded, that is not public, and that's incredibly unsafe for women," said Avery.
Mark Culligan, a community legal worker with Dalhousie Legal Aid Service, said he and other housing advocates are worried that Wednesday's evictions will start "a game of whack-a-mole," in which homeless people will simply move from one park to another.
"That game is not worth playing. It doesn't make moral or financial sense. This isn't a sustainable plan without some sort of long-term housing alternative."
Culligan also questioned the mayor's contention that the evictions were sparked by health and safety concerns, saying police could have responded to specific concerns on an individual basis instead of doling out widespread evictions.
Jeff Karabanow, a professor in the school of social work at Dalhousie University and a co-founder of the Out of the Cold emergency shelter, said hotels were a viable response during the pandemic, and some people felt safe and supported in them. But he said a long-term solution is needed.
"The resources put into this event yesterday could have easily, easily be put into finding some long-term solutions that could have supported, you know, a small number of people that are living rough right now," said Karabanow.
'We don't want to arrest people'
Savage disputed the notion that the municipality was criminalizing homelessness, saying he had spotted such accusations on Twitter.
"That's entirely not true. You know, if we wanted people to go to jail, they would have been arrested. And we don't want to arrest people," said Savage.
Asked by Information Morning host Portia Clark what he thought of reports that police had removed their name tags and tried to limit the freedom of journalists who were reporting from the scene of the protest — issues that were also widely shared on Twitter — Savage said: "I don't know about what you've just mentioned. That would obviously be something that the chief [of police] would want to address."
"Politicians should not be making operational police decisions.... It's not for me to tell the police how to operate," he said.
Savage said the municipal chief administrative officer, Jacques Dubé, made the decision on the timing of the evictions.
The NDP's Lisa Lachance, who will represent Halifax Citadel-Sable Island once she is sworn in as MLA, was in the crowd during the protest and said Thursday the housing crisis is the direct result of years of inaction from the provincial government.
She said rent control should be made permanent, or at least be extended beyond the state of emergency for the pandemic until the supply of affordable homes catches up to demand. She also said organizations that work with people in vulnerable housing situations should be fully funded.
With files from Information Morning Halifax, Haley Ryan, Nicola Seguin and Jon Tattrie