North
Solar panel super power: Yukon leads with high per capita installations
Two years ago the territory allowed residential and business power users to sell surplus solar power to Yukon Energy, and many are jumping at the opportunity.
Yukon leads Western Canada in terms of solar panel installations per capita, and may soon lead the country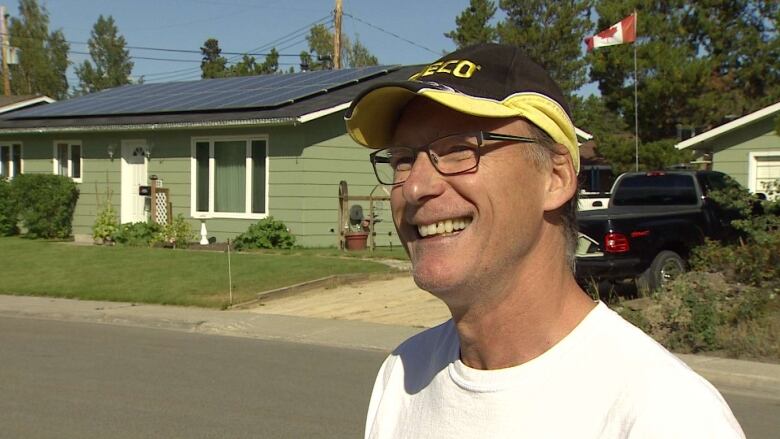 Yukon now has more solar panel units in operation per capita than any other jurisdiction in Western Canada, according to Shane Andre, the director of the territorial government's energy branch.
In the two years since the government allowed residential and business solar panel users to sell surplus power to Yukon Energy, Andre said almost 110 units have been installed.
He said those units are generating close to the same amount of electricity as both wind turbines in Whitehorse were, when they were operating. The turbines were producing enough to power about 150 homes.
Andre said if the current trend continues, Yukon could surpass Ontario as the country's biggest solar power user per capita.
'Your meter is going backwards'
Kelly Murray had solar panels installed on the roof of his house in Whitehorse in mid-August.
"They got it all connected just a week ago and I was working in the garage and let them do their stuff," said Murray.
"I come out of the garage and one of the young fellas there says, 'your meter is going backwards.'"
"So I had to look at this thing, and lo and behold, there's the arrow indicating which way the meter is supposed to go; it's just merrily going backwards," said Murray.

Murray said he still needs to get an inspection before selling power to the grid. He said the utility charges 13 cents per kilowatt hour, but buys it for 21 cents per kilowatt hour.
In communities that rely on diesel generated power, Andre said the payout is even higher: the utility company buys solar power for 30 cents per kilowatt  hour.
Murray said during daylight hours he's producing surplus power. There are no batteries with his system so when daylight ends, so does the solar power.
Murray said his installer told him it should pay for itself in about eight years. He said he's happy to do what he can to reduce the territory's use of fossil fuels.
Murray noted his neighbourhood, Riverdale, sits on top of the aquifers that provide Whitehorse with its drinking water.
Concerns have been raised about leaking heating oil tanks contaminating the water.
The average cost of a solar power installation at a Whitehorse home is around $20,000, according to one of the city's installers. Murray said he's eligible for a $5,000 rebate incentive from the government.

With files from Mike Rudyk