North
Nunavut Premier Peter Taptuna will not seek re-election
With a territorial election a month away, Nunavut Premier Peter Taptuna has announced he will not seek re-election, citing personal reasons. Neither will Finance and Justice Minister Keith Peterson, who has been an MLA for 13 years.
MLA for 13 years, Finance and Justice Minister Keith Peterson is also not seeking re-election
Nunavut Premier Peter Taptuna, who represents the constituency of Kugluktuk as MLA, has announced he will not seek a third term in the 2017 territorial election.
"My wife and I decided for personal reasons and other matters," he said. "I wasn't going to seek another term as MLA for Kugluktuk.
"Being an MLA takes up a lot of your time," Taptuna said. "I've been at it for nine years. For some it's a short period of time, but unlike other jurisdictions where you can get home every night, you can't do that here in Nunavut."
"I thought it was time to step down and have others go at it."
Taptuna won the 2008 and 2013 territorial elections, and was the territory's third Premier. In 2015, he declared a suicide crisis in Nunavut and made infrastructure a central theme of his time in office.
Most recently, he criticized the federal government's decision to unilaterally ban offshore drilling for petroleum resources as a crippling move for Nunavut and its aspirations to self-determination.
Taptuna said infrastructure and jobs for Nunavumiut youth remain the priority for the territory, as well as doing something to make life in the North more affordable.
"The biggest challenge is getting our cost of living down," Taptuna told CBC. "It's very difficult when you have very little to work with when it comes to transportation infrastructure. All our commodities, including heating fuel, and gas, have to come in from other jurisdictions … It's got to be shipped in. If there were roads that would hopefully bring our costs down."
Taptuna said he's not sure what's next for him, but he'll remain Premier until a new one is selected and sworn in in November. Whoever's next will have his or her hands full with the federal government, he said.
"It hasn't always been easy … but that's what politicking is about," he said. "You're not going to get everything that you want from Ottawa, it's going to be difficult at times, but you have to continue to try and move our issues forward on behalf of Nunavummiut."
Finance Minister Keith Peterson won't run again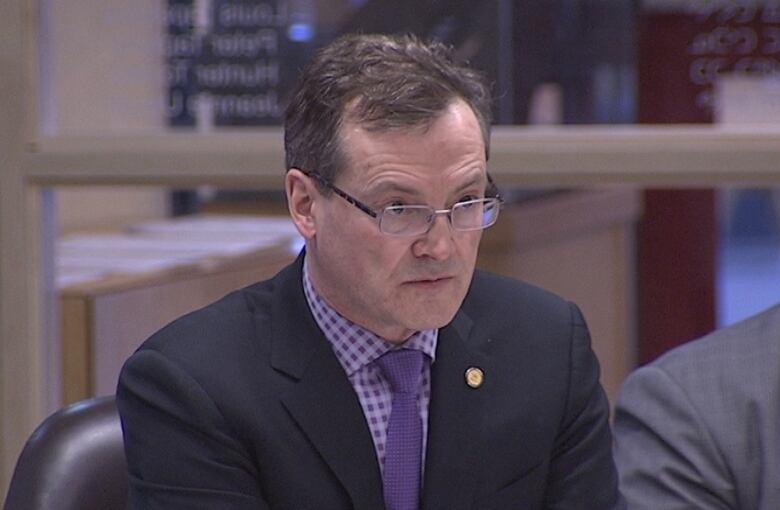 Another high profile member of cabinet, Keith Peterson, who has been an MLA for 13 years, will not seek re-election in Cambridge Bay.
"I thought it was time to move on and let other people step forward with new ideas, new initiatives. I don't want to be one of those politicians who hangs on forever. You have to let other people try things as well."
Finance and Justice Minister Keith Peterson added another title to his list of cabinet portfolios a week before the writ dropped becoming the first territorial Minister of Democratic Institutions.
As finance minister, he says the territory's books are in good shape heading into the election. 
"We've got a good credit rating with Moody's. That allowed us to seek approval from the government of Canada to increase our debt cap from $200 million, to $400 million, to $650 million which gives us flexibility to look at other infrastructure projects." 
He says the next government will have many pressing things to deal with, including cannabis legalization and Nunavut's capital plan, which has to be completed by next spring. 
Three candidates have declared to run in the constituency of Cambridge Bay.
With files from Jane Sponagle