North
'I feel like we've done something': Nunavut MLAs pass motion to deal with workplace harassment
On Tuesday, Nunavut MLAs voted to create an independent Public Service Commission, in response to continued complaints of workplace harassment in territorial government offices.
MLAs voted on non-binding motion recommending independent Public Service Commission be created
Nunavut MLAs voted to create an independent Public Service Commission, in response to continued complaints of workplace harassment in territorial government offices. 
"I feel good. I feel like we've done something," said Iqaluit-Niaqunnguu MLA Pat Angnakak.
Angnakak introduced the motion after three days of debate in committee of the whole, which is reviewing the Nunavut government as an employer, and discussing how Human Resources is functioning after the former department was split between two other departments.
The motion on Tuesday is non-binding, so it was more a political gesture than a practical one.
"At least it's a start," Angnakak told CBC. She called for a review of how workplace complaints are handled within the government last October, claiming that a number of employees have complained to her about bullying. 
She would like to see a Public Service Commission based on the Yukon government's model.
"I like the model. It's independent so it's more at arms length," she said.
The website for the Yukon government's Respectful Workplace Office says it uses a collaborative approach for resolving conflict and disrespectful behavior in the workplace, including "conflict coaching, group facilitation and circle processes."
Angnakak acknowledged that the two territories are quite different, so Nunavut wouldn't follow Yukon's model exactly.
"We have a land claims agreement. We have to incorporate all of that into that. We're not sitting here just thinking 'rubber stamp the Yukon model,'" Angnakak said.
Minister opposed motion
In 2013, the Nunavut government split Human Resources between the departments of Finance and Executive and Intergovernmental Affairs. Finance Minister Keith Peterson has been in the hot seat throughout the committee debate this week, and was cabinet's heavy hitter in opposing the motion on Tuesday.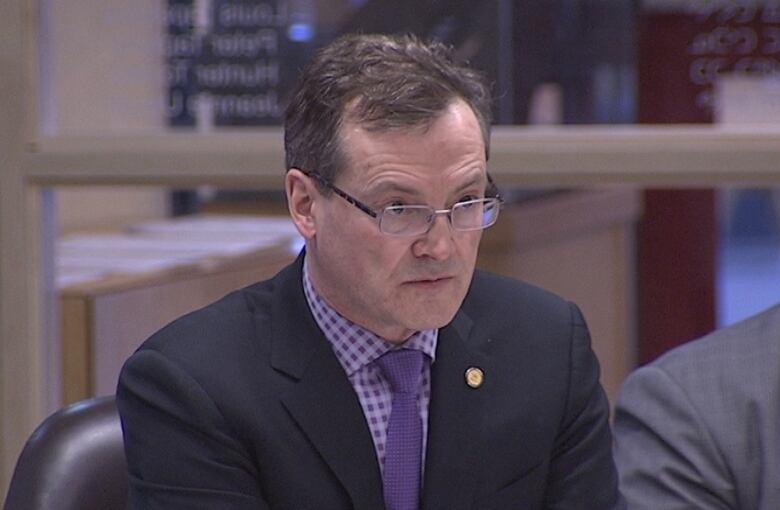 "I think we've been priding ourselves in recent years on developing made-in-Nunavut models and legislation. There's no evidence to my knowledge that the Yukon Public Service Commission is any better than how we're doing in Nunavut," Peterson said.
He said the Nunavut government is too small to warrant such an office.
"Creating and maintaining a Public Service Commission structure is costly and creates additional bureaucracy, leading to duplication and redundancy," he said.
"This to me would be a fundamental shift with less than two years left in our mandate."
Peterson spent the entire 20 minutes allotted debating the motion and listing how his department has improved Human Resources since it was dissolved — from promoting ethics, to reducing the hiring time it takes to fill positions at the government.
Both Peterson and Premier Peter Taptuna suggested leaving the issue to the fifth assembly — but Angnakak said it might not be a priority for the next government.
"Instead of just giving a blank piece of paper to the next government, I would like to give them an idea of what we've been working on and ask them to look at it and see how do they feel about it," Angnakak said. 
"Because they have every right at that time to say 'Nope, we're not going to do this.'
"I guess we're going to have to keep pushing the issue," she said. "We're hoping that the government will be able to respect the decision of the house. And go forward."