North
DND backtracks on Arctic naval facility
In a letter to the Nunavut Impact Review Board, the Department of National Defence outlines new plans that will see no accommodation or office buildings on site, and big cuts to fuel storage capacity.
Fuel storage capacity slashed and the only building will be an unheated storage unit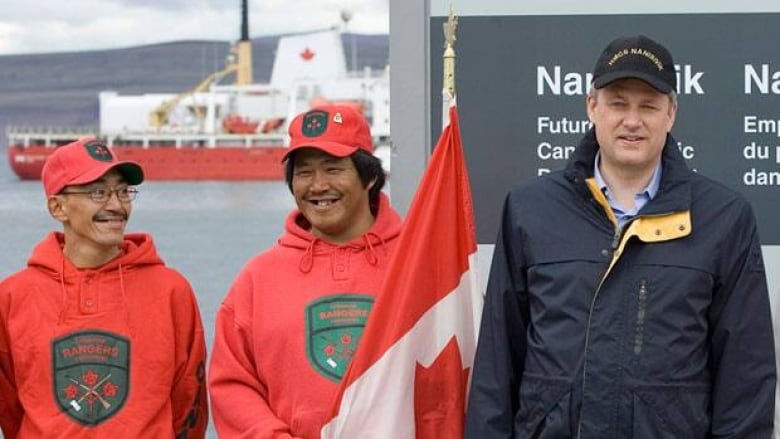 The federal government has quietly changed its plans for the Nanisivik Naval Facility on north Baffin Island.
The proposed facility at a defunct mine near Arctic Bay, Nunavut, will be much smaller than first planned. The Department of National Defence spelled out the changes in a recent letter to the Nunavut Impact Review Board.
Prime Minister Stephen Harper travelled to Arctic Bay in 2007 to announce plans for the facility. There were to be major upgrades to the jetty, offices and accommodations, and the capacity to store two years worth of fuel.
Now work on the jetty has been postponed indefinitely, fuel storage capacity has been slashed, and the only building will be an unheated storage unit. 
A spokesperson for Defence Minister Peter MacKay would not comment on the changes saying only that the intent remains for a docking and refuelling station at Nanisivik.
"The optimistic way of looking at it is this is just a slowing down," said Rob Huebert, an Arctic defence analyst at the University of Calgary,
"The more negative view of course is that this is the way often governments will start to kill a project."
Western Arctic MP Dennis Bevington said the change of plans suggests it was little more than political opportunism to begin with.
"I think we've gone through a time in our political history when standing on the bridge of ships ... of military vessels in the Arctic was the big vote getter.
"The government in its earlier years was using its Northern Strategy as a southern political tool, and talking about the militarization of the Arctic and ... those plans have now been shown to be mostly hot air."