New Brunswick
N.B. coronavirus roundup: Gatherings of 150 or more should be postponed, top doctor says
New Brunswick's chief medical officer of health has recommended the cancellation of any public events of more than 150 people to discourage the spread of COVID-19.
Dr. Jennifer Russell urges people to avoid mass gatherings
New Brunswick's chief medical officer of health recommends postponing or cancelling any events with more than 150 people to prevent the spread of COVID-19.
Mass gatherings can increase the spread of a virus and create additional strain on the health-care system during an outbreak, Dr. Jennifer Russell told a news conference Thursday.
"We understand that such a measure will disrupt the normal activities of our residents but believe it the prudent path to ensuring that we delay and minimize the impact of COVID-19 on our population," Russell said.
She said any non-essential mass gatherings should be cancelled or postponed to better determine any risk to the population.
Here is a roundup of other developments Thursday.
1st confirmed case in N.B.
The New Brunswick Health Department confirmed its first case of COVID-19. 
The first "presumptive" or probable case of the novel coronavirus was reported Wednesday, and testing at a Winnipeg lab has confirmed the test was positive. 
Twelve people in New Brunswick have had negative tests so far, and only people with symptoms are being tested.
The woman with the virus was self-monitoring after her trip abroad and immediately isolated herself. She is in good condition and her state is "mild to moderate," Russell said Thursday.
She said she "understands" the woman, who is between 50 and 60, was travelling alone, but Russell would not say which part of France the woman was travelling from or what airports she travelled through. She cited privacy concerns.
People who came in contact with the woman have been traced and are in self-isolation. Russell said she doesn't know how many people were in contact with the woman.
All-party COVID-19 committee formed
Premier Blaine Higgs announced an all-party cabinet committee has been formed on the novel coronavirus.
The special committee will meet regularly to ensure members are providing leadership, co-ordination and preparedness in responding to the health and economic impact of COVID-19.
Eight people are part of the new committee: Higgs, Public Safety Minister Carl Urquhart, Health Minister Ted Flemming, Social Development Minister Dorothy Shephard, Education and Early Childhood Development Minister Dominic Cardy, Green Party Leader David Coon, Liberal Leader Kevin Vickers and People's Alliance Leader Kris Austin. 
Province tightens travel policy
In an internal email, the New Brunswick government suspended all work-related employee travel to Canadian destinations outside the province until further notice.
Last week, the province suspended work-related travel by government employees to international destinations. 
As of late Wednesday, there were 118 presumptive and confirmed cases in Canada, with one death.
The news of New Brunswick's first probable case came just hours after the World Health Organization called the coronavirus outbreak a pandemic, infecting thousands of people in more than 100 countries. 
Higgs meets premiers over phone
Premier Blaine Higgs won't be travelling to Ottawa for the premiers meeting on Friday. Premiers will meet over the phone instead.
Higgs will also speak with Chrystia Freeland, the deputy prime minister and minister of intergovernmental affairs, about what New Brunswick might need in terms of financial assistance or health care.
Provincial election seems less likely
The Liberal Opposition has given up its push for an early provincial election now that New Brunswick has its first case of COVID-19.
The Liberals announced Feb. 11 that they would attempt to force an election after the Progressive Conservative minority government announced health reforms that included the nighttime closure of six small-hospital emergency rooms. 
They would do this by voting down the PC budget, triggering an election.
"Given the current unprecedented situation, our party would support a move by government to delay the vote on the budget next week until a later date," Liberal Leader Kevin Vickers said.
Supply teachers in high demand
Schools in the Francophone South School District are scrambling to find supply teachers because of the province's efforts to prevent the spread of the coronavirus.
More than 200 students in the Francophone South School District have to stay home because they travelled internationally. The Education Department directive also affects 37 teachers and 34 other staff members in the district.  
Monique Boudreau, superintendent of the district, said there is already a shortage of supply teachers in Fredericton, Saint John and northern parts of the province. But the new policy has made things worse.  
The safest place is in your home. As soon as you're travelling, you're closing the door on that option.- Colin Furness, epidemiologist 
At Saint John's Samuel-de-Champlain School, up to three classes were combined because of a shortage of substitute teachers.
The district also announced that all events involving students from different schools or the community will be cancelled or postponed from Friday until March 23.
Mixed messaging from government 
Chris Goodyear, president of the New Brunswick Medical Society, said people are getting mixed messages from the Department of Education's decision to ban students and chaperones who have returned or will return from international travel from all public school buildings for two weeks after their return.
Goodyear said government and public health professionals should collaborate on a unified approach to the pandemic.
"We did not get a sense that the decision made by the Department of Education was in consultation and agreement with officials of the Department of Public Health and their chief medical officer of health."
He said time will tell whether Education Minister Dominic Cardy's decision "was good or not."
Restricted visits to hospitals
Horizon Health Network has announced that anyone who has travelled outside the country, is restricted from visiting any patient in its facilities for 14 days after returning to Canada.
Important update: For the safety of our patients, anyone who has travelled outside the country is restricted from visiting ANY patient in our facilities for 14 days after returning to Canada. <a href="https://twitter.com/hashtag/COVID19?src=hash&amp;ref_src=twsrc%5Etfw">#COVID19</a> <a href="https://t.co/mNPcyZBnB0">pic.twitter.com/mNPcyZBnB0</a>

&mdash;@HorizonHealthNB
The IWK in Halifax is limiting visitors to prevent the spread of any respiratory illness, including COVID-19.
In a news release, the hospital said patients or their guardians can name up to two people who will be their family or primary support people. Visits will be limited to those individuals.
"People who are sick or who live with someone who is sick should not visit patients."
COVID-19 and tourism
Princess Cruises, one of the main cruise lines with ships scheduled to visit Saint John this season, has announced it will suspend its global operations for 60 days because of COVID-19.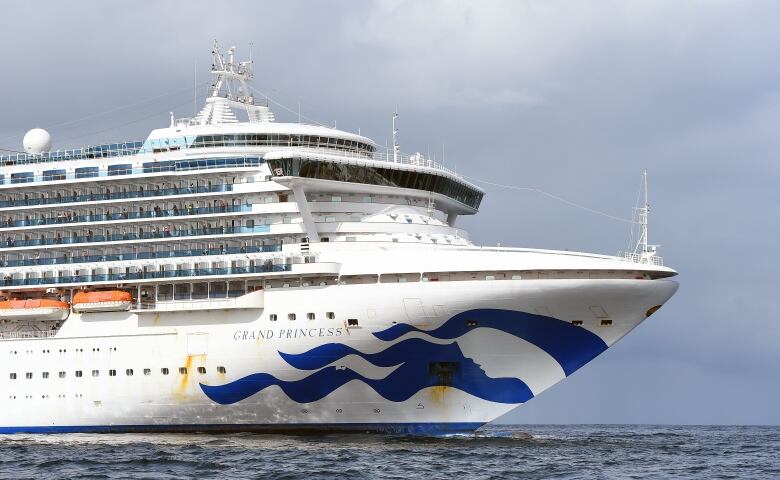 The voluntary measure comes as passengers on two of Princess Cruises ships — Diamond Princess and Grand Princess — have become infected and been quarantined, both abroad and in North America, in recent weeks.
It also comes just weeks before Port Saint John's predicted banner season is about to get underway, with 90 ships and more than 200,000 passengers scheduled to visit the city.
Don't panic
An infection control epidemiologist worries panic and fear might have even worse effects on New Brunswickers than the COVID-19 virus itself.
The spread of the coronavirus is causing people to overreact, when they should simply be taking precautions and planning ahead, said Colin Furness, an assistant professor at the University of Toronto.
"Panic is just as contagious as a virus," he said Thursday.
The problem with pandemics is they start with a few cases and move into thousands of cases in a short period, he said. 
"It does rush up very, very fast that way. That's part of what makes … it so terrifying."
Need more advice?
While people should physically separate themselves from others, Furness said they should also avoid conversations where negativity and panic dominate.
"People get extremely stressed out and they stop thinking straight."
He advised staying six feet (1.8 metres) away from others because that's the "blast radius of a sneeze or cough." 
.
Although people need to take the virus seriously, Furness said he wanted to remind New Brunswickers that only a tiny percentage of the population in Wuhan, China, got sick. 
He stressed the need for hand washing. Don't shake hands. Don't cough into your hands. And don't touch your face.
He said wearing paper masks is risky behaviour, especially for those not used to wearing them, because people are always adjusting their masks with their hands.
People should also plan ahead and think about what health and food supplies they need on hand, should they have to stay at home.
"As long as you stay a step ahead you can keep this limited to small little outbreaks, rather than one gigantic one," Furness said. "And small little ones are a lot easier to manage."
With files from Information Morning Fredericton, Bobbi-Jean MacKinnon